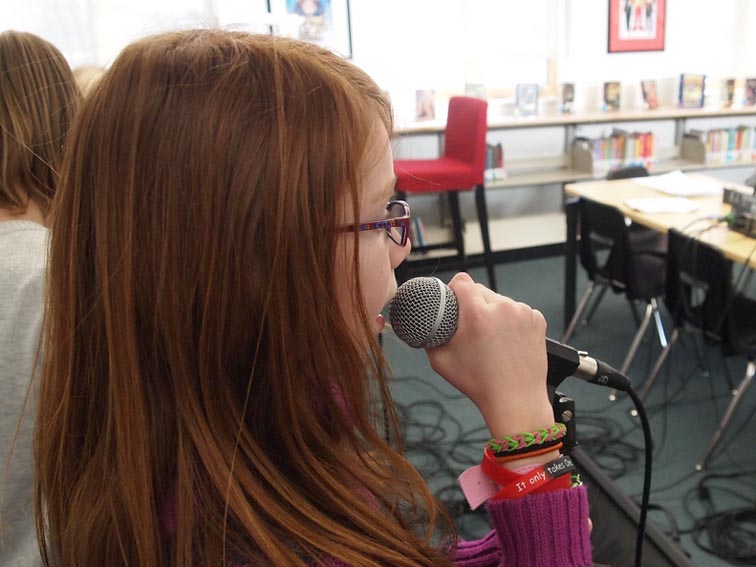 Believe It And Achieve It: Creating Sparks In The Middle Grades Classroom
by Laura Farmer, Middle School ELA Teacher and blogger at middlegradesteacher.blogspot.com
"Middle school teachers make the best of our students when we accept and build on the realities of middle school kids. We can't wash away, discipline away, or program away a time of life. We're there to help our students open a window on adulthood, on what really matters in life; we help by opening our curriculi to young adolescents' preoccupations, perspectives, and growing pains."— Nancie Atwell, author of In The Middle: New Understandings About Writing, Reading, and Learning
Adjectives to describe middle grades students: moody, electric, apathetic, happy, enthused, innocent, rebellious, boisterous, sassy and that's just the beginning. So many emotions take place in middle school classrooms it boggles the mind. That being said, the beginning of the school year can be tough, particularly for sixth grade teachers, who welcome in an entirely new crew every August.
So, how do we get the kids focused, yet also pumped up for the rigor and learning that lie in the year ahead? I've found that a great place to begin is with an achievement unit, I call, "Believe It and Achieve It".
I created the unit last year in hopes to pump my students up for the upcoming Criterion-Referenced Competency Test (CRCT). It worked, and as a result they achieved a 99% passing rate in Reading, and 96% in Language Arts.
My current students and I are several weeks into the "Believe It and Achieve It Unit" and I'm happy to say that they come in everyday excited and ready to learn. The following is a sampling of the achievement unit that all ELA teachers can use to create a spark in the classroom.
1. Create a Dream Board
Students love to talk about their hopes and dreams. Creating a dream board offers them a focus for their personal goals. It can also serve as a muse for their writings. They loved this activity. My students often look at the dream boards, and discuss their life goals and dreams with each other. It also creates trust and openness within the classroom.
My sixth grade students creating their dream boards. One young man dreams to become a Social Studies teacher.
2. Learn to Be Proactive Versus Reactive
My students worked through part of the text, The 7 Habits of Highly Effective Teens. They compared and contrasted the text to a brief film clip explaining Covey's first habit: Be Proactive. Finally, the students signed classroom contracts pledging how they would be proactive this school year.
I hung the contracts throughout the sixth-grade hall along with quotes of famous achievers to motivate them to stay strong throughout the unit. Now, the students read the pledges as they walk between classes. They love reading what other positive commitments their peers made for the school year.
3. Study Famous Achievers That Overcame Obstacles
My students live in a rural community, and we serve a high population of students living at the poverty level. Many of them struggle with reading and writing. I created a lesson based off authors Patricia Polacco and Avi. They are both award-winning writers who overcame learning disabilities. Polacco describes her struggles with reading and writing in the children's book, Thank You, Mr. Falker. For this lesson, I conducted a read-aloud of the text and compared it to a video clip.
The students quickly wrote their own struggles with reading and writing, and eagerly shared them with the class. The biggest takeaway for my students was the realization that they are not alone in their struggles, and achievement is possible.
4. Get the Students Involved in a Service Project
So often all teachers hear about, think about, and dream about are the Common Core Standards. However, it can be great to step out from that box and engage in kids in a community project. Currently, my students are conducting a book drive. As a class, they brainstormed the project, and took the steps to make it happen. Their goal is to collect 150 books by November.
It is September, and we are already halfway to our goal. My students come in each day pumped up about the books they are donating, excited about the project. This energy flows into the lessons, and as a result we progress faster with the learning that needs to be accomplished.
There are so many ways to create a spark in the middle grades classroom, but an achievement unit can be a great way to begin the year! I encourage my fellow ELA teachers to give it a try. I promise you will not be disappointed.
Creating Sparks In The Middle Grades Classroom; Laura Farmer is a 6th grade ELA teacher at Heard County Middle School in Franklin, Georgia. She loves teaching, and considers it an honor and privilege to be part of the educational community. She blogs her joys, struggles, and discoveries in the classroom at middlegradesteacher.blogspot.com; image attribution flickr user flickeringbrad