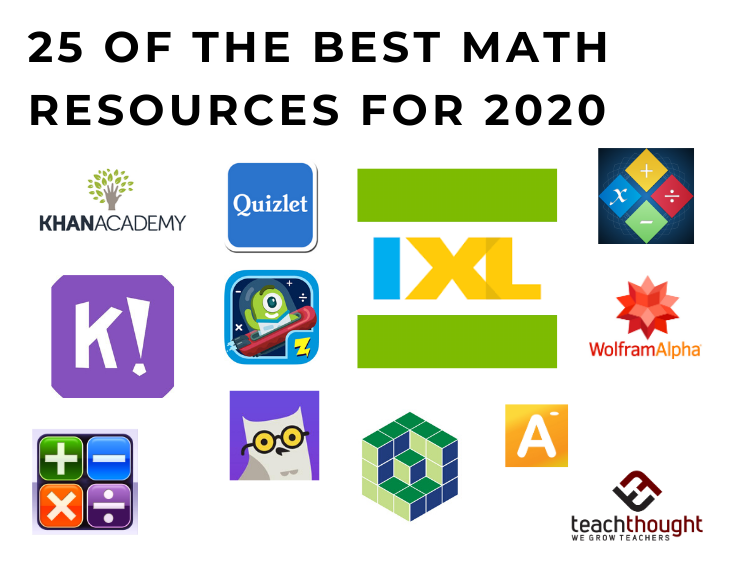 25 Of The Best Math Resources For 2020 [Updated]
by TeachThought Staff
What are the best math resources?
Because of the skill-based nature of mathematics in general, math resources pair especially well with digital tools like apps and websites. On these kinds of platforms, accounts can be created, progress can be visualized, mastery can be documented, complexity can be adjusted to individual needs, and achievements can even be given as a kind of motivation mechanic.
Year to year, the best math resources tend to stay the same, with large platforms like the Kahn Academy being supplemented by well-designed apps like Quizlet and Math Agent. (Many of these are covered in our best math apps for kids.)
But each year, a handful of new math apps, websites, and other resources emerge to be useful for elementary school, middle school, high school, homeschooling, and college-prep practice. Below, we've gathered 25 of the best math resources for 2021–a mix of established and all-new tools to support the building of math skills and the grasp of important mathematical concepts.
25 Of The Best Math Resources For 2021
Math Apps For Elementary School Students
Math Apps For Middle And High School Students
Kahoot! is a game-based learning platform that offers math classes taught from on-board educators.
Developer Description: Build quantitative skills in math, science, and computer science with fun and challenging interactive explorations.
IXL provides personalized learning, along with a real-time math diagnostic test. The diagnostic designs a recommendations list based around areas you struggle.
Developer Description: Using text and speech recognition, the app surfaces the most relevant learning resources for you.
Developer Description: A mobile application which utilizes a phone's camera to recognize mathematical equations, and to display the step-by-step solution onscreen.
25 Of The Best Math Resources For 2021