Education App Spotlight: Contraption Maker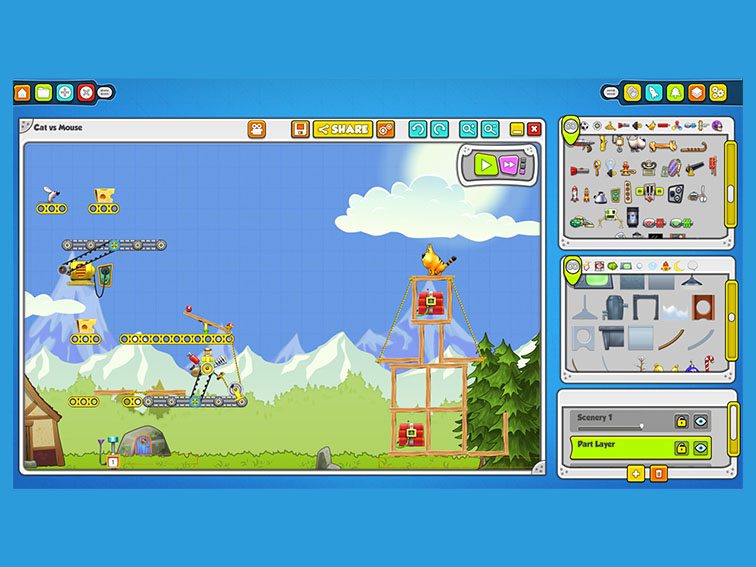 Education App Spotlight: Contraption Maker
by TeachThought Staff
Features
Use Rube Goldberg machines to solve puzzles and create your own inventions

JavaScript mod capabilities

Teacher Dashboard

to create student accounts and track progress

Curriculum

available, including lessons for NGSS and Common Core standards
Other Details
Grade level range: Grade 3-10

Content areas: science & experimentation, physics, engineering, design, programming

The app is free for schools, after school programs and other educational initativies to use on institution-owned devices. (Read more.)

This game is a revival of

The Incredible Machine

, a popular educational game made in the 1990s. The original game designer and programmer are working on this project.
The Big Idea
Contraption Maker provides a set of puzzles that are reminiscent of Rube Goldberg cartoons. Children use hundreds of parts like hamster motors, balls, and conveyor belts to fix broken contraptions. Moving down our knowledge funnel, kids can create their own contraptions and share them with the world. It's a digital sandbox that promotes creativity by experimenting with logical cause and effect consequences.
A key component of excelling in a STEM career is learning via experimentation, which often means testing an idea, failing, reviewing the idea, and trying a new idea. Traditional teaching methods don't often have the latitude to encourage failure. However, experimentation and failure are key components in Contraption Maker. You learn by "failing" and testing new theories, and it is meant to be fun, not discouraging.
Related Apps
Minecraft

Casey's Contraptions

Other building games
3 Ideas How It Might Be Used For Learning
Learn about physics in Contraption Maker, then test out your theory in the real world.  Based on Next Generation Science Standards. (Read more.)
Design complex machines based on a design objective.  Use your knowledge of simple machines and physics to create complex interactions. (Read more.)
Blend language arts and science by having one student build a machine, write up a description of how it works, then have a partner build a machine based on your description.  Compare the two contraptions and discuss the similarities and differences. (Read more.)
System Requirements
Operating system, file size, etc.
Windows PC minimum specifications:

OS: Windows Vista
Processor: 1.7Ghz or Higher
Memory: 2 GB RAM
Graphics: 512MB VRAM, Pixel Shader 2.0 or higher
DirectX: Version 9.0c
Hard Drive: 300 MB available space

Mac minimum specifications:

OS: OS/X 10.7
Processor: 1.7Ghz or Higher
Memory: 2 GB RAM
Graphics: 512MB VRAM, Pixel Shader 2.0 or higher
Hard Drive: 300 MB available space
*The following app submission was prepared by Deborah Fike, Director of Educational Outreach for Spotkin. Spotkin is the developer behind Contraption Maker; Contraption Maker