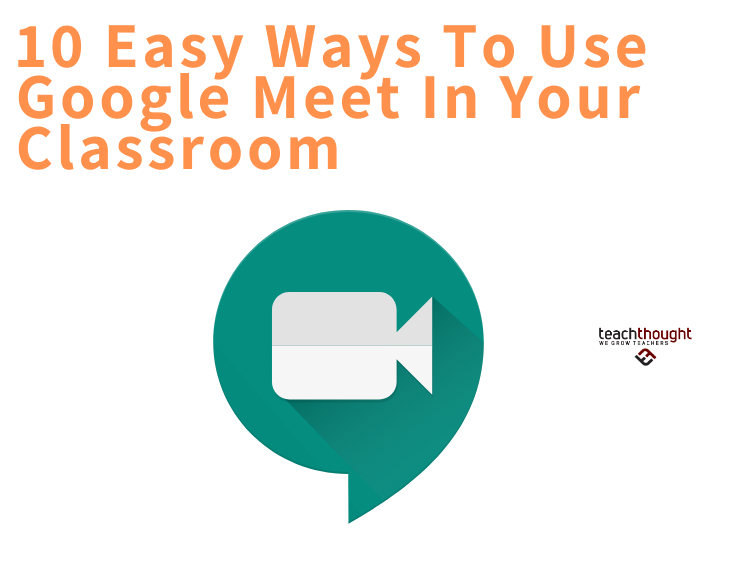 How To Use Google Meet In Your Classroom
by TeachThought Staff
Google Meet has recently become popular during in light of the shift to remote teaching and learning.
While there have been some challenges to overcome, I am now thinking about how it might fit into our district for both students and staff, especially in light of Zoom, Microsoft Teams, and other alternatives to Zoom long-term after remote teaching is no longer the standard.
See also The Definition Of Asynchronous Learning
There is something in me (maybe it's my English teacher background) that prefers the flexibility to share ideas in more than 280 characters. I've obviously gotten around it as a Twitter user, but I find myself frustrated by that limitation more often than I feel freed by it.
I wish I was better about blogging regularly, but it's challenging to carve out time. Google Meet seems to be a great middle-ground for me. I can share more than 280 characters, interact in threaded conversations, share screens, schedule 1-on-1 video calls, and more. But, beyond that, how can this be used in our K-12 environment?
Enter Google Meet. I made it a personal goal to test out Google Meet during the 2nd semester, and I managed to squeeze in 4 in the last two weeks, all with positive results. So far, Google Meet could prove useful in the following situations.
10 Ways To Use Google Meet In Your Classroom
Online Collaborative Google Meetings
I had a conversation with other colleagues about where we are headed with changing Learning Management Systems. We talked for almost an hour, and normally, we would have met face to face. I can honestly say that Google Meeting together online yielded a rich discussion and collaboration. All of us felt like it was an effective way to work together, and I don't think that Google Meeting face to face would have resulted in anything better.
Make-up Sessions
I held a 'make-up' session for folks who missed a Google Meeting. This could have been accomplished using screencasting software, and I still might do that for Google Meeting make-ups, but having the option for folks to ask questions (even via the chat window) and record to YouTube has potential. Timing is pretty key, so I think this could have been even better had I chosen a different time for the Google Meet. And, I need to work more with the YouTube process.
Technology Troubleshooting
I had a quick Google Meet with a colleague recently to try to troubleshoot how to use our Google Apps control panel for Chromebooks at a school level. This is one situation where being able to screen share was critical. We happened to be online at the same time, and we started a Google Meet in seconds and were able to work through the issue.
Guest Speakers
I had the opportunity to speak with a college class remotely using a Google Meet. The one snag I encountered was some audio feedback (likely due to the speakers in the classroom). But, I was able to 'co-speak' with a colleague and it worked remarkably well. We adjusted to the delays due to feedback, but being able to bring in other voices into a lesson has incredible potential.
'Sub Days'
I have a colleague at one of our high schools who (unfortunately) had to take some leave time to take care of some family health issues. Because the course she teaches is an AP course, being gone caused some stress at this point in the semester. However, she was able to work with the school technology coordinator to teach the class remotely. The tech coordinator set up a Google Meet with her class, and she was able to teach the course despite being geographically away from the building.
Interviews
We have quite a few applicants who don't live in our state, and while we have used Skype in the past for people who needed to interview remotely, Google Meet would also help our interview committees. We have folks who would like to be on a committee but can't be physically present during the interview. Google Meet might become a great solution for connecting with applicants and hiring committees for a 'face to face' feel with the flexibility of remote access.
Remote Coaching
One of our instructional coaches can't physically visit classrooms because of health issues, but she can now 'hang out' with the teachers at her elementary school and still provide some of the coaching benefits without having to physically be in the room. This usage (while a good idea) would definitely need some planning since a good classroom observation involves a picture of the whole classroom, not just the teacher. 
Writing Conferences
Admittedly, we haven't yet delved too deeply into Google Meet with students because we had it turned off for kids until recently, but one of the challenges with doing writing conferences is finding time to Google Meet with students. At one of our high schools, one of the teachers has been using Google Meet to Google Meet with students outside of the school day to have student conferences. The ability to include a Google Doc as part of a Google Meet makes this a really good solution for working with students.
Back to School Nights
We seem to be struggling more and more to see higher turn-outs at Back-to-School Nights in my district.
Granted, we offer them once a year, and if a parent has something else going on, they miss the opportunity to connect with teachers. Google Meet could provide an interesting solution to that, in that a teacher could offer either a 'make-up Google Meet' for the Back to School night stuff or even monthly Google Meet for more regular class updates. For schools that have teams (like at our middle schools), the team could offer a Google Meet so that all teachers can contribute to the conversation.
Parent Conferences
As an extension to the idea above, it might be more feasible to have a conference with a parent remotely, along with the other teachers who are working with a student. Because you can have a Google Meet using a telephone number, the parent would not necessarily have to have a webcam or laptop to take part in the conference. It might be a good way to have student-led conferences as well since the student could be an active participant in the Google Meet.
Study Sessions
This is obviously more germane to the high school level, but we have quite a few teachers who offer study sessions prior to exams, or we have students who decide to study together before exams or assessments. Google Meet could meet this need, especially with the ability to screen share or share Google Docs. These could either be done with a teacher as the leader of the Google Meet (which would take some planning, depending upon numbers) or it could organically result from students who simply want to work together. Rarely do we have student groups who exceed 15, so this could be a good fit for those numbers.
All in all, I am really looking forward to seeing where Google Meet fits into our learning ecosystem. I'm sure we'll have some things to iron out along the way, but this is one area where I feel like we could do some very cool things with other peers, our students, and our parent community.