C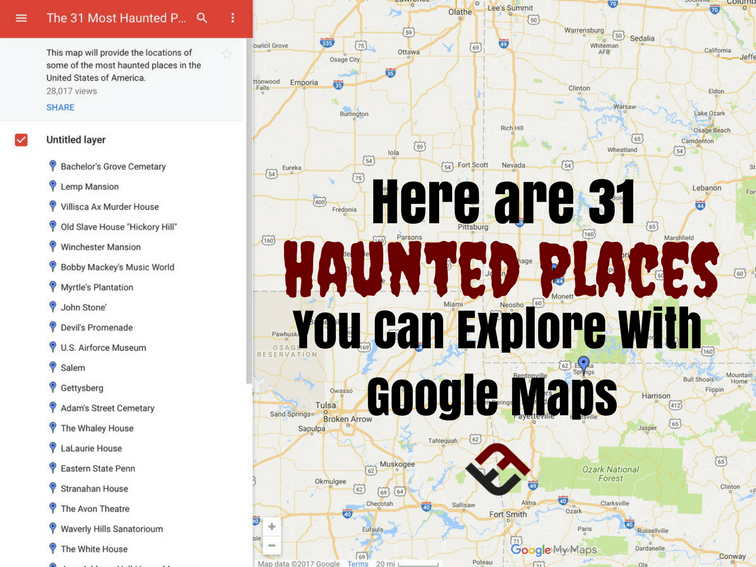 Here Are 31 Haunted Places You Can Explore With Google Maps
by TeachThought Staff
Have you ever wanted to play paranormal investigator?
Would you like to explore America's most frightening locations, both near and far? Maybe you're looking for inspiration for some creepy curricula based around historical fact-finding? Have no fear, Google's got your back.
Plan the ultimate road trip — or mind trip if you're more into research than creeping around in the dark — with Google Map's list of the 31 Most Haunted Places in America.
Or just check to see which nearby neighborhoods to avoid at night if you prefer your adventures to be a little less…spirited.
See Also Google Earth Just Got Better — And More Existential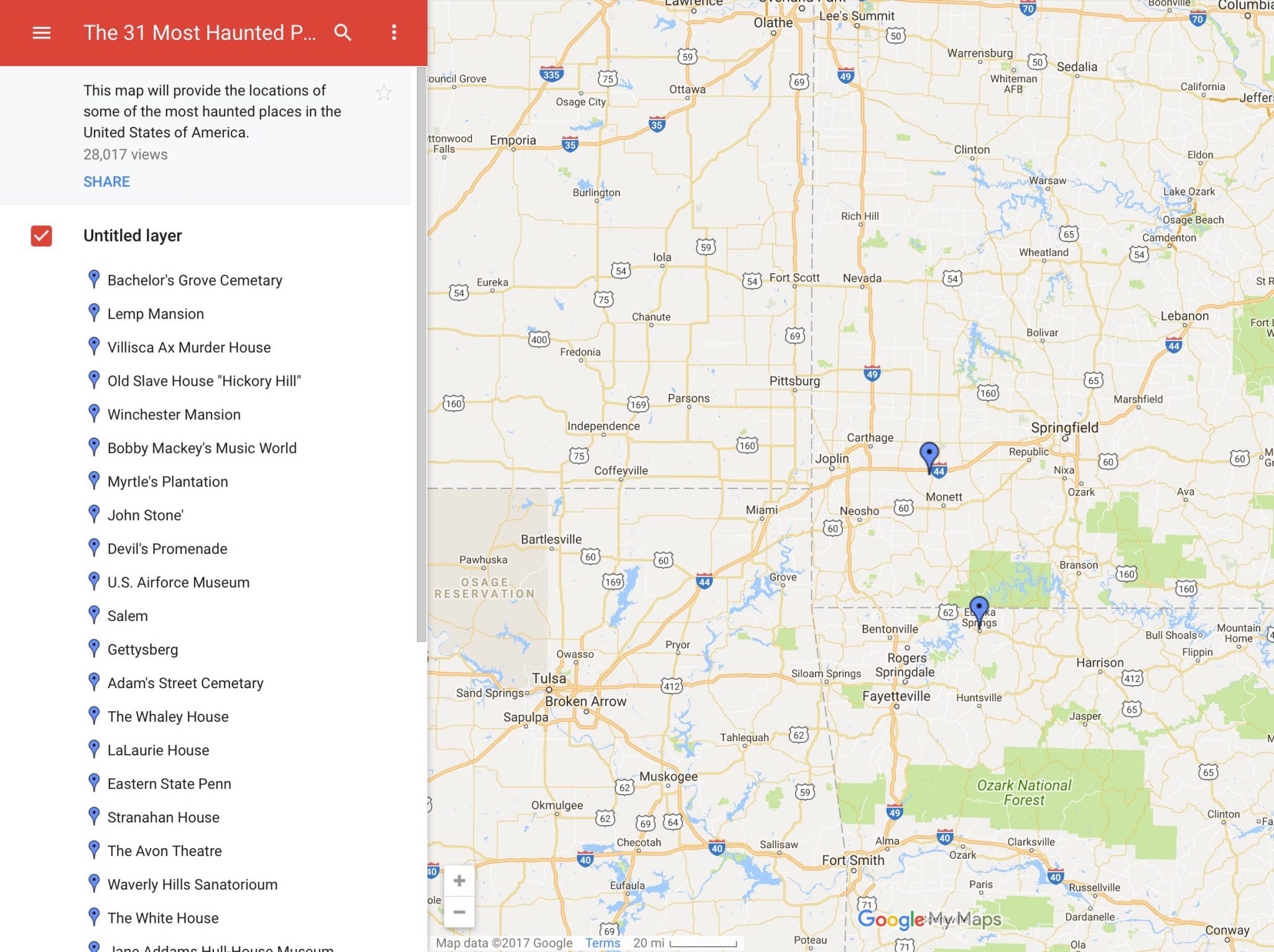 Here Are 31 Haunted Places You Can Explore With Google Maps
Alleged ghost sightings abound in this abandoned cemetery.
Although the property has been transformed into a commercial space, it was the site of several tragedies and is supposedly haunted by the Lemp family.
In 1912, a mass ax murder took place in this home turned haunted bed and breakfast. Rumor has it that the victims never moved out.
Formerly known as the Crenshaw House, the Old Slave House has an ominous history that included kidnapping free slaves to return them to a life of forced servitude.
Known as one of the most haunted places in the world, Sarah Winchester spent her days in this grand estate building elaborate rooms, staircases, and labyrinth-like hallways to elude the ghosts of those killed by Winchester rifles.
From slaughterhouse to speakeasy to meeting place of a Satanic cult, Bobby Mackey's Music World has a colorful history — and a portal to hell in the basement.
This former slave plantation was built on a Native American burial ground, making it a horror movie waiting to happen.
This pub used to be a hotel and is full of horrifying stories. It's allegedly haunted by the ghost of a child who died there after a train accident.
An unexplained light inhabits this space and theories about its origin story include the ghost of a Civil War soldier and a Native American searching for his missing head.
This museum is said to be home of many haunted objects with sightings of a little ghost boy and claims of moving objects or unexplained sounds.
Home of the hysteria that led to the Salem Witch Trials, many sites in this spooky town are said to be haunted, including The Old Salem Jail and Salem State University.
Thousands of Civil War soldiers died at this historical site, and there's no shortage of reported ghost sightings.
Cemeteries are eerie by their very nature, but this one is reported to have mysterious mists and fog appear in photographs.
Many slaves were mistreated and tortured at the LaLaurie House, their mangled remains discovered after a devastating fire. Legend says that some now remain on the property as ghosts.
Once home to Al Capone, this national historic landmark was open from 1829 to 1971 and the tortured souls of those who lived their lives in solitary confinement or lost their lives to murder are reportedly still there.
Frank Stranahan was a businessman during the Depression and drowned himself in a nearby river after falling on hard times. Strange apparitions including the ghost of his wife and other families have been reported.
This historic cinema has been renovated and is back to playing films on the big screen, however, it's also rumored to be haunted.
Formerly a hospital for Tuberculosis patients, the Waverly Hills Sanatorium in Kentucky comes complete with a body chute for corpses and a haunted fifth floor.
Want to hang out with dead presidents? Abraham Lincoln and Franklin Roosevelt are reportedly still residing at the most historical house in America.
Formerly an education and help center for immigrants and working-class, this current museum is allegedly home to a lady in white and a "devil baby" ghost.
Home of the infamous Amityville Horror house, this was the scene of a mass murder committed by Ronald DeFeo in 1974. Its next inhabitants were reportedly the victims of a haunting that inspired the famous horror movie.
After a series of strange sightings and occurrences, the Bell family identified a force that claimed to be a witch named Kate that tormented the family for years.
Formerly the Lincoln Square Theater, this location caught fire twice and claimed the lives of two people who are said to still haunt this space.
This famous prison was recently the star of a History channel show which recorded unexplained drops in temperature and voices that acted as evidence that some inmates may still be present in spirit.
Stephen King used this hotel as inspiration for The Overlook Hotel featured in his spooky classic "The Shining."
This hotel's claim to fame includes several spirits including the ghosts of a construction worker, a cancer patient, and even a cat.
Legend has it that a murdered minister's head continued to scream after his death until the killers gagged and buried it; the "Cambridge Skull" can reportedly still be heard screaming. This haunted location is also the burial ground of famous poet Edgar Allen Poe.
Sad, romantic, and spooky — legend has it that a young woman who was afraid of the dark was buried here, so her lover left a lit candle at her grave every night. Some say the flickering light can still be seen at night.
Streets and sidewalks were built over an abandoned cemetery that was home to 477 gravesites, creating a virtual village of walking dead.
This famous battle site is also renown for the ghosts that still inhabit the area, including a Mexican soldier, a little boy, and a father and son duo that haunt the rooftops.
You can find more haunted places to visit with Google Maps here.
Explore The Most Haunted Places in America With Google Maps; Here Are 31 Haunted Places You Can Explore With Google Maps