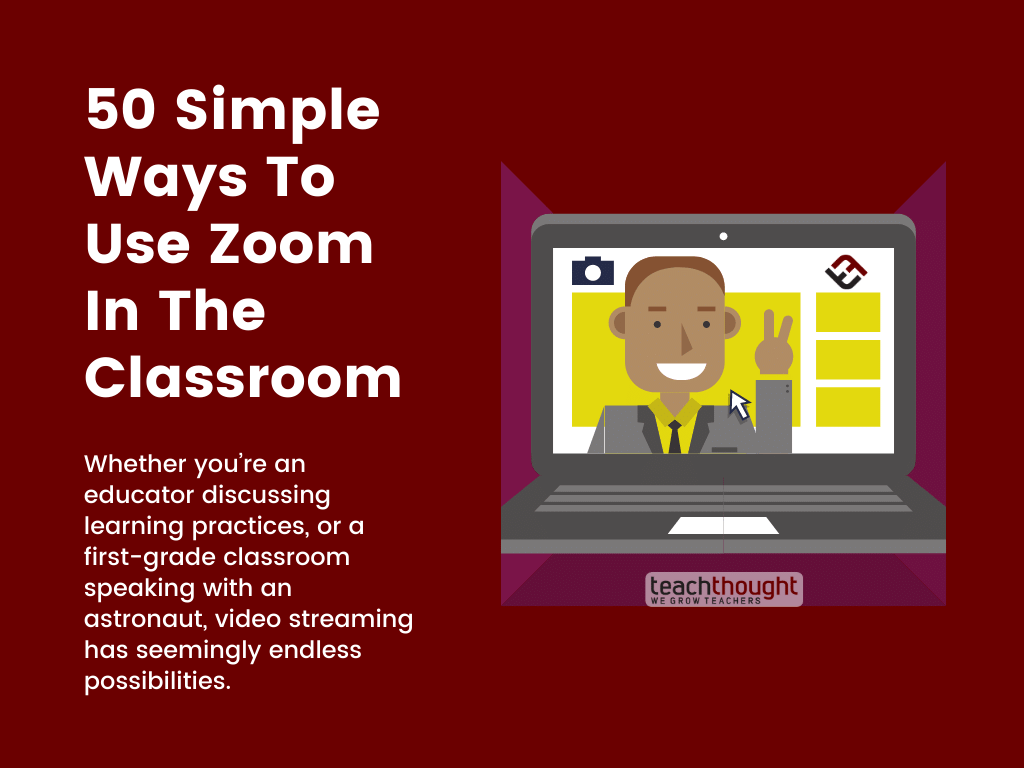 How Can You Use Zoom In The Classroom?
by TeachThought Staff
Though video chat isn't new, recently it has become central to the remote teaching and learning experience.
While it has generally been used for a teacher-led, remote teaching session, Zoom (or Skype or any other alternative to Zoom, for that matter), there's significantly more potential. Zoom can be used as a vehicle for learning, sharing, collaboration, and ideas. Whether you're an educator discussing learning practices, or a first-grade classroom speaking with an astronaut, video streaming has seemingly endless possibilities.
Here are 50 of the best ways to use Zoom in the classroom.
Teaching & Administration
Professional learning, meetings, even college recruitment are all possible with Zoom.
Campus previews: Using Zoom, admissions counselors can chat with students and discuss what it's like to attend their college or university.
Professional discussion: Through Zoom, personal learning networks can come together on a regular basis for discussions.
Team meetings: Teachers spend enough time at school. With Zoom, teachers can conduct team meetings away from the classroom.
Board meetings: University board members may be stretched far and wide. With Zoom, members can meet virtually while still enjoying face-to-face interaction.
Recruitment chats: Zoom can be a virtual college fair table, offering Q&A sessions for the admissions process, and even highlighting important people on campus like department chairs.
Policy discussion: Host a Zoom session with policymakers, industry experts, state and local officials, parents, students, and more to help guide policy creation.
Peer review: Education professionals can create a Zoom to ask colleagues for a review and brainstorming session for interesting classroom ideas, journal articles, and more.
PR chats: Instead of press conferences, small announcements can be made with Zoom, as university leadership open up a chat for news outlets, alumni, and other interested parties.
Staff professional development: Instead of traditional professional development days, these sessions can be taken care of through Zoom.
Teacher-Student Communication
Connect with students even when you're not in the classroom, thanks to Zoom.
Virtual office hours: It can be difficult to schedule face to face time on campus, but with Zoom, teachers can set a time to meet with students wherever they are.
Homework help sessions: Teachers can set up regular homework help sessions to assist students who may need a little support as they complete their assignments in the evening.
Review sessions: Before big exams hit, professors can host Zoom where they share hints and essential information with students.
Tutorials: For students who want a little extra help, tutorial sessions on Zoom can be a great way to get small group assistance.
Peer to peer helpline: Classrooms can establish a peer-to-peer helpline co-op, where students can log on to Zoom to help out their fellow students with homework and tutorials.
Mentor groups: Small mentoring groups can get together through Zoom, updating both mentors and mentees on new developments.
Teaching with Zoom
Zoom make it easy to bring students, teachers and classrooms together, with these ideas and more.
Distance learning: There are so many ways that students can enjoy distance learning. One example is cooking schools that are using Zoom to share lessons and cooking tips.
Extended discussions: After classroom discussions are over, students or teachers can open up a Zoom to facilitate further discussion.
Talks around the world: Zookeepers at Zoo Atlanta use Zoom to host keeper talks, making it easy for students of all ages around the world to learn about animals.
Foreign language Zoom: Foreign language students can participate in video conversations using translation tools and apps to understand each other.
Mobile learning: Zoom is available not just on computers, but phones and tablets as well, making it possible for students and teachers to log into the chat anywhere they are.
Public teaching: With Zoom, educators can open their sessions up to all users worldwide, allowing for live streaming, online conferences, and massive study sessions.
Remote participation: Students who are sick or traveling can still attend class virtually even when they can't physically be there.
Scheduled discussions: Professors, especially those with online courses, can set up scheduled discussion Zoom to get students together and talking.
Remote lessons: Music teacher Thomas J. West has been using Zoom to share his lessons with students anywhere and everywhere.
Review video lectures: If you post your lectures to YouTube, you can integrate them into a Zoom. Simply rewatch your lecture in the Zoom, pausing for re-teaching and offering a director's cut with further discussion.
Video archives: All Zoom can be saved and archived, making it easy for instructors to share class sessions with students who didn't make it.
Teaching off-campus: Professors can share their knowledge with the world by teaching off-campus lectures through Zoom.
Book club: This idea is especially helpful for sister classrooms as they come together to discuss the same book. Using Zoom, classrooms from around the world can host a book club together.
Show and tell: Video conferences used to be a little hard to follow, with lots of small windows for each participant. But with Zoom, the person who is speaking takes the big screen, allowing for a virtual show and tell.
Sketching parties: Art students can come together on Zoom to host and participate in sketching parties.
Go behind the scenes: Students can join a Zoom to get behind the scenes access for everything from recording a session to hosting a webinar or live stream.
Broadcast student performances: Open up student presentations and performances beyond your classroom by sharing them in a Zoom.
Creating a story: Together, classmates or classes can take turns building a basic story that they've written together, entering and sharing their work in a separate document.
Career spotlights: Teachers can poll students to find out what their parents do for a living, then ask parents to host a weekly career spotlight explaining what they do.
Bringing in an expert: It might be cost-prohibitive for small schools to bring in experts for in-person lectures, but just about anyone can ask to connect with an expert over Zoom, bringing a valuable resource into the classroom.
Panel discussions: Forget hosting just one expert, bring several in at a time to participate in a classroom panel discussion.
Reader's theater: Several students can take on different parts in a play, acting it all out on a Zoom.
Student Connection
School is social and Zoom can make it even easier to connect. Try out these ideas at your school.
Get to know your sessions: Through new student Zoom sessions, colleges can make it easier for new students to meet each other before they even step foot on campus.
Connecting students abroad: Students who are studying abroad may feel a little disconnected from the campus. Setting up Zoom, where they can talk to potential study abroad students, can help them feel a little more grounded.
Staying in touch: Connections can drop off over the summer, but with Zoom, students can stay connected and keep relationships solid for back to school.
Student-alumni mentoring: Recent grads can connect with current students through Zoom, offering personal chats on what life is like after graduation.
Collaboration
Group projects, brainstorming sessions, and more are all great ways to use Zoom for collaboration in schools.
Document editing: now allows users to add and create docs in Zoom, making it easy to collaboratively edit documents through the service.
Study groups: Students who want to study together, but can't actually be together can take advantage of the Zoom service to get connected virtually.
Project feedback: Through Zoom, students can get critiques on their work before they ever bring it to the classroom, getting a chance to fine-tune it beforehand.
Education
Take education to the next level with these Zoom ideas.
Connecting with fans: College athletics programs have begun hosting Zoom sessions, allowing fans to question coaches and athletic directors for their favorite teams.
Club meetings: Just like study sessions and group projects, Zoom offers a great option for school club meetings.
Engaging with alumni: Alumni Zoom sessions are a fun way to keep former students connected with the school and each other.
Career connections: Colleges can set up meetings between employers and students simply by creating small Zoom breakout rooms.
Remote help desk: With a screen-sharing option, Zoom is great for school IT departments, allowing for a higher level of support.
Host a cheap concert: Avoid having to pay for flights, hotels, and insane requests by simply hosting a Zoom 'concert.'