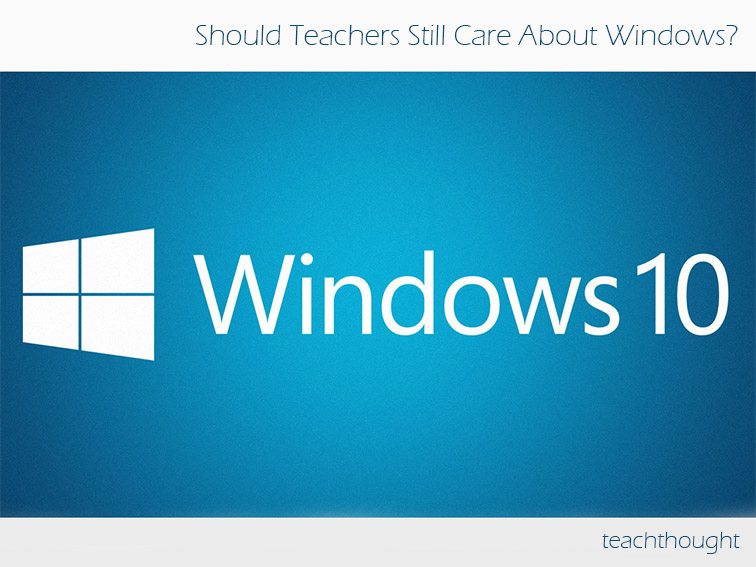 Windows 10 Will Be Free; Should Teachers Care?
by Terry Heick
"We want people to love Windows on a daily basis."
Microsoft Chief Executive Satya Nadella made their intentions clear at the Windows 10 Live Event January 21st, 2015 in Remond, Washington. Windows needs to be everywhere. And it is.
Sort of.
With the pending release of Windows 10 (sometime this fall–for a new operating system by Microsoft, that's pretty soon), they took the stage to explain to an increasingly mobile world why they still mattered. We all grew up on Microsoft products (with some Macintosh thrown in). Office continues to be the standard by which productivity suites are measured. Word, PowerPoint, Excel, OneNote and other de facto 1990s products are available everywhere today–on Macs, PC, iPads, iPhones, Androids.
Windows Phones, while not popular, have strong hardware and a surprisingly good operating system. Their purchase of Nokia gave them mobile bandwidth they hoped would allow them to compete with Apple. Xbox is neck-and-neck with Sony in the world of video games. Whether battling Google for patents, Sony for video game supremacy, or Apple for everything else, Microsoft is everywhere.
Only they remain almost entirely invisible in a world no longer obsessed with productivity–the same world that left BlackBerry behind. Platform-thinking, mobility, and the thoughtfulness of interfaces have replaced drivers, office suites, and even cost as prime mover factors. While people talk about apps and the cloud, the keystone is ecology. And everyone wants you using theirs.
For teachers and schools and classrooms and students, while Apple has always occupied a niche, Microsoft has dominated marketshare. According to edweek and the International Data Corporation, In the third quarter of 2014 "shipment of devices loaded with Microsoft's Windows dropped to a 51 percent market share this year from a 63 percent market share in 2013." Chromebooks are replacing Microsoft laptops because Google Drive is replacing Microsoft Word.
And there goes Microsoft's long-held trump card. If you want mobile learning, you buy an iPad or Android. If you want streamlined document sharing and access, you use Google Drive and Google Apps for Education.
What compelling reason is there to use Microsoft? Google is a Swiss army knife. Apple is hip and forward-thinking. Right now, education is aching for innovation, and have turned to technology to make it happen.
And they're not getting a compelling response from Microsoft.