Ah, to be 17 and a college freshman again… Who am I kidding? I would not be 17 again if you paid me. I love being 40. But if I were 17 and starting college again, I would want to know the best, easiest, most effective, and most efficient ways to pass my classes. In other words, I would want to know how to access the right information quickly and store it somewhere important enough for me to remember where it is later.
My greatest challenge as a digital native has been managing the information I face every day.  I dread the day I finally decide to prune the bookmarks I have collected over the years.  Young people are used to finding information on the Internet, but those entering college may not be savvy with collecting valuable information.
Here are three apps I have found that function well as collectors of information.  The apps features the ability to tag, create lists (or notebooks), and store just the information one wants to store with links back to the original source.
Diigo is a data collector with browser add-ins, smartphone apps, and tablet apps.  Its dashboard is arranged in hierarchical order so it is easy to filter your library for information.  First, you can filter by file type (for example, "images").  Second, you can filter by tags (for example, "allusions").  Finally, you can filter by lists you have created (for example, "teaching strategies").  While you are viewing a source, you can highlight the important text and save it to your Diigo library easily.  Editing the bookmark is easy too, through the browser add-in or via the library dashboard.  The slide presentation link below is not a tutorial, but a few screenshots to give you an idea of how easy Diigo is to use. The last slide shows how easy it was to take information from my library and insert it into a paper I wrote yesterday for a continuing education class.
Slide presentation about Diigo features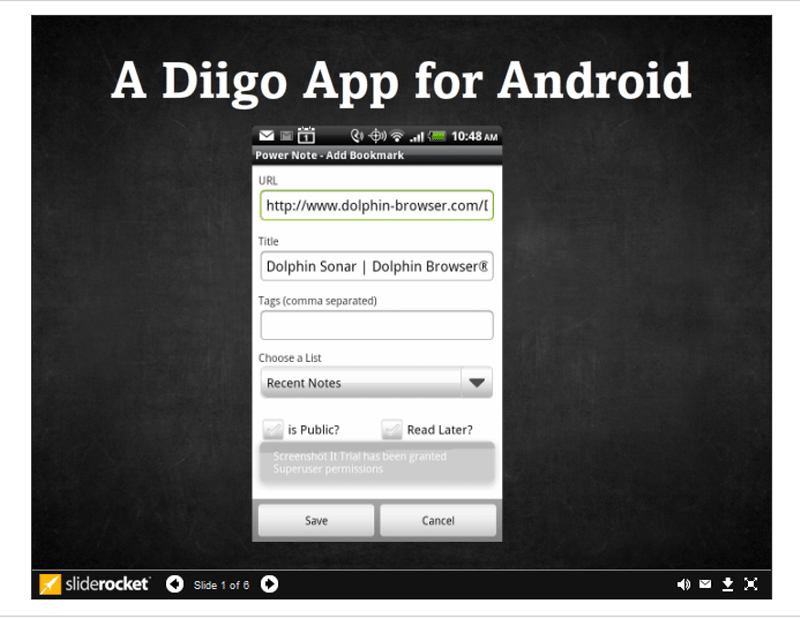 Evernote allows you to save anything: documents, pictures, video, PDF files, and web pages. Like Diigo, you can save only what you find important on a web page by "clipping" the selection you want to save.  Evernote also comes in many flavors: browser add-ins, smartphone apps, and tablet apps.  It also allows the user to email notes to Evernote.  Users that have a Livescribe pen can upload their notes to Evernote, too.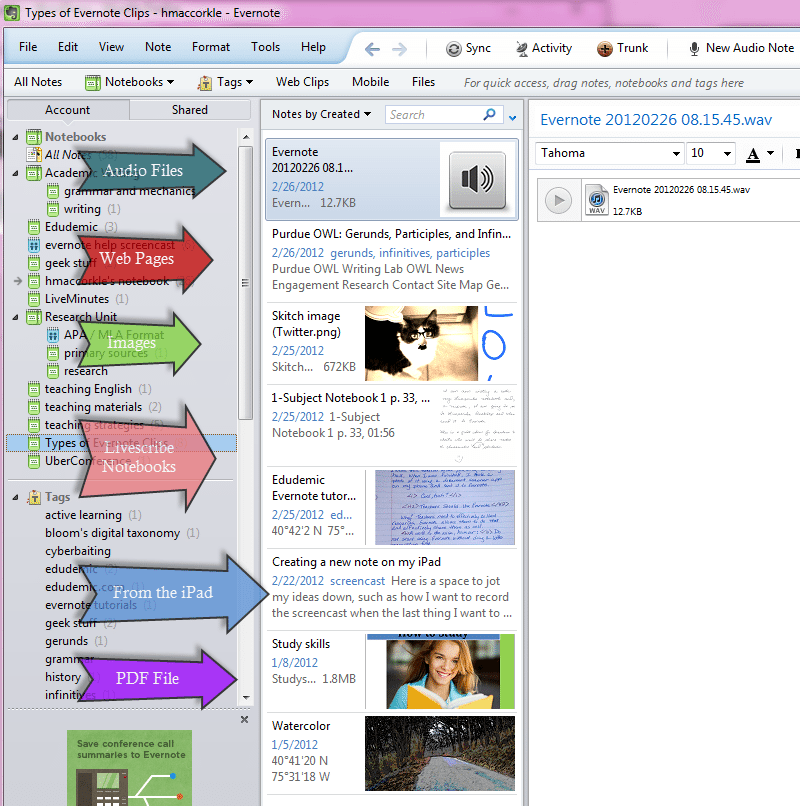 A while back, I wrote a tutorial on how to use Evernote and posted it to YouTube.  If you are interested, I hope you will take a few minutes to view it.
This option is probably my favorite, but it does have a couple of drawbacks.
Zotero is a reference and information manager.  It started as a Firefox extension, but now functions with Internet Explorer, Safari, and Google Chrome, if you have their standalone program installed.  Unlike the two that I mentioned above, Zotero does not have apps for mobile devices such as smartphones and tablets.  It can go mobile in one direction, however, as Zotero stores your citations and information their servers (it does have a 100MB limit, though).
That being said, Zotero collects references from the web and stores references you create on your own.  You can save all types of sources: books, web pages, multimedia, online multimedia, research reports, etc.  When you need them for a paper, Zotero can insert the citation in your paper and format the citation for your bibliography.  Zotero also has an add-in for Word and OpenOffice for easily inserting citations into your paper.  Finally, Zotero supports a huge number of formats, the most commonly used in college are APA and MLA.  Although I used EndNote in graduate school, I now rarely use it and would recommend students try Zotero instead.  Zotero's documentation is pretty extensive, so I recommend visiting their site to learn more.