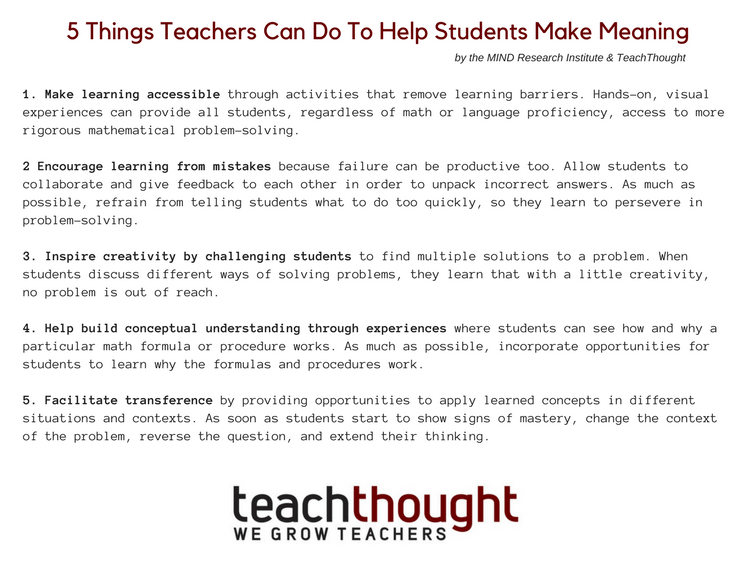 5 Things Teachers Can Do To Help Students Make Meaning
contributed by Kelsey Skaggs, MIND Research Institute
Rigor gets a bad reputation.
It's that thing that makes life difficult and uncomfortable. Apply it to a person and they can be seen as inflexible or unyielding. However, bring a certain type of rigor into the classroom and it can completely change the way that students learn–for the better.
Merriam-Webster defines rigor as a condition that makes life difficult, challenging, or uncomfortable; the quality of being unyielding or inflexible.
Synonyms: hardship, adversity, hardness, difficulty
In educational terms, the MIND Research Institute defines rigor as a condition that encourages creative problem-solving in new, exciting context, yielding perseverance and satisfying growth in knowledge and skills.
Synonyms: flexibility, progress, creativity, challenge, growth, inspiration
Rigor Helps Students Make Meaning
Rigor guides students toward applying the highest levels of thinking. It moves them past simple recall of facts or procedures. This is the kind of mindset students will need not just for test-taking, but for college, career, and beyond.
When students embody the characteristics of intellectual rigor, a cycle of growth is formed. This cycle continues to develop students' capacity for deeper thinking and increasingly complex problem-solving.
Jessica Carlson, previously a mathematics teacher and Partnerships Enablement Manager at MIND Research Institute, recently unpacked some roadblocks that tend to stand in the way of students experiencing intellectual rigor. Here's the short, actionable version of her findings–statements of affirmation about teaching with rigor.
5 Things Teachers Can Do To Help Students Make Meaning
I make learning accessible through activities that remove learning barriers. Hands-on, visual experiences can provide all students, regardless of math or language proficiency, access to more rigorous mathematical problem-solving.
I encourage learning from mistakes because failure can be productive too. Allow students to collaborate and give feedback to each other in order to unpack incorrect answers. As much as possible, refrain from telling students what to do too quickly, so they learn to persevere in problem-solving.
I inspire creativity by challenging students to find multiple solutions to a problem. When students discuss different ways of solving problems, they learn that with a little creativity, no problem is out of reach.
I help build conceptual understanding through experiences where students can see how and why a particular math formula or procedure works. As much as possible, incorporate opportunities for students to learn why the formulas and procedures work.
I facilitate transference by providing opportunities to apply learned concepts in different situations and contexts. As soon as students start to show signs of mastery, change the context of the problem, reverse the question, and extend their thinking.
The information is organized in the following posters that educators are welcome to download, print, and share.
More Resources to Embrace Rigorous Instruction
There are numerous resources online to help educators embrace and implement the guiding principles for increasing rigor in their own classrooms. While the list below is by no means exhaustive, hopefully you'll find some great things to use right away in your classroom–and the research to back up why it works with your colleagues.
9 Free Math Resources To Use In The Classroom For Rigor & Meaning Making
Research & Further Reading
Thanks for reading through and if you do decide to use the rigor posters, we'd love to hear from you! Give us your feedback on social media at @JiJiMath (Facebook) and @MIND_Research (Twitter). For more information on MIND's mission to ensure that all students are mathematically equipped to solve the world's most challenging problems, visit mindresearch.org.
Kelsey Skaggs is the Engagement Specialist at MIND Research Institute. She enjoys showing others how fun and engaging math can be, which she often talks about on Twitter @kelseymskaggs