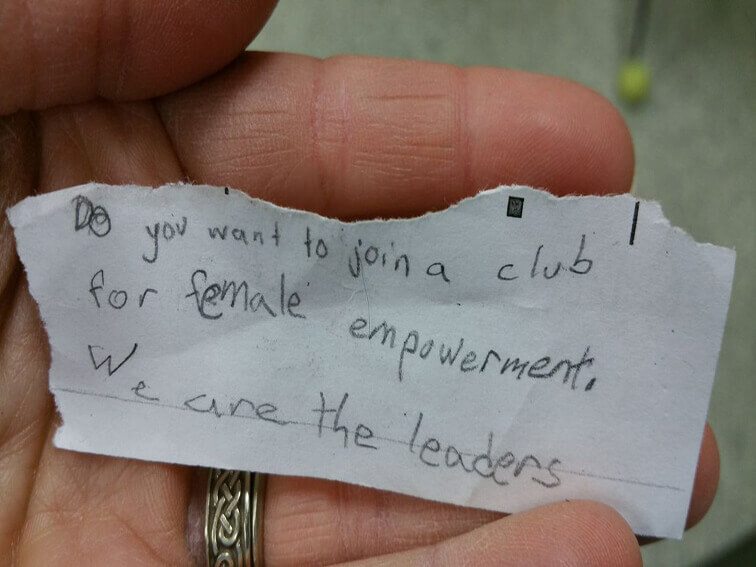 4th Grader Wants To Lead Movement To Protect Women
by Ashley McCann
You may have seen a recent tweet about a 4th-grade teacher having found the above note under her desk, along with questions as to whether or not a 4th-grade student actually wrote it.
Some of that narrative–via twitter–appears below.
My fourth grade teacher friend found this under one of her students' desks. <3 <3 <3 pic.twitter.com/7NSxIa6ujn

— Elly (@SMLXist) March 6, 2017
She talked to the note's author and found that she wants to start the club because boys had been telling her girls can't do what boys can.

— Elly (@SMLXist) March 7, 2017
Something happened to one girl, and it made her feel bad. Her reaction was to want to stop it from happening to other girls. THAT'S AWESOME.

— Elly (@SMLXist) March 7, 2017
LOL at all the men who think I faked this tweet in order to support my nefarious, selfish goal of . . . empowering women.

— Elly (@SMLXist) March 8, 2017
And then there's this guy:
@SMLXist I hold you in much higher regard. I am certain you'd fake something much more elaborate in service of your nefarious goals.

— Phineas (@Phineas) March 8, 2017
And Hillary Clinton chiming in:
On #InternationalWomensDay I'm thinking about this young girl, & all the others like her out there. ?✨ https://t.co/u1fvzAt1BI

— Hillary Clinton (@HillaryClinton) March 8, 2017
See also: Teaching Social Justice: 25 Books To Encourage Students To Change The World
Women's Rights In Schools?
At a time when women's rights feel threatened and many are mourning the loss of the potential of the first female president, the perseverance of this girl and many like her serves as a rallying cry that our children are beacons of hope and opportunity and that they hear our messages of protest and encouragement in a positive light, even among all of the negativity of the current political climate.
During her concession speech, Hillary Clinton said, "And to all of the little girls who are watching this, never doubt that you are valuable and powerful and deserving of every chance and opportunity in the world to pursue and achieve your own dreams."
It's a powerful statement that applies to all children and people. As Gloria Steinem said, "A feminist is anyone who recognizes the equality and full humanity of women and men."
Social activists are getting younger and more organized, and are clearly inspired by the adults leading and participating in these movements. It's important for kids to believe they can create change in their lives and the world, and activism also allows them to try on leadership roles and to learn more about diplomacy, democracy, and practicing respectful protest.
"We are the leaders." One day, they will be. Not just of a small band of girls at recess, but as everything from principal to president and it seems that they are off to a good start.
One of our jobs as adults and educators is to nurture these growing leaders by teaching them the skills and giving them the space to learn to lead with both grace and power. And more than anything, to believe in their interest and ability to do it. And I want an invite to the fourth-grade female empowerment club.
I bet it will be awesome.
4th Grader Wants To Lead Movement For Female Empowerment