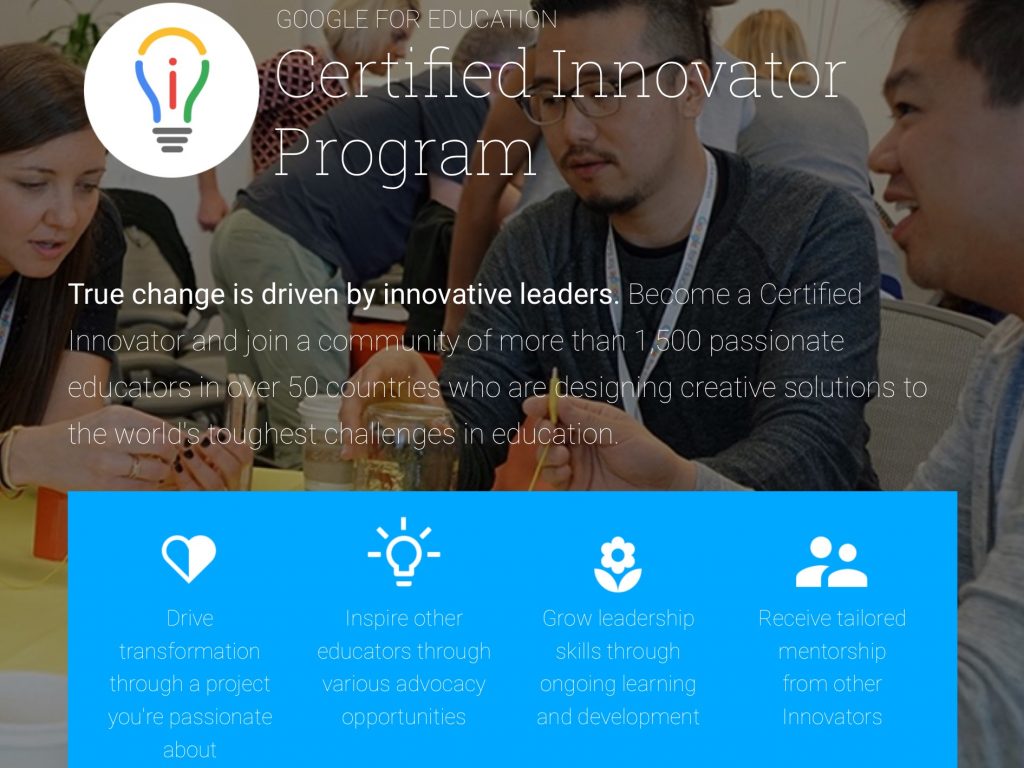 You Can Apply For The Google For Education Certified Innovator 2018 Program Here
by TeachThought Staff
This information has been compiled from a press release
See our own Professional Development workshops and upcoming TeachThought University courses for additional training, development, and coursework for innovation in education.
What is the Google for Education Certified Innovator program?
The Google for Education Certified Innovator Program is a 12-month professional development experience — including mentorship, online learning activities, and an in-person Innovation Academy focused on helping new Innovators launch a transformative project.
Applications are now open for the for the Los Angeles cohort. Attendance at the Innovation Academy in Venice, CA on July 9th – 11th is required.
Who should consider joining?
Candidates for the Google for Education Certified Innovator program are selected based on their professional experience, their passion for teaching and learning, their innovative use of technology in school settings, their potential to impact other educators, and their desire to tackle some of the biggest challenges in education. They are ambassadors for change who empower other educators and students through a thriving innovation culture within their own classrooms, schools, and organizations.
See also How To Create A Custom Google Search Engine
Innovation occurs at all levels in the school system, so we welcome applicants from all roles: classroom teachers to superintendents. As participants in a community of educators working together to improve schools, Innovators will transform the organizations they're serving, advocate for change, and grow their own capacity as thought leaders.
Why should you consider joining?
What will you do?
What will you create?
Innovation Projects are the tools through which Innovators implement and measure their impact. Although the mission and outcomes of each Innovation Project will vary from person to person, here are some principles that will guide development:
Have a mission that matters: Your mission should be something you care about and has the potential to touch many lives
Think big, but start small: No matter how ambitious the plan is, you have to start somewhere
Iterate and fail fast: We're not looking for perfection, we're looking for continual innovation
Share everything: Encourage discussion, collaboration, and the exchange of ideas
Spark with imagination, fuel with data: Use data to backup your insights or help you pivot directions
All projects should drive change in education, impact educators and students, and be documented for other educators to follow.
Check out the Innovation Project Directory for examples of projects that Google Innovators are currently working on.
Application Requirements
The application process is designed for you to show off the things that make you an innovative educator. While the program is about much more than Google products, having a solid background in how to integrate Google for Education technologies in the classroom is an important starting point for inspiring transformative change.
Take the Advanced course and Google Certified Educator Level 2 exam prior to applying.
During the application process, you're invited to share your history of innovation at your school or district and a challenge you're facing in a compelling way through a 90-second YouTube Challenge Video. If you are selected to participate in the Innovator Program and attend the Innovation Academy, you will have an opportunity to meet with a global cohort of other educators and collaborate together on solutions towards solving that challenge in an innovative way.
Google is looking for innovators who want to innovate across all elements of our transformation framework, including Vision, Culture, Technology, Funding and Sustainability, Community Engagement, Learning, and Professional Development.
Apply For Google For Education Certified Innovator 2018 Program: Cohort Dates