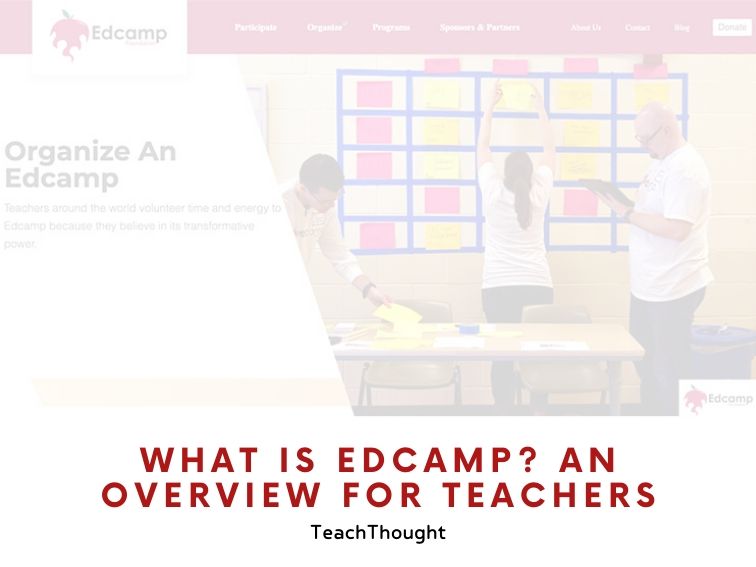 Edcamp: An Overview For Teachers
by TeachThought Staff
What is Edcamp? In summary, Edcamp is a low-cost, 'bottom-up' approach to teacher improvement where 'conference' participants gather, decide what's going to be learned, then set out to teach one another in a laid-back, communal approach of sessions.
Obviously, the big idea is in the contrast to large conferences or formal professional development that is more 'top down' and pre-determined–that is, where a few people come and deliver content to a lot of people about a topic more or less out of their control. Edcamps are often called 'unconferences' and the video below explains why.
According to edcampnepa.org, in an Edcamp event, educators simply gather to learn:
EdCamps are 'unconference' events with a focus on education and learning. Most professional learning is done where participants listen to one person who shares their presentation with the audience. EdCamps on the other hand are meant to encourage conversation and participation among the attendees. Participants determine the topics for the day and take an active role in setting the direction of the conference. In the first hour of EdCamp NEPA, attendees will meet and interact over coffee and a light breakfast. An empty session board will be available for everyone to post session titles. From that, a session board will be constructed that will provide the schedule for the day.
Common Elements Of 'An Edcamp'
A session board for day-of session planning
Participant-driven 'PD'
Teacher collaboration
Food and 'swag'
Sponsors (cheap doesn't mean zero-cost)
Short 30-60 minute sessions
Use of social media to share learning and connect with teachers inside and beyond the Edcamp event using twitter and hashtags like #edcamp and #edcampusa, for example
Teacher-driven 'promotion' of Edcamp event that often includes blogs, digital/social 'groups,' and larger sign-up tools like Eventbrite
Why Edcamp?
In a previous post on TeachThought from 2014, Dawn Casey-Rowe offered her view on Edcamp:
EdCamp is the essence of collaboration–melding and sharing of ideas in the spirit of excitement. How many school professional development days have seen faculty disappointed that there wasn't enough slots to do all the interesting professional development?
Now, imagine this. Imagine that your faculty meeting had no agenda. Imagine that there was simply a grid in the front of the room with a certain amount of empty spaces with corresponding rooms and participants could put "I'm going to present this!" Some rooms might have (academic) standards, others might have co-teaching, still others could have "physical fitness and student/teacher wellness." It could be anything. People vote with their feet–the sessions that were the most helpful for people would be the ones that fill up. It might be that there were a couple of mandatory sessions. It might be the entire day could be up to the participants. But to really do it right, you'd have a nice table full of coffee and treats, and just let the day flow.
Consider having an Edcamp or Edcamp-style PD event at your school and getting your rock star faculty to take ownership of the subject material. You'll save money, give respect to your on-staff experts, and have a day full of community building and interesting collaboration. Set up a twitter board and tweet between sessions. I give a guarantee this will be a PD format you'll want to continue.
The Background Of Edcamp
According to their About Us, the story of how Edcamp got started is fairly simple: Educators got together to improve independent of a conference, local requirement, or large-scale training. They just gathered and grew.
The first Edcamp was organized in 2010 by a group of teachers in Philadelphia who met up for a computer science "un-conference." At BarCamp, they collaborated with others to create discussion sessions based on the interests of the people in the room. There was no presenter; no boring slideshow. The entire day was personalized and learner driven with those in the room sharing their experience and expertise. At the end of the day, the teachers decided this model was too good to contain! They exchanged contact information, and within the next few months they used the "unconference" model of BarCamp to target educators.
We'll have more on Edcamps soon. If you'd like to see what they look like ' in real life,' here are some pictures of previous Edcamps shared by participants.