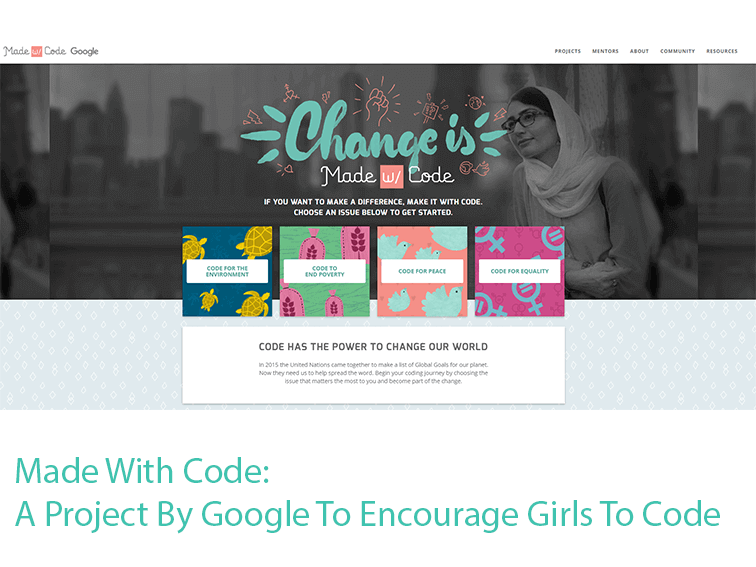 A Project By Google To Encourage Girls To Code
by TeachThought Staff
The push for more female participation in STEM is not new. That push extends into coding, an increasingly useful fluency that is dominated by males.
In being dominated by the voice of a single gender, over time there can be loss of not only participation, but the tendencies and values. While it sounds like a 'politically correct' mandate, the reality is that the web is, among other things, about the democratization of influence.
When whole races, genders, economic classes, and other 'demographics' don't have a hand in design and are forced to merely participate, over time that design becomes not only artificial to users, but can also reduce their ability to express their ideas through any means other than those created by someone else (see Paulo Freire).
Somewhere in this kind of social context comes Made With Code, a project by Google, Mozilla, Girls Inc, MIT Media Lab, and others to encourage girls to use code meaningfully to address problems and express ideas that are important to them.
We started Made with Code because increasingly more aspects in our lives are powered by technology, yet women aren't represented in the roles that make technology happen.
If we can inspire teen girls to see that code can help them pursue their passions, whatever they may be, then hopefully they will begin to contribute their voices to the field of technology for the benefit of us all. (DOWNLOAD PDF)
Interested? Read more at madewithcode.com
Made With Code: A Project By Google To Encourage Girls To Code