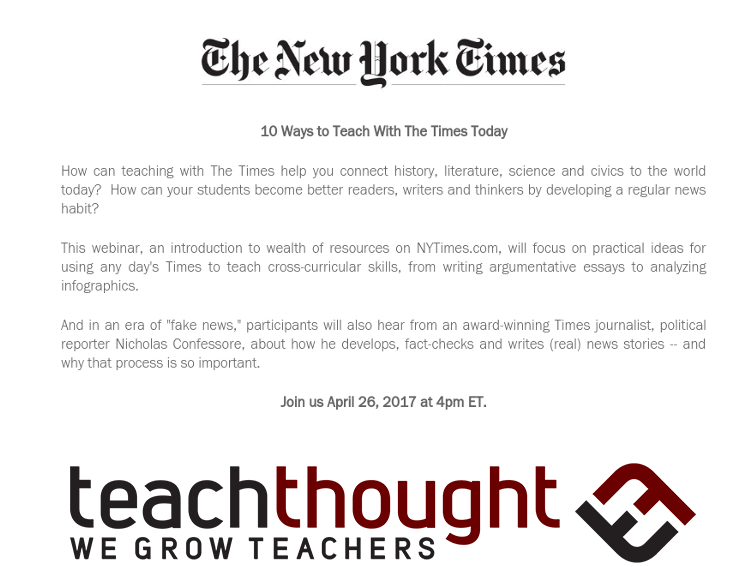 Fake News? New York Times Political Reporter To Host Webinar On Fact-Checking
by TeachThought Staff
The New York Times Learning Network has launched a free webinar series to help guide teachers on how to best use The Times in their classrooms, starting with a webinar hosted by New York Times political reporter on the process of fake news–or rather how to avoid it.
The webinars will be hosted by Learning Network editors (who are all former high school teachers) on a variety of strategies for teaching a particular skill or topic using NYTimes.com content. One or more Times journalist will also participate in each webinar and describe their work and take questions during Q&A with attendees.
The first webinar, "10 Ways to Teach with The Times Today," will serve as an introduction to the wealth of resources available on NYTimes.com, and will focus on practical ideas to use The Times to teach cross-curricular skills, from writing argumentative essays to analyzing infographics. Participants will also hear from Times political reporter Nicholas Confessore, about how he develops, fact-checks and writes news stories — and why that process is so important in an era of "fake news." It is scheduled for April 26 at 4:00 p.m. EST.
The series is one of a number of new education-focused initiatives from The Times that are supported through its "sponsor a subscription" program, which allows individuals to make a contribution that provides Times digital subscriptions to students and schools across the U.S. For every subscription granted through contributions to the program, The Times provides a subscription to one additional student.
On May 10, The Learning Network will host its second webinar on how teachers can incorporate The Times into a summer reading program. Beginning in August and running through the 2017-18 academic year, webinars will focus on a range of topics like climate change, the Supreme Court and teaching argument writing with The Times Opinion pages. Some webinars will be for teachers only, and some will also be open to students.
Fake News? New York Times Political Reporter To Host Webinar On Fact-Checking