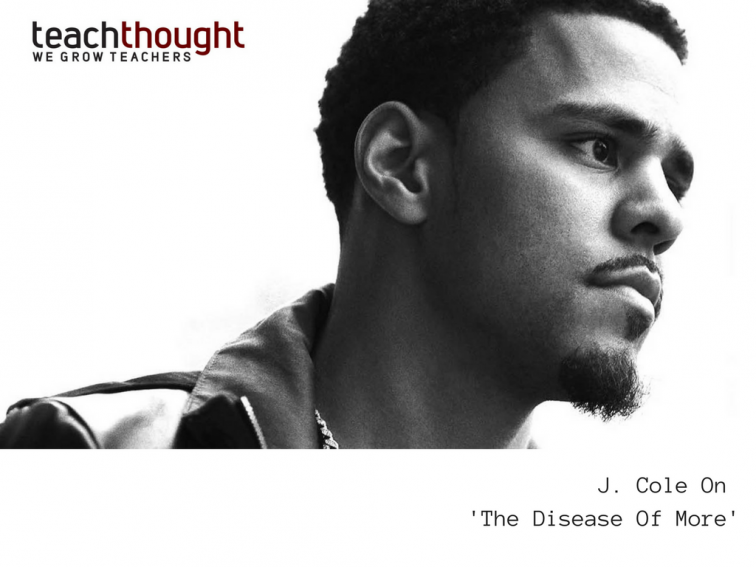 Hip-Hop Artist J. Cole On 'The Disease Of More'
by TeachThought Staff
Know a teen that could use a little wisdom?
How about hip-hop artist J. Cole waxing on about inherent dissatisfaction–and dangers–of materialism?
At TeachThought, we love hip-hop. (Want to read more? You could start with 11 Classic Hip-Hop Songs You Can Teach With.)
We don't write about it as much as we'd like because of the relative 'niche' status it occupies (though it's possible it's niche as an effect rather than a cause), but believe that the genre one of the best-kept secrets in Western education if for no other reason than its often brutal honesty and authenticity.
But like any genre, it has its worts. Alongside violence (and for many, profanity), the recurring theme of materialism can be guilty of reducing the art form–and this is where J. Cole steps in with some words of wisdom for teens.
Motivational Videos For Teens
Motivational videos for middle and high school students aren't easy to come by, if for no other reason than the sheer diversity of cues that motivate growing adults at these age groups. What has credibility with teens is obviously different than what has credibility for younger children and adults, which makes content like this, for the right student at the right time–priceless.
The video description says, "Rapper J.Cole believes that happiness and satisfaction can never be attained by pursuing things such as materialism. He thinks that we should place our importance on spiritual elements or elements which contain real substance."
Using examples from his personal life that many teens may be able to relate to, if you know a teen that might benefit from a little wisdom, maybe something in this video might resonate.
While the overt themes of materialism, consumerism, superficiality or a related social issue/abstraction could make a nice pep talk or writing prompt, the whole premise could serve as a 'cornerstone text' for a personal identity essay or unit.
Wisdom For Teens: Hip-Hop Artist J. Cole On 'The Disease Of More'; image attribution wikimediacommons