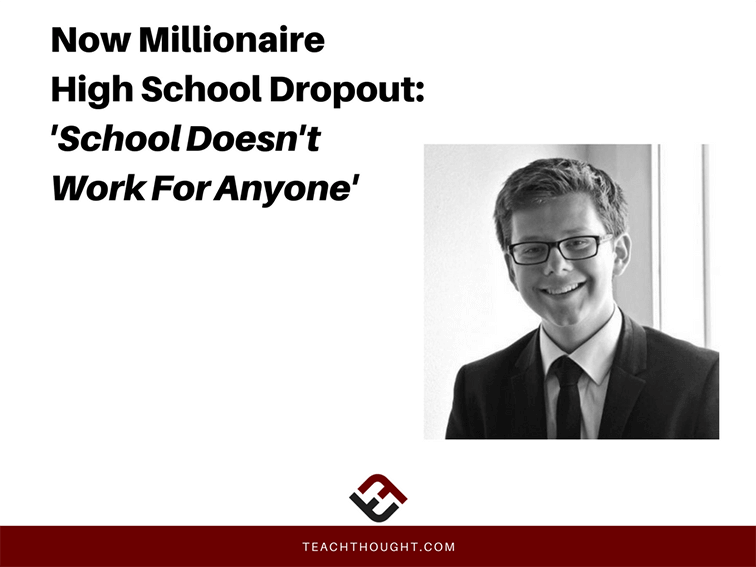 Now Millionaire High School Dropout: 'School Doesn't Work For Anyone'
by TeachThought Staff
The value of education is proportional to its quality, and its quality is highly dependent on its personalization–how specific the wildly ranging knowledge demands of individual students are met.
It's certainly not an easy task, and given the scarce tools, scant support, and often stifling limitations placed on many teachers, it can be an uphill climb.
Erik Finman, who began investing in cryptocurrency bitcoin at the age of 12, recently made the news when it was publicized those investments were now worth over $1 million, but comments Finman made about the education system will likely resonate most urgently with teachers.
"(High school) was pretty low quality," he said. "I had these teachers that were all kind of negative. One teacher told me to drop out and work at McDonald's because that was all I would amount to for the rest of my life. I guess I did the dropout part. "I never got my GED, and I don't see the value in it," Finman said.
"The purpose of that would be to get another education level and get a job. I had to learn through running a business. Instead of writing essays for English class, I had to write emails to important people. The way the education system is structured now, I wouldn't recommend it," Finman said.
"It doesn't work for anyone. I would recommend the internet, which is all free. You can learn a million times more off YouTube and Wikipedia."
A nymag article details social life for the teen.
'Socializing for Erik is a predicament. "One thing about being 15 in the Bay Area," he says, "I hang out with a lot of 20-year-olds. The Bay Area has the lowest amount of high schools per population, I think." When his older friends go to parties that double as networking events, Erik must glumly part ways at the door, barred as underage. He has found it hard to meet someone his age he can have an intellectual conversation with. He has profiles on sites like OkCupid and Tinder where he's listed as 18. "There's this 16-year-old girl who invented a flashlight powered by body heat. She was on The Tonight Show. I was jelly," he says, envy creeping into his voice. "I sent her a Facebook message but accidentally sent her a giant cat sticker." She never responded.'
You can get a more in-depth look at nymag.com.
Now Millionaire High School Dropout: 'School Doesn't Work For Anyone'