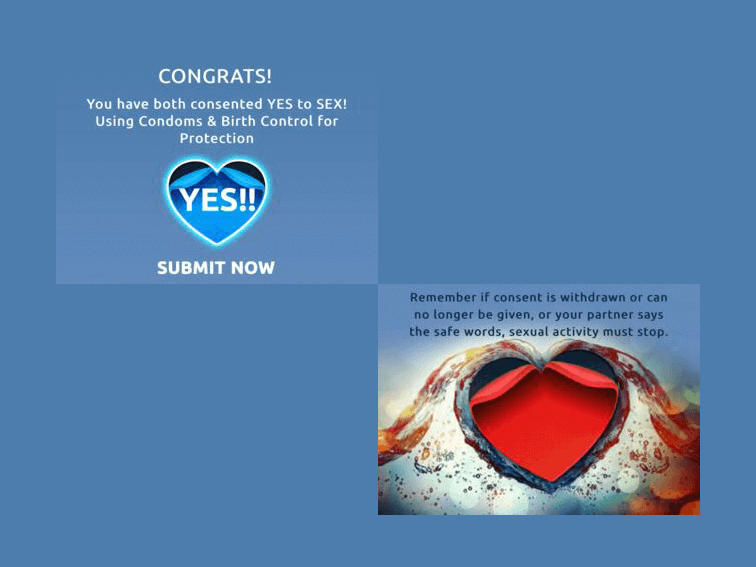 New App Helps Students Learn How To Avoid Non-consensual Sex
by TeachThought Staff
From a press release. Summary: App Enables Clear Sexual Consent Conversations Among Users, Including Protection Choices, to Determine Willingness To Verbally Consent or Not for User Safety
Ed note: (Obviously) download and experiment with the app to determine appropriateness before suggesting students download the app. Words like "horny" are part of the deal here.
(New York, NY)– YES to SEX, an app that helps students learn how to avoid non-consensual sex by requiring partners to digitally agree to the major factors around sexual encounters – consent and protection – in as little as 25 seconds pre-sex, launched today. The app aims to help students evade assault and the more than 1 million sexually transmitted infections (STIs) that are acquired worldwide each day.
Prior to engaging in sexual activities, partners can confirm consent facts, agree whether or not to use protection, and then verbalize and save individual decisions on the app. The app is free to use and requires no sign-up, names, faces, videos, fingerprints, emails, phone numbers, social media information or signatures. Once a user closes out of the app, no information remains saved on any phone, however the date, time, place, and voice recordings are stored on YES to SEX's secure servers, using the same data encryption as the government's Department of Defense. These records can only be retrieved with court-endorsed orders, ensuring anonymity for both consenting partners.
According to the Center for Disease Control, 1 in every 2 sexually active people will get an STD or STI between ages 15-25, while the American Journal for Public Health highlights that 51% of pregnancies are unintended.
Wendy Mandell-Geller, the app's founder and mother of three college-aged students, who has a background in psychology, developed the app's safe sex concept in 2015 after listening and conversing with her children and their diverse group of friends about their pre-sex habits and thoughts on the new "Yes Means Yes" law. As a result, Mandell-Geller was inspired to create a phone app as an alternative communication tool that would encourage informed and safe decision making while still appealing to the Millennial and Generation Z lifestyles.
"As a mother, I was horrified to learn that every month in the U.S. over 1.7 million STIs are transmitted and 50% of our youth ages 15-25 are now infected. Similarly, 25% of female students and 6-8% of male students are sexually assaulted each year on educational campuses," stated Mandell-Geller. "I want to empower teens and young adults to initiate conversations with their partner(s) about consent and the use of protection in a modern, approachable manner that fits into their lifestyles."
The YES to SEX app is available to download on iOS and Android.
About The App
Launched in 2016, YES to SEX helps students avoid the awkwardness of discussing "Yes" or "No" to sex. The easy-to-use app allows individuals to easily confirm consent stances, agree on protection and finally verbalize and save decisions in as little as 25 seconds before sexual activities. YES to SEX is based in North Carolina and was founded by Wendy Mandell-Geller, a mother of three.