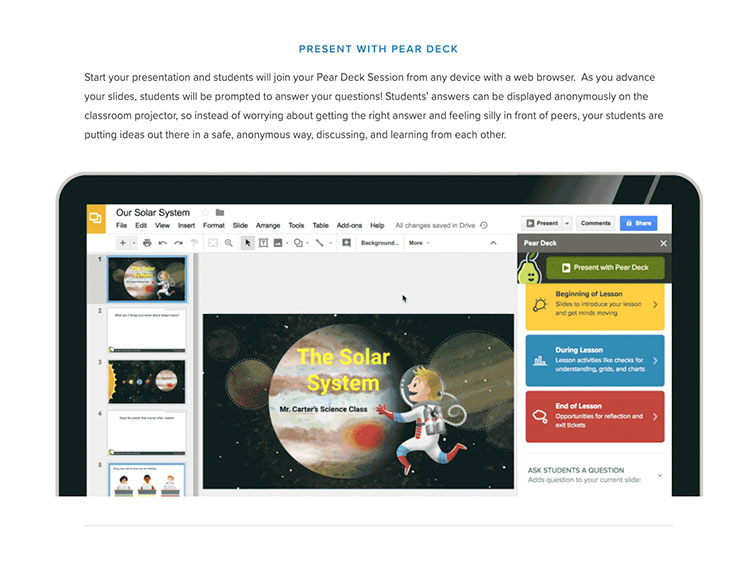 Britannica Digital Adds Pear Deck Learning Assets To Social Studies Platform
by TeachThought Staff
Britannica Digital Learning, in partnership with the popular education platform Pear Deck, has introduced a raft of new interactive activities to its popular LaunchPacks social studies platform hoping the collaboration will promote critical thinking and inquiry skills through the use of their respective assets.
Th result is LaunchPacks include interactive Pear Deck presentations that support subject content and provide formative assessment opportunities. With extensive coverage of history and social studies topics with content packets of rich, trusted, and curriculum-aligned material, LaunchPacks provides activities for teachers that make teaching and lesson planning easier and more efficient. To the articles, images, and primary source material in LaunchPacks, Britannica has added interactive Pear Deck activities that have a chance to stimulate students' curiosity and provide another point of entry into the subject matter.
Several types of interactive questions are included in each presentation, providing activities for students. Some have multiple-choice questions, others call for students to write short answers, respond by drawing on the screen, or complete drag-and-drop exercises.
Teachers can use the Pear Deck activities as-is or customize them, edit and add new slides, and make them more interactive using the Pear Deck Add-on for Google Slides. They present slide shows to the class and the students join the session from their own devices. As they progress through a series of interactive slides, teachers can monitor students' responses to the exercises. In this way, the program has a chance to stimulate students' curiosity about the topic while giving teachers a real-time insight into student understanding they can use to provide individualized instruction.
Pear Deck's instructional supports are an ideal fit for LaunchPacks and help the product better fulfill its educational mission, according to Karthik Krishnan, global CEO of the Britannica Group.
"Pear Deck is a popular tool with teachers, so we're confident this new feature will be widely embraced," said Krishnan. "Teachers can use the activities to get students thinking about the content, engaging with the materials in LaunchPacks, and then reflecting on what they've learned individually and as a class. Teachers and students will both find this to be a big asset."
"Teaching that draws out excellence from every type of learner is really hard, so we're always thinking about new ways to give teachers simple but instructionally effective resources to do that," said Pear Deck Chief Educator Michal Eynon-Lynch. "This is a compelling partnership because Britannica has an incredible legacy as a trusted, go-to resource, and pairing that with engaging in-class instruction is a powerful combination."
Pear Deck activities for grades 6-8 are now available to schools using the U.S. version of Britannica LaunchPacks Social Studies. The company says it plans to double the number of content packets containing Pear Decks lessons in the next two months. For more information, watch the LaunchPacks/Pear Deck video.
This post was compiled from a press release