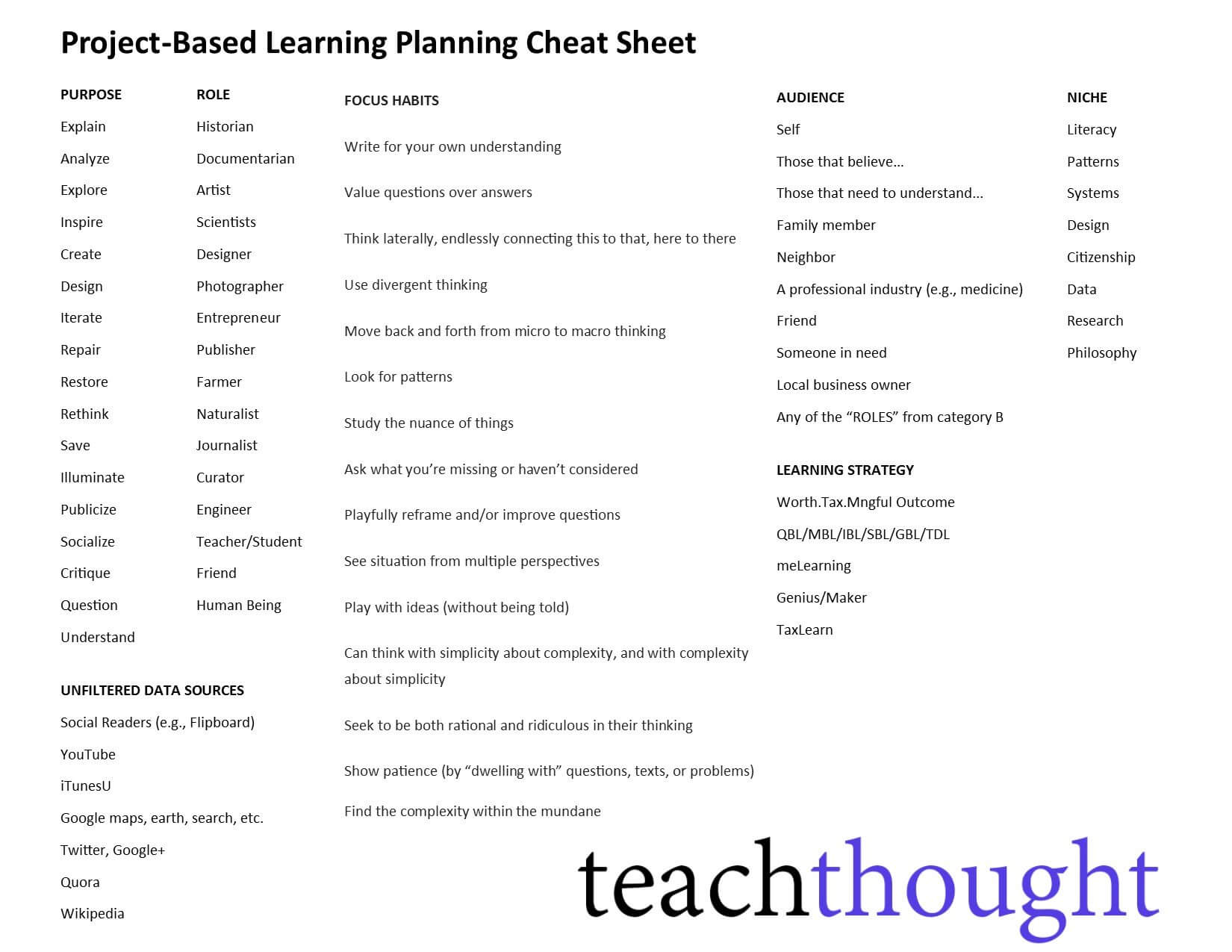 A Project-Based Learning Cheat Sheet
by TeachThought Staff
Like most buzzwords in education, "authenticity" isn't a new idea.
For decades, teachers have sought to make student learning "authentic" by looking to the "real world"–the challenges, technology, and communities that students care about and connect with daily. You've probably been encouraged in the past to design work that "leaves the classroom." Reach beyond the school walls. The question is, how?
We're going to take a closer look at progressive approaches to teacher planning whenever Terry Heick can be convinced to finish that series. (And the one on "A Classroom of Affirmation," and….) For now, we've got the above #pbl cheat sheet that can be used as a kind of macro overview when designing projects.
The function of this image is to act as a kind of brainstorm–to help you get your own creative juices going to decide what's most important when designing an authentic project-based learning unit–audiences, technology, habits, purposes, and so on.
You obviously don't even have to use these categories; they are just a sampling of the kinds of thinking that can help you make the shift from academic to authentic learning. Yes, some are decidedly hippie-like–open-ended, abstract, and utopian. This is still TeachThought, after all.
3 Questions To Guide Authentic Project-Based Learning
What role is the learner taking on?
What is their purpose?
Who is their audience?
And your thinking and experience? To the comments please to share with your colleagues. What are you seeing here? Any important shifts? What else would you like to see in a cheat sheet like this?
Update: We're going to clarify the "learning strategy" part with definitions and visuals soon. The links will be added to this page.
A Project-Based Learning Cheat Sheet For Authentic Learning