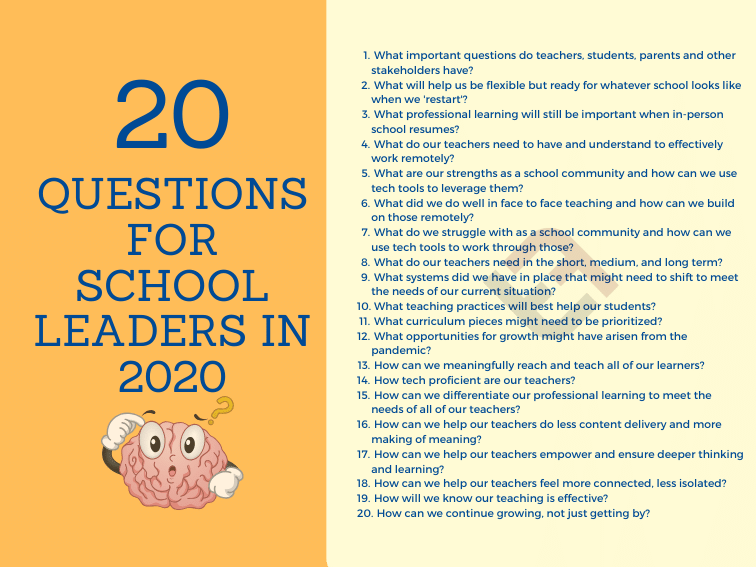 20 Questions To Guide School Leaders During COVID-19 Pandemic
contributed by Drew Perkins
In an era of significant change and new pressures and opportunities, what questions might school leaders find useful to clarify a path forward?
After the onset of COVID-19 earlier this year has introduced a new set of challenges and with that, questions.
There's now the added obstacle of not being able to congregate which makes it more difficult to collaborate meaningfully. Of course, many educators have bridged some of that gap with various online video chat platforms like Google Meet or Zoom. Still, many of us have our own children and family members to work around and with as we adjust to a new (hopefully temporary) normal.
Most schools seem to be just trying to get through each day with many eyeing the end of the school year as a chance to exhale. Professional development has been, understandably, put on the back burner for the moment. What the next school year or upcoming months will look like is anybody's guess but what should we be doing now to be better prepared? As usual, at TeachThought Professional Development, we think it's vital to think about all of this through the lens of inquiry.
What are some important questions school leaders should be considering in 2020 and into 2024 as we work through the uncertainty created by COVID-19?
New Priorities? 20 Questions To Guide School Leaders Forward
1. What important questions do teachers, students, parents and other stakeholders have?
2. What will help us be flexible but ready for whatever school looks like when we 'restart'?
3. What professional learning will still be important when in-person school resumes?
4. What do our teachers need to have and understand to effectively work remotely?
5. What are our strengths as a school community and how can we use tech tools to leverage them?
6. What did we do well in face to face teaching and how can we build on those remotely?
7. What do we struggle with as a school community and how can we use tech tools to work through those?
8. What do our teachers need in the short, medium, and long term?
9. What systems did we have in place that might need to shift to meet the needs of our current situation?
10. What teaching practices will best help our students?
11. What curriculum pieces might need to be prioritized?
12. What opportunities for growth might have arisen from the pandemic?
13. How can we meaningfully reach and teach all of our learners?
14. How tech-proficient are our teachers?
15. How can we differentiate our professional learning to meet the needs of all of our teachers?
16. How can we help our teachers do less content delivery and more meaning-making?
17. How can we help our teachers empower and ensure deeper thinking and learning?
18. How can we help our teachers feel more connected, less isolated?
19. How will we know our teaching is effective?
20. How can we continue growing, not just getting by?
Of course, this list is not comprehensive and the beauty of questions is that they can often be sharpened in powerful ways. To that end, I invite you to share your additions or modifications in the comments below or on social media.