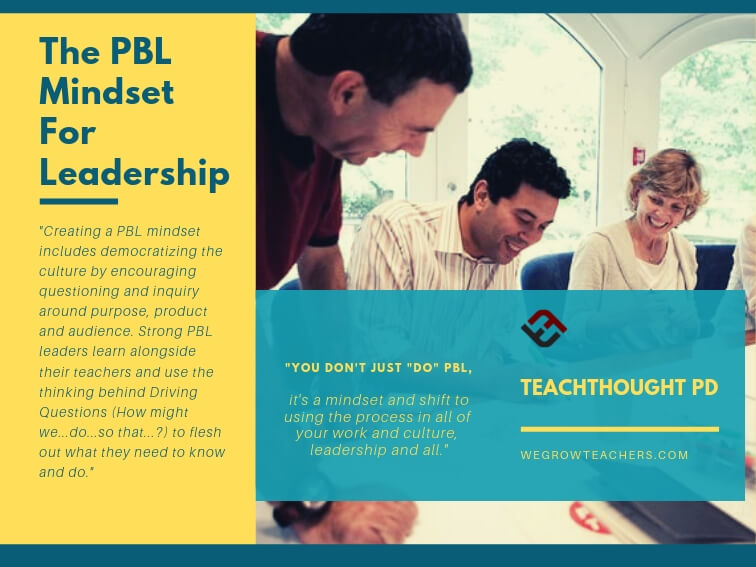 What Is The PBL Mindset for Leadership?
by Drew Perkins, Director of TeachThought Professional Development
In a recent blog post (How the Culture of Achievement is Hurting Our Schools) I noted the dangers of chasing achievement and scores in lieu of creating a culture focused on teaching and learning. If we're truly trying to create a school and culture where students and teachers are excited, engaged and empowered by their work and thinking it will take more than a workshop or conference trip or even a few touches throughout the year. In fact, that type of limited engagement can be more problematic in terms of student and teacher performance and trust.
As a believer in quality project based learning as a transformative model it's important to note the same dynamic and realize that PBL done poorly can leave you at the bottom of the J curve that research shows is a typical progression of implementation as teachers refine their practice.
Implementing quality PBL across a school usually takes several years but it also takes consistent guidance, work and leadership over that time. Teachers cannot operate as rogues and cowboys with an occasional refresher. c
READ: 7 Questions To Guide Your PBL Implementation Plan
Principals and other administrators are busy people who have stakeholders coming at them from all sides. These distractions can take the focus away from what Sir Ken Robinson notes as the most important anchors (14:24 mark), teaching and learning.
With this in mind it's essential for leadership to engage in the work in much the same way they expect from their teachers. The best examples of leaders I've seen have participated in the PBL workshop alongside their teachers and used PBL to engage with their staff throughout the year.
Creating a PBL mindset includes democratizing the culture by encouraging questioning and inquiry around purpose, product and audience. Strong PBL leaders learn alongside their teachers and use the thinking behind Driving Questions (How might we…do…so that…?) to flesh out what they need to know and do. They utilize the PBL process with staff development and to solve real problems in much the same way teachers would with their students.
You don't just "do" PBL, it's a mindset and shift to using the process in all of your work and culture, leadership and all.
I have too often worked with schools and teachers where the administrators are running in and out of the workshop or support visit tending to their always growing list of administrative duties. While understandable, it raises the question of how well they'll be able to support the work of their teachers going forward and if this is the approach they'll take over the school year. Without this support and the understanding that real change and shift takes time and steady, focused work the chances of the quality implementation are greatly reduced.
Leaders with a PBL mindset understand that focusing on achievement and scores comes with a low ceiling. Instead they realize that the real growth potential is in refining teaching and learning by trusting teachers and equipping them with tools that allow collective critique and improvement of the craft. This might feel uncomfortable just as it does for teachers to relinquish "control" to their students but it's actually quite liberating and powerful.
Interested in growing PBL at your school? Contact TeachThought PD.
Image attribution flikr user Pop Tech