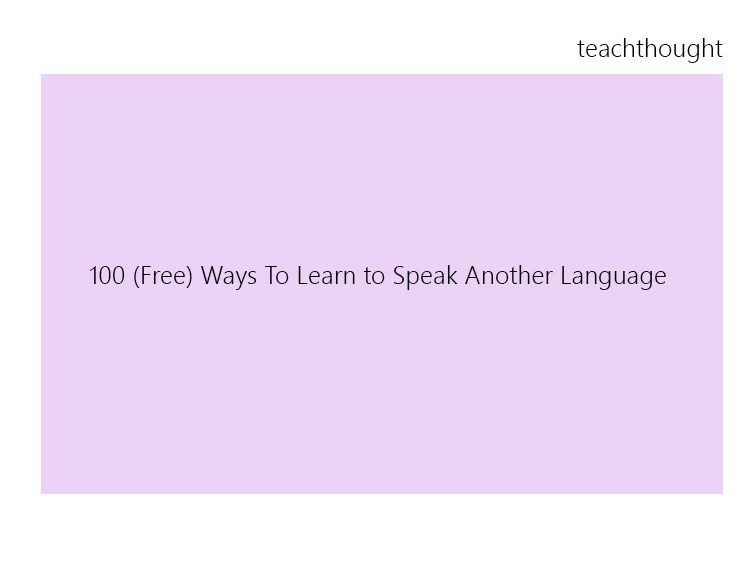 100 Resources To Learn to Speak Another Language
by TeachThought Staff
Ed note: This post was first published in 2012, and is in the process of being updated. If you have any updates or corrections, please let us know in the comments.
Learning another language is among the many things that have been made easier with the explosion of the digital universe. While some of the resources aren't incredible (simply using Google Translate), and some of the languages fairly obscure (Welsh), the list is impressive if for no other reason than to demonstrate how much is actually out there if you do a little digging.
BBC Greek  This option from the BBC is the full package, with videos, games, exercises, and audio to make it all Greek to you.
Espacios publicos  Very quickly into the 20 hours of introductory Spanish course material, you'll discover this means "public spaces."
Beginners' Chinese  Mandarin Chinese is presented here in more than six hours of material for people with absolutely no prior experience with the language.
French 101  Fifteen introductory French video lessons from Carnegie Mellon University are at your disposal, and you can save your work if you create an account.
Introduction to Portuguese  Start studying now and you'll be ready for Carnival in February 2013.
BBC German  With tabs for beginners, school German, vocab, and video tutorials, the BBC has you covered.
Learn How to Speak Japanese  More than 40 instructional videos are bolstered by instruction in grammar, Japanese history, and the country's culture.
American Sign Language  With videos and a lengthy glossary complete with pictures and descriptions, Lifeprint.com gets a thumbs up for learning sign language.
Getting Started on Classical Latin  In 10 hours you'll learn how engrained Latin is in English and get a good grip on sentence structure and pronunciation.
The Big Welsh Challenge  Can you learn Welsh? The BBC brings you all the tools you need with this free course.
Elementary Russian  Learn Russian by watching the BBC series Goodbye Summer and working through the 70+ exercises.
Farsi 1  This brief intro to Farsi, or Persian, comes courtesy of Wikiversity and a $0 price tag.
Learn English Online  For non-native speakers, this is a great intro to the basics of an often-confusing language.
BBC Italian  Converse with your local pizza shop owner after studying up on this beginner's course.
Learn How to Speak Russian  The ELanguageSchool delivers this set of grammar, vocab, and 18 video lessons for learning Russian.
Kenyan Sign Language  This unique form of communication can be easily picked up, thanks to this free course by the Peace Corps.
Chinese I  MIT's much-copied OpenCourseWare is the home of this free course on introductory Chinese, which comes with online texts and multimedia content.
Lernu  This is a great site for learning the universal language of Esperanto for free.
Intermediate German  This free courseware from the Open University helps you practice your German by studying its culture and families.
Conversa Brasileira  Intermediate-level students can watch 35 unscripted conversations between native Portuguese speakers here, with subtitles and pop-up audio commentary.
Old Norse for Beginners  Learn how to talk like a Viking with this course, plus play rune puzzles and do exercises.
Video Channels
Just watch and learn.
Podcasts
If you're an auditory learner, we have good news for you.
Textbooks
Finally, free textbooks. Take that, campus bookstore!
Translation
Use them as a supplement to your studies or just type a word in and memorize what comes out.
Communities
Harness the power in numbers by connecting with other language learners.
Livemocha  Through this language site's community you can have exercises reviewed by other users, practice your conversation, and more.
italki  Have your questions answered, your writing corrected, and above all, communicate on this global language network.
Lingopass  Jump into group discussions or start up a one-on-one in a chat room through this site.
UniLang  "Uniting language lovers," UniLang's forums are a great place to practice that new tongue you've been learning.
My Language Exchange  Join the community of more than 1 million users from more than 130 countries and practice a foreign language with a native speaker.
Palabea  The Facebook of language networking, Palabea lets you upload video and audio, record, translate, and of course, dialogue.
Skype Community Language Learning  The popular video-calling software has a section for users to ask and answer questions and make connections for conversations.
The Mixxer  Similar to My Language Exchange, Mixxer is Dickinson College's platform for language learners to be both teachers and students.
My Happy Planet  Members can create their own lessons for others or just communicate with them directly on this learning community site.
Tools
These high-tech resources will streamline your language learning experience.
Apps
Follow these links for the best language learning on the go.
This is a cross post from OnlineCollege.org