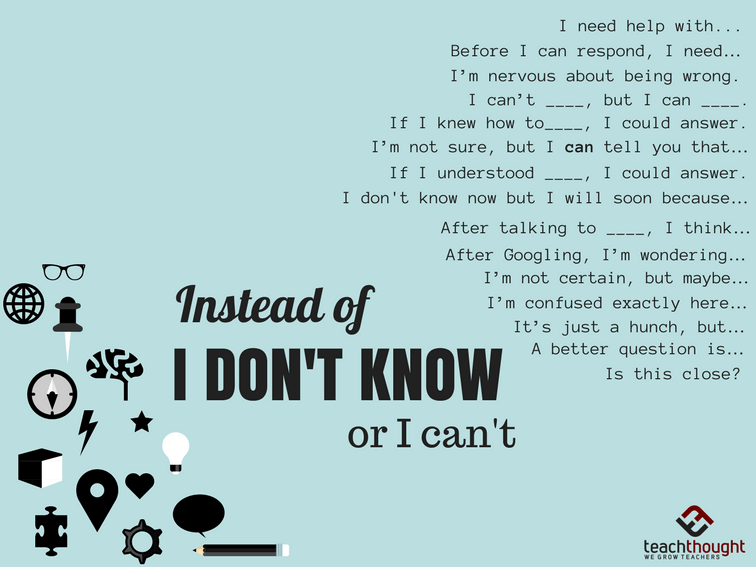 25 Alternatives To 'I Don't Know' & 'I Can't'
by TeachThought Staff
At the core of a growth mindset is the willingness to change.
While you might want to 'change' (e.g., improve), changing your own thinking patterns has to precede any behavioral change (e.g., growth), and language is a big part of that.
I can't figure this out vs I haven't been able to figure this out.
They won't listen vs I have yet to figure out how to make them listen.
I've failed three times vs I've found three ways that don't work.
I don't know vs I'll know as soon as I figure out…
The lesson? Language and thinking and change and growth all go hand-in-hand. You can find 25 alternatives to growth-killers 'I don't know' and 'I can't' below.
If you want a ready-to-use-tomorrow version of this, you can find a one version available for download, too.
25 Alternatives To 'I Don't Know' & 'I Can't'
1. I need help with …
2. Before I can respond, I need …
3. I'm nervous about being wrong.
4. I can't …, but I can …
5. If I knew how to …, I could answer. (Or, 'If I could …, I could …)
6. I don't know now, but I will soon because …
7. After talking to …, I think …
8. Let me find out.
9. I'm not certain, but maybe …
10. I'm confused exactly *here*.
11. It's just a hunch, but …
12. A better question is …
13. Is this close?
14. I can't because …
15. Learning is like a 10-run ladder, and I'm on rung # …
16. Let me make sure I understand exactly what's being asked…
17. I feel comfortable/can answer or respond to this part…
18. Because I'm not sure, I should …
19. After googling, I'm wondering …
20. I can tell you that …
21. I know/know how to … and don't know/know how to …, so the next step that makes the most sense is …
22. My gut tells me …
23. In the past when I didn't know, one thing that worked for me is …
24. I don't know because …
25. I'm going to start answering by …
26. Nietzsche said, "Judgments, judgments of value, concerning life, for it or against it, can, in the end, never be true: they have value only as symptoms, they are worthy of consideration only as symptoms; in themselves such judgments are stupidities."
Sentence Stems To Eliminate "I Don't Know" & "I Can't"; 15 Alternatives To 'I Don't Know' & 'I Can't'