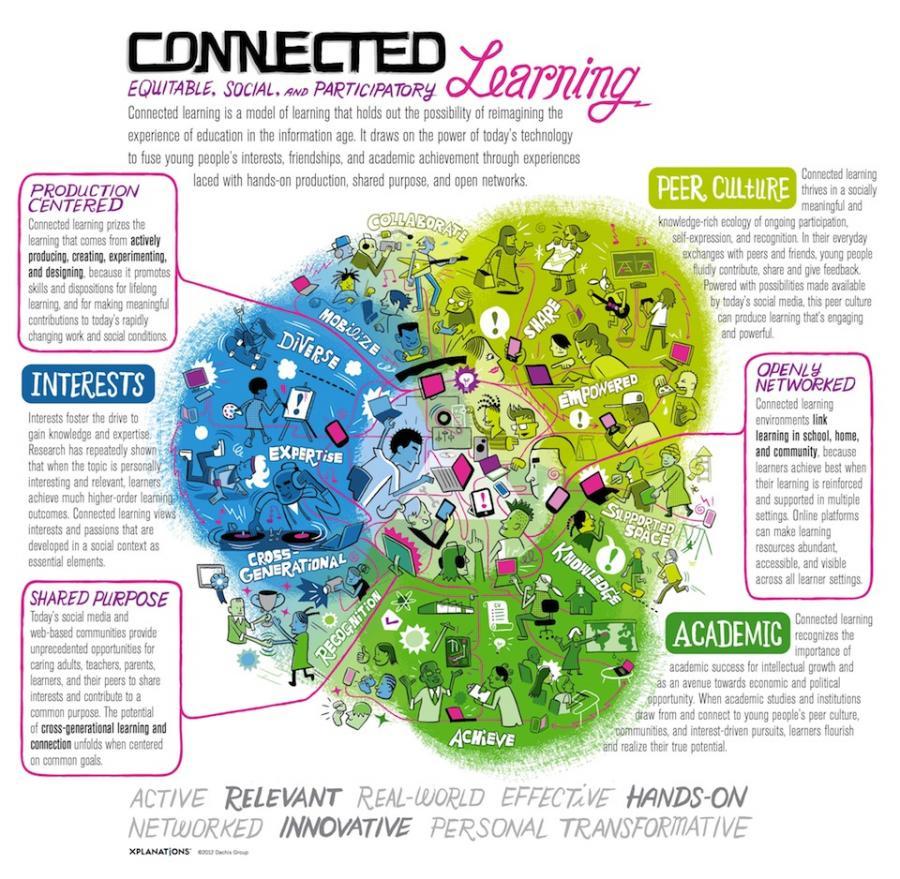 The Power Of Social Learning Models
by TeachThought Staff
Ed Note: This post was revised and republished from a previous post in 2012.
DML (a "Digital Media and Learning" project), believes in the "the power of participation," and they've created a learning model overview to share their thinking.
We recently published our Inside-Out Learning model, an attempt to return the learning to the families, organizations, and communities authentic to the learner.
DML's model is similar in philosophy, underscoring the role of interdependence. Called Connected Learning, the model is a response to changing face of culture as it relates to social and digital media. As technology evolves at breakneck speed, models that account for this kind of change are few and far between. Without review and revision of how and where students learn, the response is less than ideal: either blind adoption of technology, awkward adoption, or no adoption at all.
Connected Learning "is an answer to three key shifts as society evolves from the industrial age of the 20th century and its one-size-fits-all factory approach to educating youth to a 21st century networked society."
1) A shift from education to learning. Education is what institutions do, learning is what people do. Digital media enable learning anywhere, anytime; formal learning must also be mobile and just-in-time.
2) A shift from consumption of information to participatory learning. Learning happens best when it is rich in social connections, especially when it is peer-based and organized around learners' interests, enabling them to create as well as consume information.
3) A shift from institutions to networks. In the digital age, the fundamental operating and delivery systems are networks, not institutions such as schools, which are one node of many on a young person's network of learning opportunities. People learn across institutions, so an entire learning network must be supported.
Connected Learning: The Power Of Social Learning Models; image attribution DML