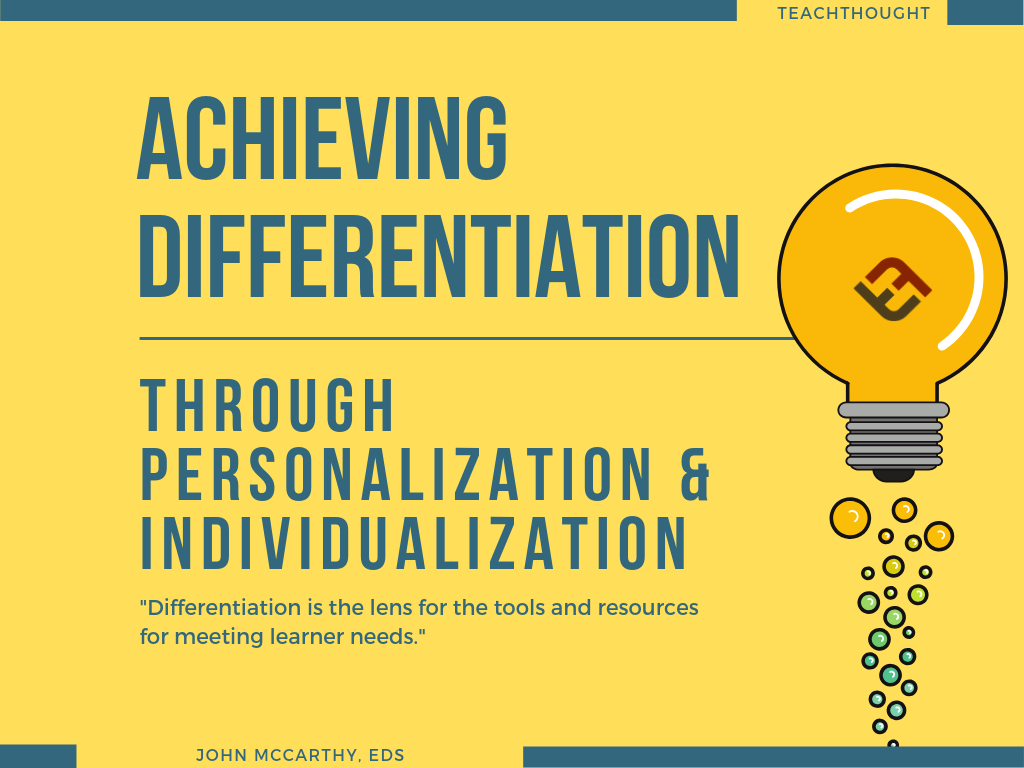 Achieving Differentiation Through Personalization & Individualization
contributed by John McCarthy, EdS
What is the difference between personalized learning and individualized learning?
The term personalization and individualization are often used synonymously for differentiating instruction.
While both concepts support meeting students' learning needs, they serve different purposes. For many educators, this conversation may seem like an exercise in semantics. Yet the differences in the practical usage of personalization and individualization can help improve instructional planning by teachers and be strategic in meeting the needs of all students.
Differentiation is the lens for the tools and resources for meeting learner needs. Personalization and individualization are approaches for providing the best conditions for the success of students achieving the learning goals.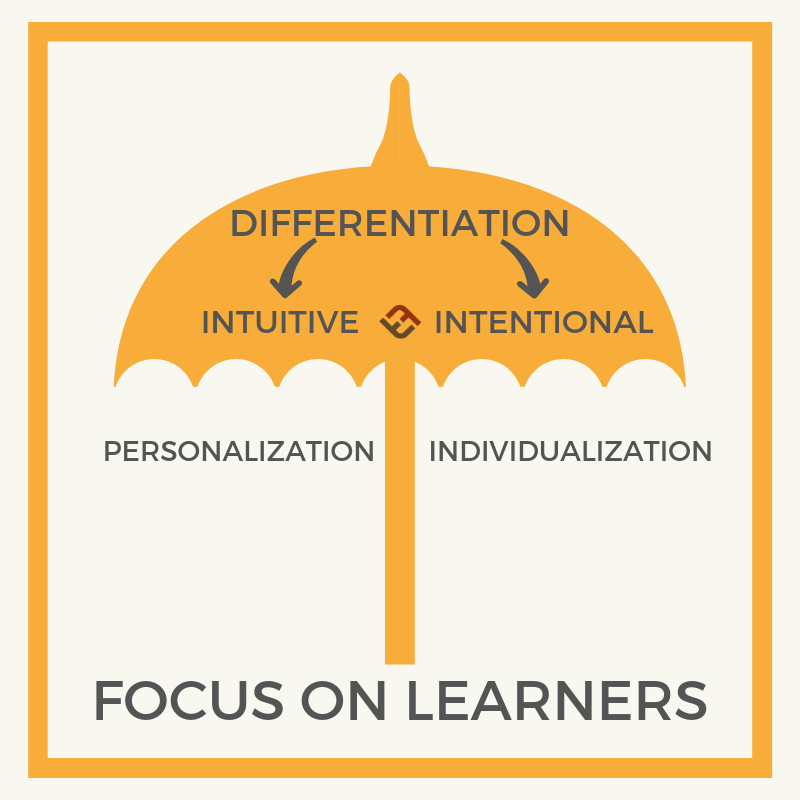 Differentiation Defined
It is best to start with a common structure for taking this dive into deeper learning through Differentiation. In practice, the definition of differentiation focuses on meeting the needs of all learners, beginning through assessments of where their skills currently stand. Lorna Earl explains the relationship between assessments and Differentiation best.
She states, "Differentiation is making sure that the right students get the right learning tasks at the right time. Once you have a sense of what each student holds as 'given' or 'known' and what he or she needs in order to learn, differentiation is no longer an option; it is an obvious response."
Differentiation in Practice: Intuitive & Intentional
There are two approaches to practicing Differentiation: Intuitive and Intentional. When used together, the effective and efficient practice of personalization and individualization of instruction can take place.
Intuitive differentiation occurs 'in the moment' as instruction happens. Teachers make adjustments based on "how students respond—or do not react—to the plan (John McCarthy, So All Can Learn: A Practical Guide to Differentiation). A core skill of teachers is being able to adapt instruction when some students appear to be lost, or for learners who find the work to be not challenging.
Intentional differentiation happens during the lesson planning process. Preplanning enables teachers "reflecting on and implementing the elements of differentiation into lessons provides strategic support of student learning" (John McCarthy, 2017). If we know that students are likely to negatively struggle with an upcoming lesson, or have previously learned the targeted skills, then preplanning differentiation based on assessment data is necessary for greater chances of learner success.
Once the plan is in place from intentional differentiation, teachers will have prepared responses to the predicted likely needs of learners, such as leveled activities aligned to readiness skills of students, graphic organizers, and/or opportunities for students to drive how they can best demonstrate their understanding. Within this context of Differentiation, personalization and individualization can be used with greater clarity.
Individualization Of Learning
Individualizing learning is likely most often used as it is a teacher-centered approach. Teachers look at assessment data to identify trends for the common needs of the group, either whole class or through small groups. For example, students working on research and writing may be identified into groups based on skill level for writing details, from a basic listing to using text evidence.
When individualizing, teachers develop supportive designs, using student data. Students may be given choices, but they are generally not included in the drafting process. This teacher-centered approach is useful when the scaffolds and adjustments can be generalized based on students' shared common needs.
The learning experiences may be differentiated in several ways:
Whole-Class
The teacher provides a variety of graphic organizers and other tools to students based on their needs while conducting a whole class experience. The lesson might also include jigsaws or think-pair-shares that encourage students to support each other's thinking during the whole class lesson.
Small Groups & Individuals
The teacher plans centers activities where students rotate between stations that include folders, each assigned to the needs of student groups. The centers could also be virtual to add more options and address any room space challenges. The teacher has the option to move around to provide help where needed or run a station to meet with groups or individuals for coaching support.
Choice-based
The teacher designs and offers set choices. The students pick from the options, giving them some control of their learning experience. Choice is a gateway to true student voice, which is often fostered through personalized learning.
Other examples of Individualization might include Guided Reading and leveled math groups or classes. Often when we think about the readiness skills of learners, we group them based on their assessment results. It is how teachers differentiate based on common needs. Identifying a student's learning preferences and interests is used by teachers to inform lesson planning and unit development.
In each case, when the teacher drives the development work, informed by assessment data, the results can be high-quality individualization.
Personalization Of Learning
Personalizing is actively including the learner in constructing their understanding. What skills and life experiences does she have, and how could they be used to tackle concepts and skills? What the student brings is used along with academic assessment data to craft learning experiences that use the student's strengths and interests.
For example, let students design their homework practices and assessments, with guidance on the academic criteria from the teacher. An easy first step is to give students two options as designed by the teacher. Then, give them a third option, which is to develop their own idea. The teacher listens to the student's proposal. The design can be accepted, revised, or sent back to students for developing a new idea. If the student does not get a proposal accepted within a specified time frame, he must pick from the teacher-designed options.
Including students in the lesson or assessment development process does take more time in the short term, but may save time in the long term, because the learning connections are tighter with students' active input. Involving students in the planning process enables them to provide ideas that "they" know will help them make learning connections, raise buy-in, and empower them to persevere where needed.
All this can happen because the student shares in the planning process.
Differentiation Meets Everyone's Needs
Individualization and personalization are both good for meeting learner needs. While there may be arguments by proponents on both sides, what matters is differentiating for what students need to achieve. Analysis of these ideas can provide us a nuanced perspective that contributes to the search for improving student achievement. The best option will depend on the teacher's comfort zone when planning and how best students might respond.
Individualizing is a common choice by teachers because it seems quicker to manage and plan with only one person, the teacher. Arguably, individualization based on sound assessment results can be used for many day-to-day student needs. Personalization requires teachers to be willing to give up at least some of their control of the planning.
When a student helps create what is often a performance assessment, there is no guessing by the teacher as to the fit. No need to convince students that the learning experience will be good for them because they helped make the choices.
The next time you are planning intentional differentiation, think about if individualization or personalization is the best approach for that upcoming lesson. Whichever path you choose, based on a close look at assessment data, will be good for students.
John McCarthy is author of So All Can Learn: A Practical Guide to Differentiation