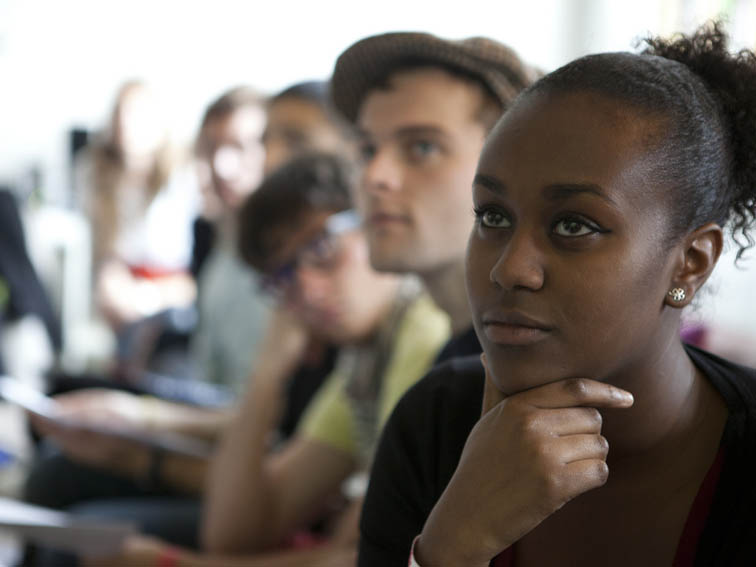 How Virtual Classrooms Can Promote 1-1 Student Conferencing 
by Rosa Fattahi, WizIQ
This is a sponsored post by WizIQ describing the benefits of 1-to-1 student conferencing in classrooms and eLearning environments 
Why are office hours and student conferences important?
Communication is the cornerstone of teaching and learning, whether it is the teacher's presentation of material to the students, the students' expression of knowledge in assignments, or the ongoing verbal dialogue between teachers and students in classroom discussions.
For high school teachers and college instructors in particular, maintaining open communication with students can be one of the most important factors in determining students' success. Good teachers not only communicate information to their students, but they also work to communicate with their students, in order to help them achieve their best.
However, student-teacher communication during classroom instructional time, in either the traditional or online setting, is not enough. Students often have questions that cannot be addressed during class; long-term assignments like papers and projects require more individualized attention; and student performance must be addressed one-on-one.
Thus, office hours and student conferences are crucial elements in any successful pedagogy, as they provide a forum for offering personalized curricular assistance, strengthening student confidence, and addressing student progress, all of which work to ensure students' success.
How can teachers use office hours and conferences to support students?
Specifically, teachers can use office hours and student conferences to:
1. Reinforce course material and address student questions
During instructional time, it is impossible for a teacher to address all of the students' individual questions and concerns. Hence, providing students with an established time for office hours, when they can come to receive guidance and additional instruction for curricular matters, is crucial, especially for high school teachers and college student instructors.
2. Offer extra support for long-term papers and projects
Paper, projects, research, and other long-term assignments involve many parts of the learning process, from observation to analysis and synthesis, and so they require additional availability from the teacher. During the time span of such enduring assignments, teachers should hold extended office hours, providing students with more opportunities to have questions answered and receive guidance. Also, when feasible, holding 1-2 conferences with each student per project or other long-term assignment, in which the teacher can assess the student's progress and offer direction, can be very useful in keeping students on track and guiding them through the process.
3. Discuss students' overall progress, performance, and goals
It is importation to discuss each student's individual progress, performance, and goals with them periodically during the semester or year, and not all students are eager or outspoken enough to approach the teacher themselves during office hours. Thus, in order to address these matters, high school teachers and college instructors should hold scheduled, one-on-one student conferences during the span of the course.
For example, a short conference with each student at the start of the semester or year is a good way to assess their individual goals and expectations, while also enabling the teacher to get to know each student a little better. Halfway through the course, if the teacher has not otherwise communicated individually with the student in office hours or other interactions, it is a good idea to schedule another one-on-one session; here, teachers can touch base with students to discuss their progress and performance to date, as well as develop a strategy for ensuring the student's success.
Then, at the end of the semester, a kind of "exit interview" can be useful, helping teachers refine their methods by assessing student experiences while also giving students an opportunity to reflect on the course. In all, the number of scheduled, one-on-one student conferences that a teacher should hold during a course will depend on the length of the course and the needs of each individual student, as some students will require more supervision than others to keep them focused and motivated.
4. Foster more open communication with students and give personal guidance
When given one-on-one time with the teacher, away from the distractions and pressures of other students, students will usually open up and communicate more freely. For a student that may be acting out or not participating in class, or if there is a student causing the teacher concern, for example, a one-on-one conference is the ideal arena for addressing the issue. In addition, some students may seek the teacher's guidance on personal issues affecting their performance, and office hours are a safe place for students to discuss any difficult matters.
5. Provide a place for quieter, introverted students to express themselves
For quieter and more introverted students, it is especially important to provide them a place where they feel comfortable asking questions and discussing course material with the teacher. Some students are timid and unwilling speak up at all during class, rarely asking questions or volunteering responses. Many of these students just need a bit of gentle nudging from the teacher, and they can benefit greatly from the additional attention and engagement within the private setting of office hours and student conferences. Here, the teacher can work to cultivate communication and, perhaps, even get them to open up.
Both traditional and online high school teachers should hold regularly scheduled office hours for walk-in students to attend for help or guidance, as well as engaging in planned, periodic conferences to address student progress and performance. Still, some teachers may find it necessary to encourage certain students to attend office hours. Offering students some sort of incentive or extra credit is one way to persuade disinclined students to come to office hours, and requiring students to schedule and attend at least 2 one-on-one conferences a semester is a good idea.
Overall, high school teachers and college instructors, in particular, should take advantage of the incredible benefits and potential results offered by the private setting and more interpersonal communication of office hours and student conferences. The bottom line is that teachers should be available to assist and guide students, and holding regular office hours and scheduled conferences are essential parts of making oneself accessible to students.
Using Virtual Classrooms To Host Student Conferences 
Due to their many potential uses and benefits, it is evident that there is much to be gained from the one-on-one communication offered by the private arena of office hours and student conferences. However, when working online, holding office hours and scheduled conferences can be rather difficult without the right tools. So, how can online teachers take advantage of the benefits of office hours and student conferences when they are working with students at a distance?
In fact, eTeachers can hold office hours and conferences quite easily with the right learning management system, such as the online educational software and interactive learning platform offered by WizIQ. WizIQ's effective and engaging online learning platform—built specifically for education— provides online teachers of all kinds with the means to easily interact with students. WizIQ's Virtual Classroom includes tools that are particularly suited to facilitate office hours and scheduled conferences, as well as features that enable quick student-teacher communication for minor questions or concerns.
WizIQ's Virtual Classrooms makes it possible for online educators to:
Hold regular, "live" online office hours
WizIQ's live audio and video communication feature allows teachers to engage with students in real time, providing the interaction of the face-to-face experience from anywhere. Thus, teachers and instructors can use the Virtual Classroom to hold regular, "live" online office hours, when students can expect teachers to be available in the online classroom to answer questions and offer specific guidance. Online office hours held on WizIQ are also strengthened by the world of features in the Virtual Classroom, including interactive whiteboards, screen sharing, chatting tools, and more, all of which are invaluable aids when trying to address student queries and provide instruction online.
Hold scheduled office hours and conferences for long-term projects
Besides regularly scheduled office hours, WizIQ is great for helping students with long-term assignments. The WizIQ Virtual Classroom provides teachers with all the tools they need to offer students assistance, guidance, and feedback in an engaging and interactive, scheduled online "office hour" session or project conference. Teachers can dialogue with each student using audio and video communication, addressing their specific questions while also offering them direction for moving forward. Plus, the Virtual Classroom has all the tools needed to help teachers aptly discuss project goals and provide examples, including screen sharing, video streaming, interactive whiteboards, and much more.
Hold scheduled, one-on-one student conferences
Using WizIQ's live audiovisual communication, teachers can hold real-time, scheduled student conferences that bring the interaction of the face-to-face experience to online learning. The Virtual Classroom is an ideal learning platform for facilitating individual conferences with students at any time during the semester, including scheduled introductory, periodic, and final conferences, as well as one-on-one sessions requested by students. Besides allowing real-time communication, WizIQ has many tools that to help manage online conferencing.
For example, during a student conference, teachers often need to look at samples of student work to discuss them with the student; WizIQ's document sharing and screen sharing features can help facilitate this. In addition, to help ensure that students attend scheduled sessions, WizIQ's Notifications feature allows teachers to send email reminders.
Hold small group sessions or student-parent conferences
For more information on virtual classrooms from WizIQ, please visit WizIQ.com
Image attribution flickr user amnestystudent