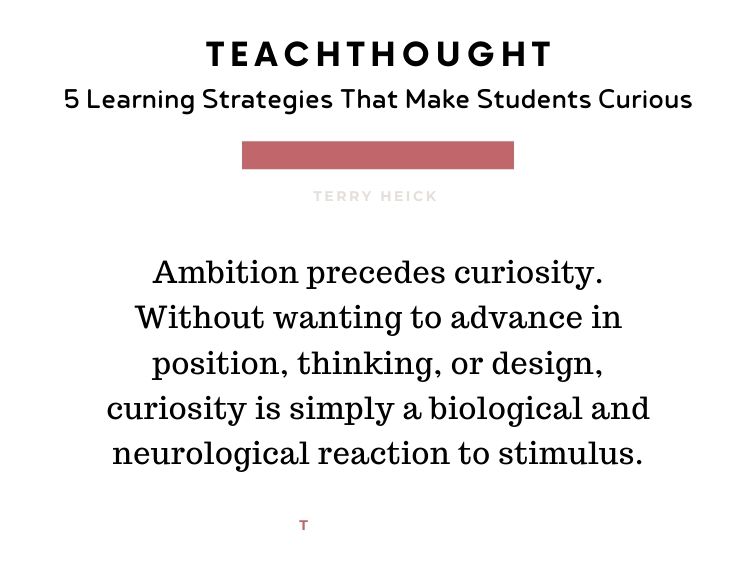 These Learning Strategies Make Students Curious
by Terry Heick
Understanding where curiosity comes from is the holy grail of education.
Education, of course, is different than learning but both depend on curiosity.
Education implies a formal, systematic, and strategic intent to cause learning. In this case, content to be learned is identified, learning experiences are planned, learning results are assessed, and data from said assessments play some role in the planning of new learning experiences. Learning strategies are applied, and snapshots of understanding are taken as frequently as possible.
This approach is clinical and more than a smidgeon scientific. It arrests emotion and spontaneity in pursuit of planning and precision, a logical trade in the eyes of science.
Of course, very little about learning is scientific. While data, goals, assessment, and planning should all play a role in any system that purports to actually accomplish anything, learning and education are fundamentally different. The former is messy and personal, painful and fantastic. The latter attempts to assimilate the former—or at least streamline it as much as possible in the name of efficiency.
An analogy might help. (I love teaching with analogies.)
learning : education :: true love : dating service
True love may very well come from a dating service, and dating services do all they can to make it happen, but in the end—well, there's a fair bit of hocus pocus at work behind it all.
Hubris & Education
Education is simultaneously the most noble and hubristic of all endeavors. There are two minds to every educator. This may all reek of sensationalism, but watch anyone at play, honing a craft, lost in a book, or engaged in a digital simulation and you'll see a completely different person—one there physically, but far removed in spirit.
In a better place.
Causing this in a classroom is possible, but is as often the result of good fortune than good planning. The best substitutes that can masquerade as curiosity are dutiful compliance and engagement. Neither of these are curiosity, which has among its sources a strong sense of volition, accountability, and curiosity.
Here, let me try.
I want to show you what I can do.
I want to know.
And that last one—a sign of curiosity–is a bugger, one we've talked about before. Like the caffeine in coffee, the chords on a guitar, or the wet in water, genuine curiosity is not a thing, it's the thing.
Not temporarily wanting to know, or being vaguely interested in an answer, but being able to put together past experience and knowledge like the millions of fibers on a network–only to be maddeningly stopped from branching further without understanding or knowing this one bit.
Like stopping an incredible movie right at the climax—that awful, crazy feeling inside would be unfulfilled curiosity—and it'd just kill you not to know. But where does it come from?
And can you consistently cause it in a learner?
If formal learning environments driven by outcomes-based systems have taught us nothing else, it's that while we often can "cause" something to happen in learner, it is only by considerable effort, resources, and angst.
But we certainly can create ideal conditions where natural curiosity can begin to grow. What we do when it happens—and disrupts our planned lessons and tidy little units—is another story altogether.
5 Things That Make Students Curious
1. Revisit Old Questions
The simplest curiosities arise from old questions that were never fully answered, or that no attempt to answer was made.
Of course, any question worth its salt is never 'fully answered' any more than a good conversation is ever finished, but as we learn and reflect and grow, old answers can look positively awkward, as they are bound by old knowledge.
Strategy to actuate: Revisit old questions—through a journal prompt, Socrative discussion, QFT (Question Formulation Technique), or even a fishbowl discussion. And also revisit the thinking from the first go-round to see what has changed.
2. Model & Promote Ambition
Ambition precedes curiosity. Without wanting to advance in position, thinking, or design, curiosity is simply a biological and neurological reaction to stimulus. But ambition is what makes us human, and its fraternal twin is curiosity.
Strategy to actuate: Well thought-out mentoring, peer-to-peer modeling, Project-Based Learning and a genuine 'need to know.'
3. Play
A learner at play is a signal that there is a comfortable mind focused on a fully-internalized goal.
It may or may not be the same goal as those given externally, but play is hypnotic and more efficient than the most well-planned instructional sequence. A learner playing and learning through play, nearly by definition, is curious about something, or otherwise they're simply manipulating bits and pieces mindlessly.
Strategy to actuate: Game-Based Learning and learning games and simulations like Armadillo Run, Civilization VI, Bridge Constructor, and Age of Empires all empower the learner to play. Same with Challenge-Based learning and other forms of learning.
4. The Right Collaboration At The Right Time
Seeing what is possible modeled by peers is powerful stuff for learners. Some may not be initially curious about content, but seeing what peers accomplish can be a powerful actuator for curiosity. How did they do this? How might I do what they did in my own way? Which of these ideas I'm seeing are valuable to me—right here, right now–and which are not?
Strategy to actuate: Grouping is not necessarily collaboration. To actuate collaboration, and thus curiosity, students must have a genuine need for another resource, idea, perspective, or something else otherwise not immediately available to them. Cause them to need something, not simply to finish an assignment, but to achieve the goal they set for themselves.
5. Use Diverse & Unpredictable Content
Diverse content is likely the most accessible pathway to at least a modicum of curiosity from learners. New projects, new games, new novels, new poets, new things to think about.
Strategy to actuate: Invite the learners to understand the need for a resource or bit of content and have them source it. Instant diversity class-wide, and likely divergence from where you were going with it all. At worst you've got engaged learners, and a real shot at curiosity.
5 Learning Strategies That Make Students Curious