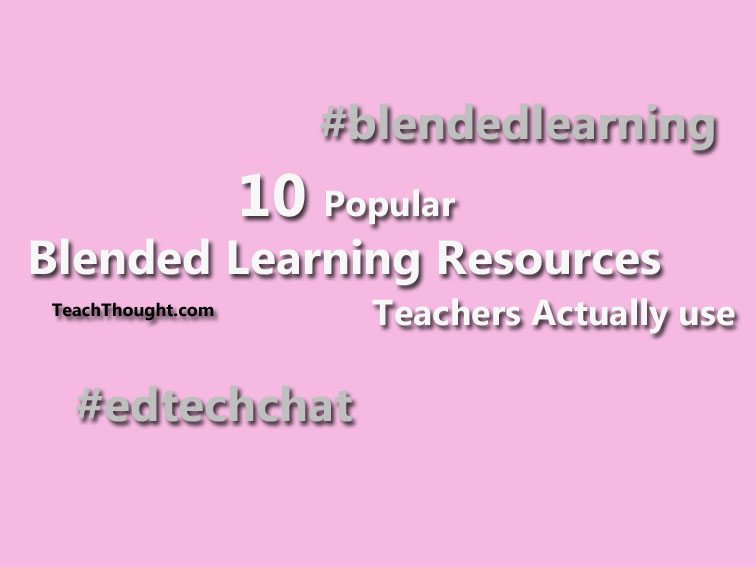 The Most Popular Blended Learning Apps That Teachers Actually Use
by Janis Beem
Whether you're new to blended learning or a seasoned veteran of blended learning, there's always more to learn. Take a look at 10 of the top resources for blended education, also known as hybrid learning, from some of the most notable names in the field. So, in addition to great resources like YouTube, iTunesU, and a variety of blogs and social media channels, here are 10 of the most popular blended learning resources teachers use.
10 Popular Blended Learning Resources Teachers Actually Use
1. What is Blended Learning?: This information-packed resource from Penn State University contains basic information on blended learning, data reports on faculty perspective and student readiness, sample blended learning models and a behind-the-scenes guide on designing a blended course.
Perfect for: Blended learning beginners and teachers preparing to teach their first blended courses.
2. Blended Learning Infographic: Features blended learning statistics in one easy image compiled by Knewton. The infographic includes a rundown of tools created by other programs and facts on online education and statistics about growth in the future.
Perfect for: Educators using a blended learning concept for a broader audience, such as education students, education administrators or parents.
3. Blended Learning Toolkit: Use these tools to succeed in any blended course. Created by the University of Central Florida, the toolkit features model courses in composition and college algebra, examples of course approaches with specific stories of how online and face-to-face environments were streamlined, tips, and guidance.
Perfect for: Teachers creating blended learning courses or administrators learning more about the real-world work required.
4. Blend my Learning: This community group works to serve the growing blended learning world with an active blog, information resources, and a group of involved schools including High Tech High, Summit Public Schools, and KIPP Chicago.
Perfect for: Teachers looking for a community of blended learning professionals, the latest blended tech news, and ongoing updated resources; schools looking to join a blended consortium with support and resources.
5. Quality Control in K-12 Digital Learning: This 2012 paper, by Frederick M. Hess, claims to offer three imperfect approaches to K-12 blended learning. In truth, it provides an excellent cost analysis of learning online, cautionary advice from the No Child Left Behind program and tips for bringing a high-quality education online.
Perfect for: Getting specific in the costs of creation and maintenance of a new or existing blended learning program.
6. Ed Tech Map: Simple, elegant and endlessly useful, the Flash-based Ed Tech Map built by NewSchools provides a comprehensive resource, listing major tools and companies serving blended learning in the form of talent management, data, instructional systems and curricula.
Perfect for: Education planners looking for a top-down inclusive resource of everything from digital textbooks to data analytics.
7. Edmodo: The first question of bringing a class online is where you'll send students to complete homework, learn and interact. Edmodo provides the solution to that, with a Learning Management System (LMS) that's free for individual teachers.
Perfect for: Teachers hoping to start a blending learning system on their own with plenty of built-in support from existing communities, without funding from a school or district.
8. Blackboard: The powerhouse LMS trusted by K-12 and higher education alike. Blackboard has been in operation since 1997, and currently offers platform consulting, training, student services, enterprise consulting and more, in addition to its robust learning system.
Perfect for: Almost any funded school, university or organization looking for a standard system for all their classes.
9. Khan Academy: Think of the programs offered by Khan Academy as a classroom in a glass box. Students get free, simple access to a world of subjects, while parents and teachers have unprecedented visibility into their learning process, including a real-time class report and better intelligence on every student.
Perfect for: Math teachers with a wide variety of abilities in a single classroom; homeschooling families' parents and students searching for supplementary online education at any age.
10. Flipped Learning Network: One popular mode of blended learning is class flipping, where instructors require students to take in video or audio lectures before class, leaving class time for experiments, group work and engagement. The FLN aims to be a resource for teachers learning about the process.
Perfect for: Teachers across subject areas curious about course flipping.
Explore Resources for Blended Learning
The links above are just a few of the helpful sites available for education administrators, technology administrators and teachers interested in bringing their lessons online. Explore the evolving world of blended learning and keep up-to-date with current resources designed to benefit students at all levels.
This post was first published at onlineschools.com