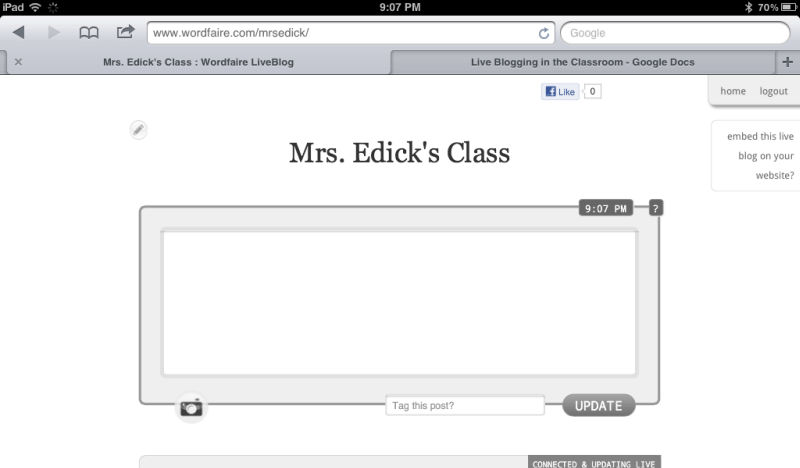 3 Ways to Bring Live Blogging To The Classroom
by Heather Edick
Live blogging is a blogging technique used often by journalists and others who want to capture an event moment by moment and post it to their web site.  Teachers might be able to take advantage of this trend by introducing live blogging to their students.  It might just generate more interest in class by connecting their love of all things social media with what is happening in their classroom. I know, I'm an optimist wrapped in a cloak of idealism.  Stay with me; I have a plan I'd like to share.
I became interested in live blogging after I saw some education web sites using the technique to blog from conferences.  Some used Twitter for such a purpose, attaching a hashtag to the tweet.  Others, however, were live blogging directly to their blogs.  "How are they doing that?" I wondered aloud.  I also wondered how I could add that to my classroom routines. Google provided some useful information about live blogging and two sites that seemed promising: CoveritLive and Scribblelive.  The technology seems fantastic, but the prices are not.  After reviewing the sites, I knew what I wanted.
Time stamped entries that show up on one page
No need to tag entries, but something that provided for tagging regardless
The ability to embed the page into a blog or a web site
The service must be free
The teachers I know cannot afford to invest a lot of their own money in technology and do not have a budget to work with that would allow them this luxury.  So, the service had to be free.  I found a couple of solutions.
Wordfaire
There is a live blogging site called Wordfaire that lets users create a live blog for free after signing up or logging in with one's Twitter, Facebook, or Google credentials.  It is quite easy to set up a new live blogging session.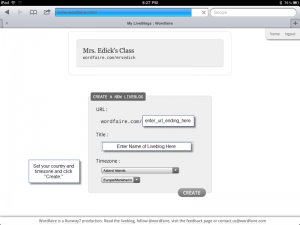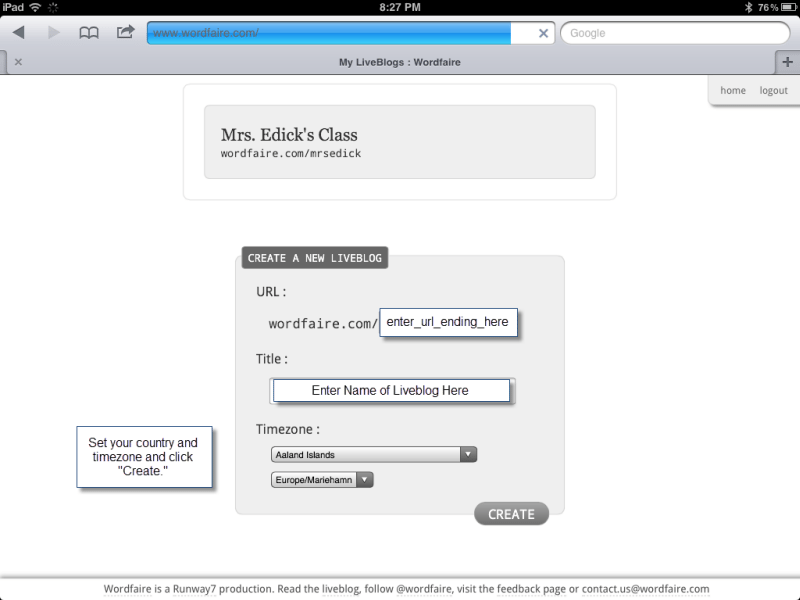 Once you enter that information, you will see a page that looks like this.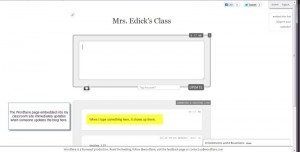 I was excited to find this site and at first I thought it would be easy to embed the live blog onto a page of my blog.
Note to self: WordPress and javascript do not get along.
Wordfaire provided the javascript I would need to embed the blog into a page on my site.  Unfortunately,  I tried to use it with my WordPress blog and it did not work.  After a few days of research, I figured out that I was not going to be able to embed the blog using WordPress.  WP simply does not like javascript and, unless you're a programmer, there's not much you can do about it.
There was another option, so I headed over to my Google site.  I tried using the javascript first, but that did not work.  Instead, I found a gadget called iframe, which allows the user to embed a web page into the Google site.  I thought it was worth trying and I was right.  It works very well.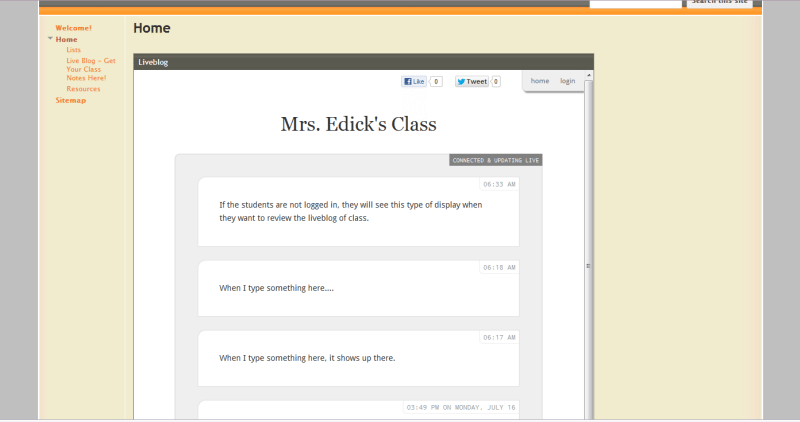 Little did I know that iframe is an HTML code used to embed web pages within web pages.  A little bell started ringing and I wondered if I would be able to use that code on WordPress.  I gave it a try, and it worked!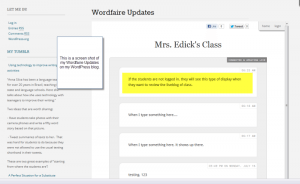 Live Blogging with WordPress
There is a plugin for WordPress that creates live blog entries and it works very well.
Step 1: Install the plugin.  Do a search for the live blogging plugin and you should see immediately.
Step 2: Create a post and title it something like Live Blog [Period/Block/Hour] [Date]
Step 3: Click on Live Blog to connect it to live blog entries. Now, your students are set up to create live blog entries.
Step 4: Direct your students to the Live Blog Entries menu on your Dashboard Sidebar.  Tell them to click on "Add New."
Step 5: Make sure they choose the right live blog so their entries will show on the right post.
Step 6: Let them run with it!
Below is a short slideshow of the screen shots related to setting up live blogging on WordPress.
Slideshow of Images Related to Live Blogging on WordPress
Using Google Sites
Although Google Sites does not have a live blogging option per se, it does have an "Announcements" page type.  If you grant permission to the student, he or she can add comments to the announcements page; these comments are time stamped.  The only thing that was missing from this option was the ability to tag a comment.  The site search feature is robust, however, so I believe that if students added something to the comments, other students could search for those keywords and receive decent results.
I got around adding students individually by creating a user called My Students, which required setting up a Gmail account for that user.  I granted the user the right to edit the parent page (and, therefore, child pages), but not the rest of the site.  When the student logs in as "My Students," he or she will be able to create a new announcement and then start blogging.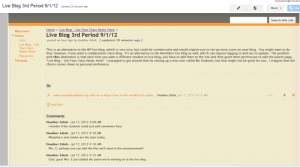 These are the three best ideas I came up with for live blogging in the classroom.  I would love to read your ideas.