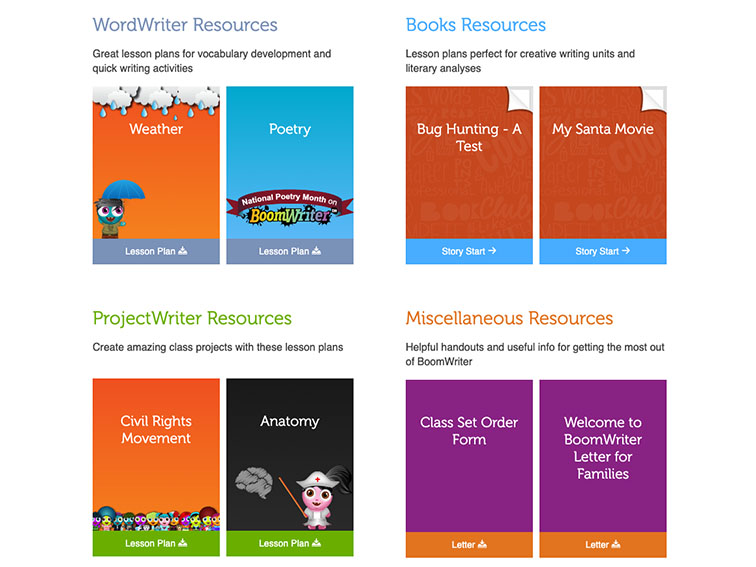 A Brilliant Resource For Students Who Think They Hate Writing
contributed by Ken Haynes, BoomWriter Co-founder
Ed note: The title is ours, not Ken's. We used BoomWriter with students here at TeachThought and loved it and reached out to Ken Hayes to write a guest post explaining how it works. For hesitant writers, it's a great resource.
As teachers and parents bemoan – and studies affirm – more technology has not necessarily translated into improved writing skills for most students.
In fact, the negative effects of excess screen time and shorter attention spans due to social media are corroborated by recent studies that show only a quarter of American high school students are proficient in writing assessments, and one out of five have 'below basic' writing skills.
But teachers must stick to the curriculum, and with all that they have on their plates to address the ever-evolving standards of learning, there is very little extra time in the school day to devote to improving students' writing. As a former teacher, assistant principal and writing program director, I know firsthand that helping students improve their writing skills requires a solution that's engaging, easy to use and academically effective.
That's why I left the classroom to help develop a solution: BoomWriter, a free, interactive, web-based platform for group writing that engages students in writing projects for all subject areas to help them improve their vocabulary and develop their nonfiction writing and storytelling skills.
Teachers are realizing the benefits of BoomWriter in more than 25,000 classrooms in 60 countries, along with the poetic justice of using technology to undo some of the negative effects of technology on their students.
What Is BoomWriter? Improving Students' Writing With Interactive Technology
Developed by teachers for teachers, BoomWriter is easy to use for students and teachers alike. Teachers appreciate BoomWriter's flexibility, as it easily integrates into their existing curriculum. In a survey of Chicago and Boston-area teachers using BoomWriter, 95 percent agreed that BoomWriter was "very easy" to set-up and use with success.
BoomWriter is ideal for students in grades 2-12, is Common Core aligned, and works seamlessly for a variety of subject areas, including History, Social Studies, Science, English Language Arts, and more. A closed digital environment, BoomWriter's tools are kidSAFE-certified, and entirely web-based. They are easily accessible on any computer, tablet, or mobile device, providing a curriculum solution for schools' varying access to technology.  
After a teacher signs up for free, here's how BoomWriter works.
Teachers provide a prompt, story start, problem to solve, or single directive for all their students to read and respond to.
Each student writes and submits his/her entry for review and feedback from the teacher.  
Once all entries are approved, all students then assess up to four of their classmates' entries at a time, and anonymously cast their vote for the best version.
This process of reading, writing and voting continues until the project or story is complete!
This approach to 'collaborative creativity' effectively engages every student in the writing process. All students also have their own personal Boomer Avatar that they can customize with Boomer Bucks earned from participation. This bit of gamification is another key to its success. In fact, teachers have discovered that the process of completing writing projects collaboratively challenges strong students to produce their best work, and reluctant writers to exceed their normal output levels as they become more invested and strive to present their best work to their peers.
Writing Tools to Fit Your Classroom's Needs
BoomWriter offers three group-writing tools, all of which use the same collaborative writing and voting process. Teachers simply select the tool that best suits their classroom and curriculum needs.
WordWriter – Provides teachers with an interactive, yet simple, application for assessing and enhancing students' understanding of key terms, figures, phrases, and dates.  WordWriter also features Trending Words, which allows teachers to select from top trending vocabulary used by other BoomWriter teachers with their students and displays the most popular words being taught for that month, in real-time, on a grade-by-grade basis.
StoryWriter – Conducts writing activities as a class that result in a published book!  Students develop their understanding of key literary elements and storytelling devices, and when finished, the class's story becomes a real, published book with every student's name listed as an author. This tool is ideal for ELA, creative writing and literature studies.
ProjectWriter – Fosters students' understanding of key concepts and terms within a subject by dissecting whole units of study into smaller sections. ProjectWriter enables all types of nonfiction writing–expository, argument/opinion, scientific–and is ideal for use in History/Social Studies, Science or ELA classrooms.
In addition to these tools, BoomWriter is a Google for Education Partner, specializing in Chrome products. Through its Chrome Web Store App, BoomWriter can be added to any Chromebook, providing students with fast and easy single sign-on to their BoomWriter account. To learn more about BoomWriter, please visit boomwriter.com, and follow BoomWriter on Facebook.
A Brilliant Resource For Students Who Think They Hate Writing