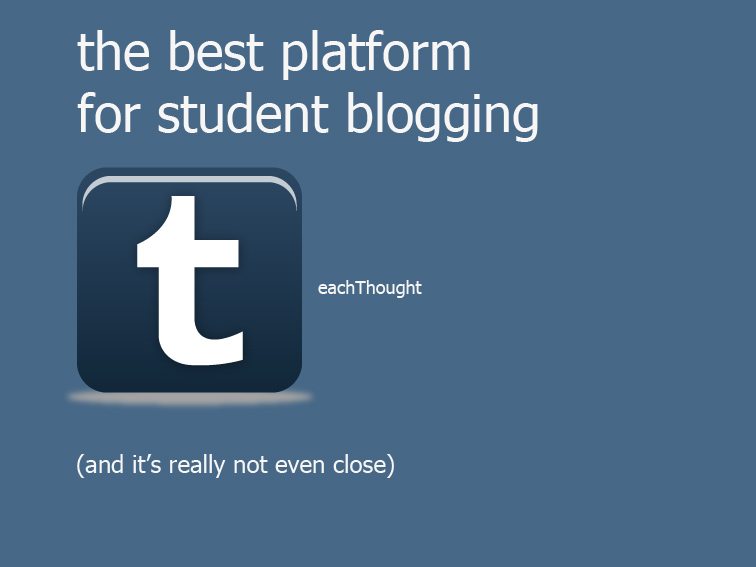 The Best Platform For Student Blogging
by TeachThought Staff
Okay, this is subjective, but here's my thought: When taking a macro view view of how and why students share thinking and information–and considering modern digital media trends, in 2014 the best way for students to blog in and out of the classroom has to be tumblr.
Just because I say it's the "best" doesn't mean you'll find it that way. You may hate the commenting system. You may have trouble finding your way around. You may want to see a more seamless "classroom" experience–something available with more "school-like" content management systems like edublog.
Or something that's safe on safe on safe, like kidblog, or something more desktop-like–maybe Google's blogger platform.
You may even want to try to use a non-blog like edmodo or Google+ for blog-like functions–the everything-in-one-place-because-it's-easier-and-I-need-easy approach.
While any of the above have merit–as does a self-hosted blog–it's easy to make a far more compelling case for tumblr in the classroom than other "tidier" options.
The truth is, every platform has its strengths and weaknesses. My argument here is pretty simple–there is no perfect platform for student blogging because everything that does exactly what a teacher wants sucks for students, and anything that is exactly what a student wants will probably get a teacher fired.
Tumblr does a commendable job of meeting the needs of both sides.
And it wasn't even designed for school; think there's a lesson there for curriculum developers?
Critical Reading On Tumblr: One Teacher's Take
One university teacher uses tumblr in her classroom extensively, using it for students to engage one another as much as they do her and the content. And she has some helpful rules:
Create an account at http://www.tumblr.com. You can use your existing Tumblr account if you already have one. You're welcome to use a fake name/pseudonym/nickname, just let me know what it is.
Email me with the email address you used to set up your tumblr account, e.g. I will add you as a member.
I will regularly give specific instructions for blog posts. Those are due by 5pm the night before class. I encourage you to post articles, Tweets, videos, songs, pictures, etc. that you think relate to what we're studying, along with your analysis of why.
Blog posts can be short and sweet but should be at least a paragraph.
Read the class blog. Please comment on at least two of your classmates' posts each week. I encourage you to reply to comments and discuss with your classmates!
You can post more if you'd like. The blog could be used for asking questions, coordinating study groups, working on midterm and final reviews, and so forth.
Grading: If you do it, you get credit. In other words, you can get an easy A in this assignment by writing every single post listed in the syllabus on time. Late or missing posts will decrease your grade.
I am available to help with technical issues but they are not an excuse for not posting—if you have problems, bring them up as soon as possible.
I will write periodic evaluations on your posts. Don't expect comments on every one, but I'll give you feedback and let you know how you are doing.
7 Reasons To Use Tumblr In The Classroom
1. They can post by email.
2. There's an "ask" system.
3. It's social-by-design.
Hashtags, sharing, reblogging, tweeting–it operates both as social media and a blogging system.
4. It's flexible.
It can be visual or textual; video or gifs; audio or links; conversational or one-sided.
5. It's already on their phones.
Well, most of them. Though they may delete it when they found out that you know.
6. It's dead simple to use.
Reblogging is an interesting way to share thinking–and simple too. Maybe too simple to be considered cognitive heavy lifting, but that's all in how you use it.
Liking posts, using hashtags, posting new blogs–all simple to do from a tablet, phone, laptop, or desktop.
7. It's platform-agnostic.
It works (almost) equally well across operating systems, much like Evernote. In fact, it can be thought of as the Evernote of blogging platforms.
Your Experience
Let us know in the comments what experience you've had with it, and what problems you have found–and hopefully work-arounds for those problems.
The Best Platform For Student Blogging; 7 Reasons To Use Tumblr In The Classroom