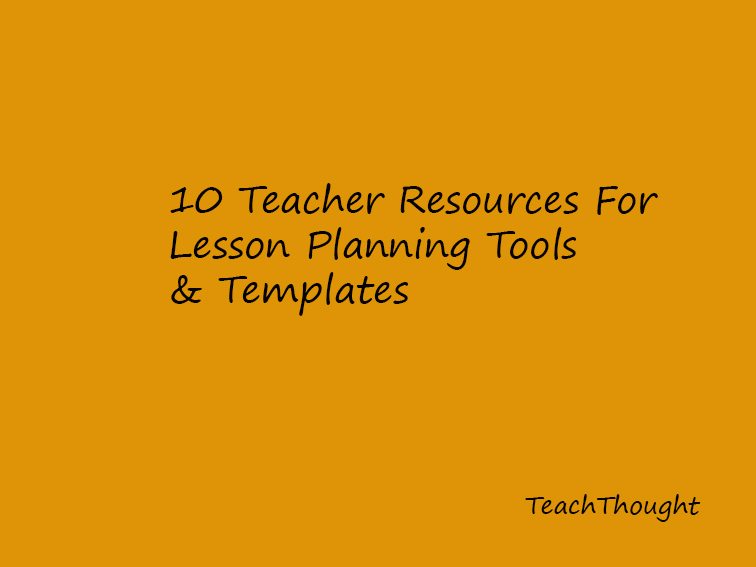 What Are The Best Teacher Resources For Lesson Planning Templates & Tools?
by Mike Acedo
Ed note: This post was updated May 2, 2017
It has been a long known fact that teachers have one of the hardest and most time-consuming jobs in the world.
There is very little free time for teachers even outside of the classroom, leaving educators constantly on the lookout for useful ways to make their job more convenient and effective.
Lesson plans can play a vital role in simplifying a teacher's job, and also can ensure that classes are conducted in a seamless and efficient manner. A good lesson plan can be a great way for teachers to organize activities, highlight areas of focus, experiment with different ideas, and set goals for student achievement. With effective lesson planning, teachers can have a solid diagram to follow in order to stay organized and ensure student success.
However, a quality lesson requires time, commitment, and creativity to create. Unfortunately, time is not a luxury that teachers possess; as they already have enough on their plate in addition to the time and focus needed to produce a customized lesson design.
Thankfully, in addition to popular sites such as teacherspayteachers (which focus mainly on purchasing pre-made materials), there are a number of resources and pre-constructed lesson templates that teachers can utilize to help create organized, innovative, and effective lesson plans.
While obvious examples include apps, local district templates, Pinterest, and various browser extensions, we wanted to see what else was out there for teachers to use
If you've got a favorite we missed, let us know in the comments below!
10 Teacher Resources For Lesson Planning Templates & Tools
Learnboost is a great resource for teachers who wish to construct and organize lesson plans. Through an easy to use, step-by-step lesson builder, teachers can easily customize and organize their lesson plans, upload media files, attach common core standards, and track student progress. Teachers can easily customize their plans on the fly and create assessments that align with certain goals.
UDL Lesson Builder provides teachers with a number of quality lesson templates to use in their classroom. UDL also allows educators to easily and efficiently create their own plans—providing the framework to create lessons with flexible goals, assessments, and materials that support student learning.
Standards Toolbox is a very effect resource for teachers who wish to build or use lesson plan templates. In addition to aligning lesson plans to state common core standards, Standards Toolbox provides weekly calendar planners, grade books, test generators, and an educators network to make teacher's lives much easier.
Surprisingly (or perhaps unsurprisingly), Google Docs has a smorgasbord of lesson plan templates that are at the disposal of teachers everywhere. Google offers weekly and monthly planners, unit planners, and customizable lesson templates to make lesson planning fast and easy.
Education Oasis offers a number of lesson plan templates, examples, resources, and detailed guidance that will assist even the most time pressed teacher build an effective lesson plan for all grade levels.
Have Fun Teaching provides educators with several printable lesson plan templates that can be applied to multiple grade levels. In addition to generic templates, teachers have access to daily and weekly planners, common core state standards templates, and even templates that are geared toward ESOL and ESL lesson planning.
K-12 Reader offers teachers with several lesson plan templates, along with a multitude of other useful worksheets and activities. Teachers have the option to choose unit specific or multi-subject templates. More complex plans are available as well, which give teachers the flexibility and option of using whatever fits their needs.
Common Curriculum is a great, easy to use, and very effective platform that allows teachers to quickly and easily construct detailed and organized lesson plans. Teachers can choose from a variety of templates, easily drag and drop unit items into their sections, and align their lessons to common core standards.
Additionally, teachers can instantly post lessons and homework onto their classroom websites and share and view lesson plans with other teachers.
Microsoft Office offers multiple daily, weekly, and unit specific lesson plan templates that are applicable to multiple grade levels. This comprehensive collection provides teachers with several options they can utilize in creating the easiest and most efficient lesson plan for their classroom.
Site description: 'Plan with the Common Core in mind. The Lesson Planning Tool (digital version only) guides teachers through a series of prompts about the lesson content, structure, and activities to ensure the Shifts required by the CCSS are central to the lesson.'
10 Teacher Resources For Lesson Planning Templates & Tools