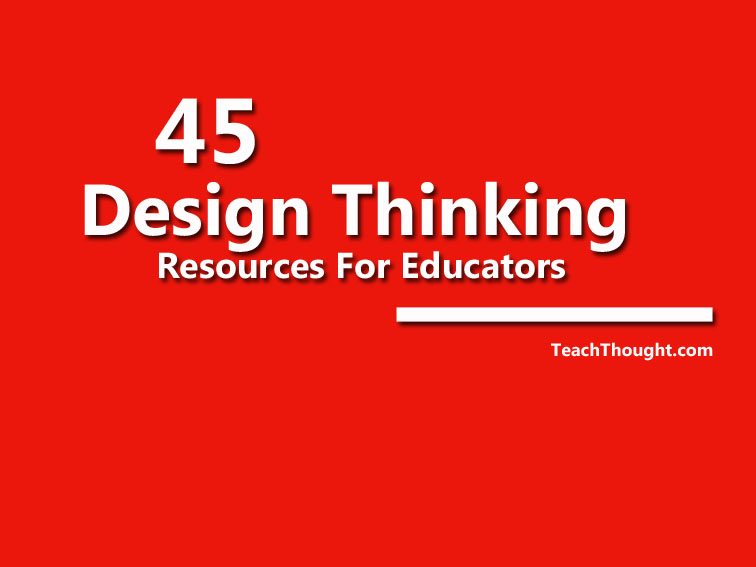 45 Design Thinking Resources For Educators
contributed by opencolleges.edu.au
Imagine a world where digital learning platforms help adult learners succeed through college completion.
Where a network of schools offers international-quality education, affordable tuition, and serves hundreds of thousands of children in economically disadvantaged countries; where we engage parents in understanding national trends and topics in education; where a comprehensive learning environment seamlessly connects the classroom with the opportunities of the digital world for young students; and where system-level solutions help more students gain access to college.
Educators across the world have been using design thinking to create such a world.
Design thinking consists of four key elements: Defining the Problem, Creating and Considering Multiple Options, Refining Selected Directions, and Executing the Best Plan of Action.
An early example of design thinking would have been Edison's invention of the light bulb. This invention carried with it a "human-centered design ethos," meaning Edison was able to envision how people would want to use what he made, and then engineered toward that insight. He created an entirely new marketplace for his product, not just a single device modeled after preceding devices of similar use.
In education, design thinking empowers students to realize that they can create their own futures by borrowing frameworks from other areas, which allows them to design their own participation and experiences. For example, game designer Katie Salen has talked about her students experiencing video game design and implementing those principles into the classroom; she said her students interact within a framework that allows them to take on social challenges as designers.
A good game designer thinks about the same things that a good teacher thinks about, Salen says. When you begin to see how games work, you can begin to see how a classroom might work more effectively. The framework of how video games work can also be used to design class participation.
In essence, design thinking prescribes a collaborative, solution-oriented approach rather than an individualistic, problem-oriented approach.
Current projects range in scope and scale, addressing problems in the classroom and across entire districts. We're seeing school leaders engage faculty to develop a shared philosophy on teaching and learning; district administration using design to reimagine tools they create to help teachers be successful; community volunteer groups engage in a process to help redesign schools that are less successful within their state system; and more.
"Each of these stories alone is not the answer to whole-scale education reform," says Sandy Speicher, who leads the education practice at the design firm IDEO, "but if you multiply these activities by three million teachers across [the United States], and magnify that by the organizations that are creating new, human-centered tools and services to support our students, it can add up to a big impact on the system."
Teachers find design thinking to be an engaging pedagogical approach, because in order to create new solutions, you cannot help but learn about people and their interests, about business or math or science or engineering.
Plus, while students are learning the specific knowledge set required to develop a relevant and buildable solution, they're also developing highly valuable skills such as empathy, the ability to collaborate, to deal with ambiguity, and, of course, to create. Design thinking offers a way to reshape the curriculum around experiences that engage students and to shift physical classrooms based on feedback from students.
Below are 45 design thinking resources you can use to lead this movement in your own classroom.
45 Design Thinking Resources For Teachers And Students
"Most of us have deeply embedded ideas about what's'right' for education," says Speicher. "But when you look at the world of education through the lens of design, you start to see that there isn't one right answer, there are many."
This article was first published on opencolleges.edu.au