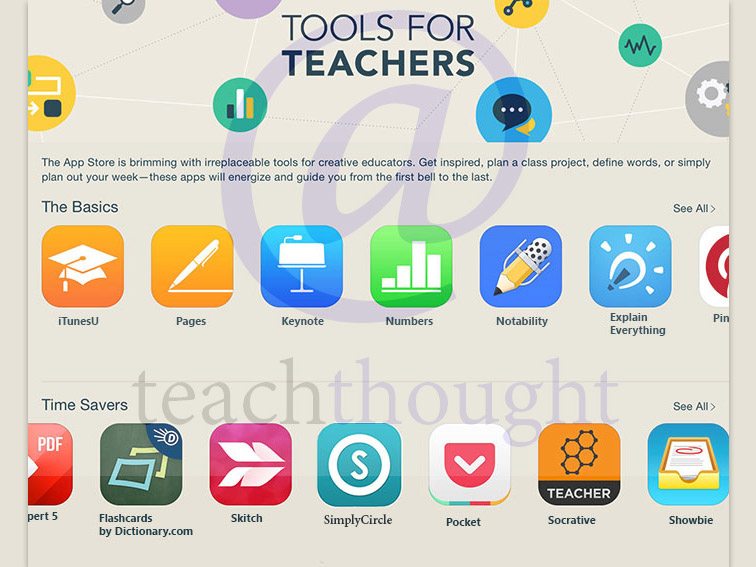 Organization Apps? Here Are 15 Essential Apps For The Organized Teacher
by TeachThought Staff
There is no single way to effectively organize a classroom.
The big idea behind organization is systematic accessibility. When there is a clear system that allows the parts of that system to be accessible to those who need it, that's organization. Indicators of organization may might be outward orderliness and neat and tidy packaging, but it's possible for organization to tend towards clinical aesthetics, where things are difficult to find and use, but boy doesn't it all look lovely?
Because organization is a subjective idea, what works for one teacher may not work for another. With that in mind, we've collected what we see as essential apps for the organized teacher and organized classroom.
These are apps that allow teachers to store files, manage class rosters, share student work, and consolidate everything into a single, synced calendar for all parents. (This might be a good time to recommend tagging your curriculum as well.)
SimplyCircle asked us to check out their app, and if we thought it was worth sharing, share it. We did, and we do. You can check out the SimplyCircle site here and use the web version of their app, as well as the iPhone version of SimplyCircle, and the Android version as well. We've curated the best apps for organized teaching and learning that we know of, which you can find below.

15 Essential Apps For The Organized Teacher
15 Essential Apps For The Organized Teacher
15 Essential Apps For The Organized Teacher; Best Apps For Teacher Organization; Organization Apps? Here Are 15 Essential Apps For The Organized Teacher