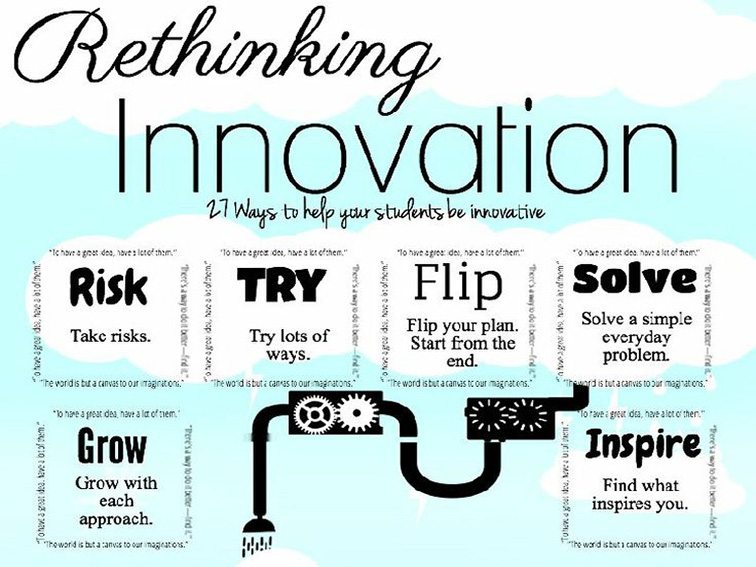 How To Inspire Innovative Thinking In Students
by TeachThought Staff
Innovating thinking is one of those awkward concepts in education–one that is often espoused, but isn't measured, reported on, trained around, or celebrated. It's just sort of there.
Innovative thinking in students will flower when we design classrooms that absolutely can't survive without it. Same with critical thinking, self-direction, creativity, and so on. Until we reach that point, it's on the shoulders of the classroom teacher to tease it out of students through a combination of inspiration, modeling, scaffolding, and creating persistent opportunity.
The following graphic by Mia MacMeekin offers 27 ways to think about this idea. As usual, some of the tips are better than others–"Flip: Start from the End" makes sense, but may or may not promote innovation. The same with "Grow: Grow with each approach."
On the other hand, "Solve: Solve a simple problem every day," "Try: Try lots of (new) ways", "Risk: Take risks", as well as Change, Challenge, Draw, Share, and Dream all can be simple but effective strategies to force new thinking on to students, or from students. You can use these verbs to create lesson objectives or learning targets; essential questions or understandings for units; assessment questions; scoring guides or rubrics for projects, for choice boards for differentiated learning, and so on.
Check out the full graphic below, and add any suggestions in the comments below, if you'd be so kind.
27 Ways To Inspire Innovative Thinking In Students

27 Ways To Inspire Innovative Thinking In Students; image attribution miamackmeekin vbia anethicalisland.wordpress.com