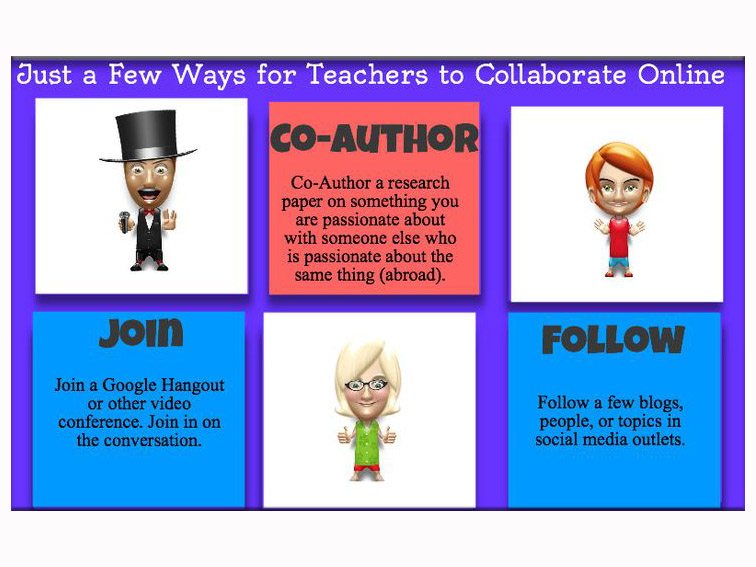 Start Something: 13 Teacher Strategies For Digital Collaboration
by TeachThought Staff
Teacher collaboration is among the cornerstones of school improvement. When teachers connect–for the right reasons–good things happen.
The ability to connect is increased exponentially through technology. Digital collaboration by teachers has an infinite numbers out possible outcomes, from formal teacher improvement, to informal connecting for people that get you. A global teacher's lounge, if you will.
Social media-based professional development is another possible outcome when teachers connect. In contrast to sit-and-get, impersonal training, self-selected and self-directed PD has the potential for just in time, just enough, just for me qualities. The following infographic Mia MacMeekin takes these kinds of ideas and itemizes them, coming up with thirteen strategies for digital collaboration by teachers. She has a few ideas on the graphic, and we've added our own below.
Let us know in the comments what strategies you find useful for digital collaboration.
Start Something: 13 Teacher Strategies For Digital Collaboration
1. Co-author a book, blog post, essay, or conference session.
2. Join an edcamp, twitter chat, or blog community (ahem).
3. Follow mentors, colleagues, and inspiring thought leaders on social media.
4. Email someone and ask for help, or thank them for what they do.
5. Comment on an idea that forces you to consider a new perspective.
6. Start something useful and/or fun, local or global, digital or physical.
7. Step out of your comfort zone.
8. Discuss both critical and practical issues around your classroom.
9. Co-create something you've long hoped someone else would–an app, a community, a curriculum. Even a PowerPoint or Prezi that clarifies some often misunderstood academic topic.
10. Ask for help, details, resources, or ideas.
11. Join Me–or us. Meet people, connect groups, create potential in education.
12. Enter into new terms with your local school leadership to push for innovation, resources, and better training.
13. Organize your curriculum, your professional learning network, your RSS feed, or even a local event of your own, even if it's only 4 or 5 colleagues for a book club at Starbucks.
Start Something: 13 Teacher Strategies For Digital Collaboration

Start Something: 13 Teacher Strategies For Digital Collaboration; Teacher Collaboration Through Technology