Teaching Through An Attitude Of Gratitude: 30 Prompts For Reflection
by TeachThought Staff
Beth Leidolf and Justine Hughes helped make September Reflective Teacher month, and in the process seemingly stumbled on something useful.
Reflection, in the form of daily prompts.
While there was a bit of peer pressure to help push you to complete all 30 days of the September challenge, this month is a bit different. Of course, by all means respond to every prompt if you have the time. The big idea, though, is the reflection and the gratitude. If that comes for you by blogging once a week, then once a week it is. If you get to it four times in one week and only once the next, that's also fine.
If you write full-on essays, or just one paragraph responses, either are fine as well. (Hint: Tell yourself when you sit down you're just going to write a paragraph, then let the writing do what it does.)
So below are the #reflectiveteacher prompts Beth and Justine have created for your for November to respond to, share with your colleagues, and use as reflective tools for growth.
How To Participate In The Blogging Challenge
1. Match the day and the prompt.
2. Blog about it and publish your post.
3. If you're on twitter, tag it #reflectiveteacher when tweet it out.
4. Check out the wiki Beth and Justine created to act as a hub for all that is #reflectiveteacher.
4. That's it!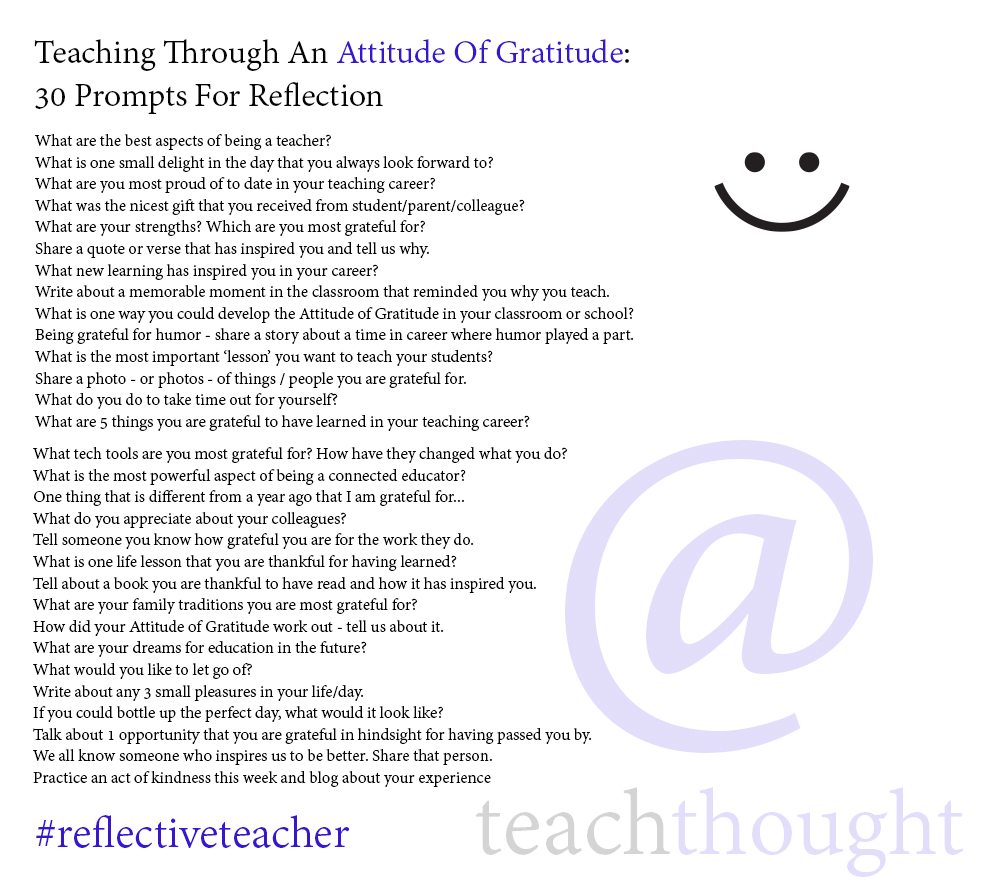 Teaching Through An Attitude Of Gratitude:  30 Prompts For Reflection
Nov 1
What are the best aspects of being a teacher?
Nov 2
What is one small delight in the day that you always look forward to?
Nov 3
What are you most proud of to date in your teaching career?
Nov 4
What was the nicest gift that you received from student/parent/colleague?
Nov 5
What are your strengths? Which are you most grateful for?
Nov 6
Share a quote or verse that has inspired you and tell us why.
Nov 7
What new learning has inspired you in your career?
Nov 8
Write about a memorable moment in the classroom and how it reminded you about why you love what you do.
Nov 9
What is one way you could develop the Attitude of Gratitude in your classroom or school? Try it out and let us know how it went in a couple of weeks.
Nov 10
Being grateful for humor – share a story about a time in career where humor played a part.
Nov 11
What is the most important 'lesson' you want to teach your students?
Nov 12
Share a photo – or photos – of things / people you are grateful for.
Nov 13
What do you do to take time out for yourself?
Nov 14
What are 5 things you are grateful to have learned in your teaching career?
Nov 15
What tech tools are you most grateful for? Why? How have they changed what you do?
Nov 16
What is the most powerful aspect of being a connected educator? What are you grateful for?
Nov 17
One thing that is different from a year ago that I am grateful for…
Nov 18
What do you appreciate about your colleagues?
Nov 19
Tell someone you know how grateful you are for the work they do. Share your story here.
Nov 20
What is one life lesson that you are thankful for having learned?
Nov 21
List a book you are thankful to have read and how it has inspired you to be better at what you do
Nov 22
What are your family traditions you are most grateful for?
Nov 23
How did your Attitude of Gratitude work out – tell us about it.
Nov 24
What are your dreams for education in the future?
Nov 25
What would you like to let go of?
Nov 26
Write about any 3 small pleasures in your life/day.
Nov 27
If you could bottle up the perfect day, what would it look like?
Nov 28
Talk about 1 opportunity that you are grateful in hindsight for having passed you by.
Nov 29
We all know someone who inspires us to be better. Share that person.
Nov 30
Practice an act of kindness this week and blog about your experience.
Teaching Through An Attitude Of Gratitude: 30 Prompts For Reflection