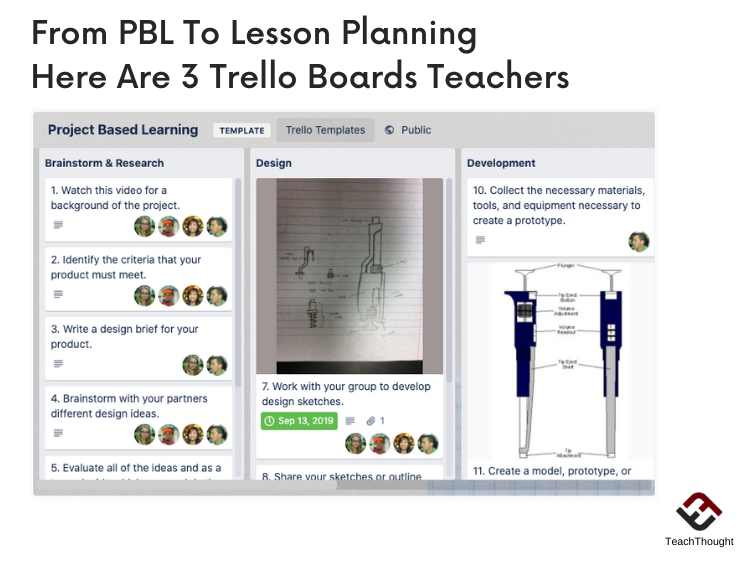 5 Useful Trello Boards For Teachers
by TeachThought Staff
We've recommended project-management boards many times over the years, whether for teachers to organize their teaching materials, schools to promote collaboration between teachers, or for teachers to use with students–to organize project-based learning, for example.
While we'd love to create a few templates of our own (never enough time in a day), here five of our favorite templates for teachers we've found.
5 Of The Best Trello Boards For Teachers
Board Description: "Template for my suddenly-remote biochemistry course. A lot of students expressed that they were worried about staying on top of their coursework remotely, so this was my attempt to help them stay organized. There are cards for each week with check-lists of everything the students need to do for that week including lecture and lab assignments, studying time, and quizzes/exams. Additional lists have the big lab projects (with suggested breakdown of work by week) and more details on the exams (with the learning objectives attached for each one). This was also helpful for me to make and check that there weren't too many assignments stacking up in a particular week with the revised schedule."
You can find the board created by Kelly Theisen, an Assistant Professor of Chemistry, here.
Project-Based Learning Management Template
Board Summary: The entirety of a students' assessment is based on projects, so one of the key aspects of that is organizing your project, creating a timeline, responsibilities, and checklists. It was created by Michael Burke from Bel Air High School.
You can find the project-based learning management for teachers template here.
Teacher Weekly Planning Template
Board Summary: "Trello is my favorite digital organization tool, and I use it to organize basically everything in my life. It essentially consists of 'cards' that you put into 'lists' on a 'board.' I make a board for each class I teach where the lists are the weeks of the semester (including the week before and after) and the cards are things I need to do for my class each week. There's also a 'Done' list that cards get moved to as they are completed. For me, Trello solves four major productivity challenges related to teaching:
Keeping track of all the little details
Keeping track of beginning and end of semester events
Giving myself enough prep time and grading time for major assignments
Coordinating with my co-teachers"
You can find the weekly planning template here.
Academic Literature Review Board
Board Summary:
For long writing projects like theses, dissertations, monographs, etc., it is hard to keep track of what you've read and your musings on these different sources. Keep all your notes in one place by using this Trello board. After you've listed all your readings here, it will simplify your search on books you've read and your reading notes. The creator of this board, Ann Gillian Chu, is a PhD researcher at the University of St Andrews in the United Kingdom. Her doctoral research is about how Christians conceptualise civic engagement in light of Hong Kong's resistance movements using qualitative methods. You can follow her tweets about her PhD life @agillianchu.
You can find the board for higher education professors planning their research and work here.
Book Club Planning Template
Board Summary: "Trello is a great way to keep track of books you and your fellow book club members want to read, as well as continue the discussion outside of the meetups."
You can find the book club planning template here.