Using Checklists To Establish Smoother Tablet Routines

by Monica Burns, Teacher and Blogger at classtechtips.com
Whether you're in a one-to-one iPad classroom or have access to a cart that you share with other teachers, it's important to establish routines early in the school year to manage these devices in your classroom.
In addition to walking students through expectations and best practices, reference charts can be a helpful reminder of what students need to do when using iPads. Here are some of my favorite iPad reference charts: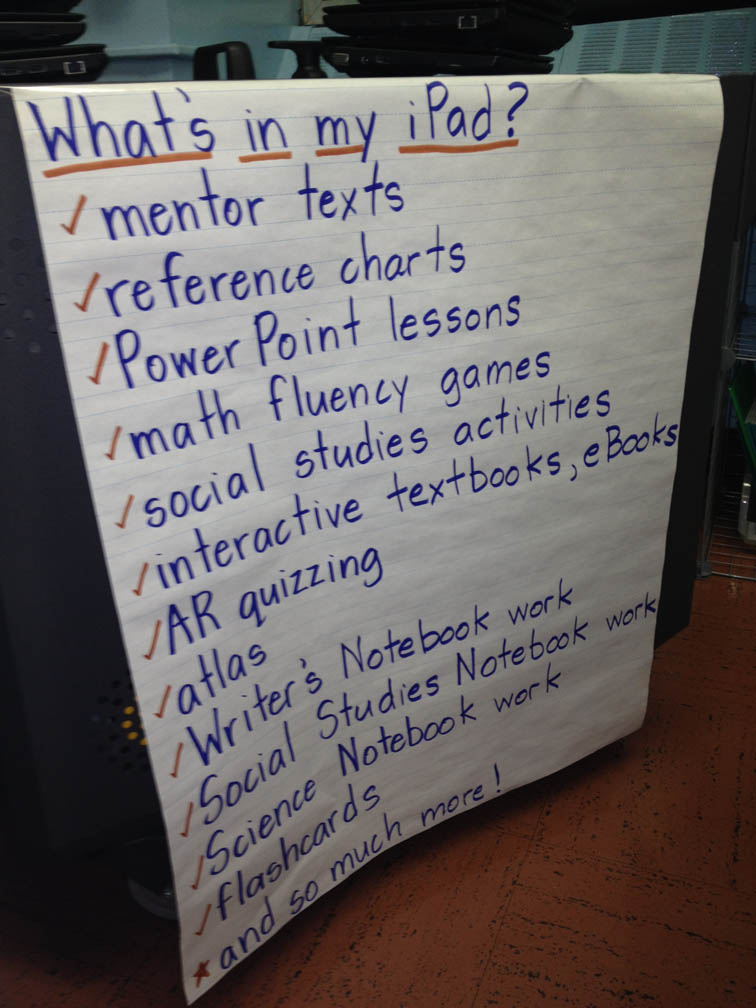 What's Inside My iPad?
Sometimes it's hard for visitors to my classroom to understand how students use their iPads. I like to post a reference chart that shows off how technology is used in our classroom. It's also helpful for students who are often asked by visitors about our work on iPads. This list will grow as the school year progresses and works with any technology cart (e.g., "What's inside my netbook?")
What's My Number?
The nametag on each student's desk has the device number assigned to that child written in the upper right-hand corner. I'll also add a cheat sheet with a class list of device numbers to my iPad cart for a quick reference.
Free Choice Options
I'll often give students a few minutes at the beginning of the day to choose an educational app to play while the rest of the class is getting settled. It's a great way to motivate students to unpack and find their seats and makes sure that students are using their time productively. I'll direct students to the Math Free Choice list or Vocabulary Free Choice list for the first 3-5 minutes of our school day.
Before You Email Your Work…
Checklists can help students edit written work, or figure out if they've completed all parts of an assignment. My students email their classwork throughout the school year and this chart helps them remember what to do before hitting send.
Monica Burns is an Apple Distinguished Educator passionate about using technology to align her instruction to the Common Core! Check out her blog ClassTechTips.com and on Twitter @ClassTechTips; Using Checklists To Establish Smoother Tablet Routines