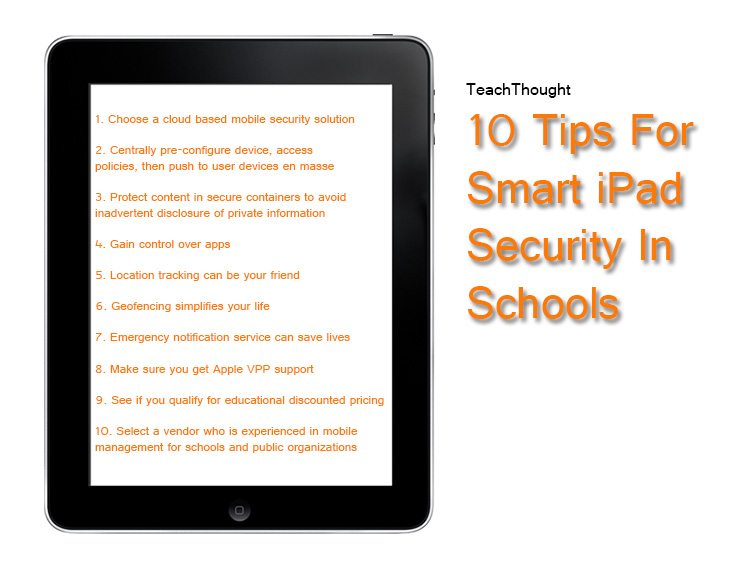 10 Tips For Smart iPad Security In Schools
by PJ Gupta, CEO at amtelnet.com
Tablet usage continues to expand in schools, colleges, libraries and universities. Students use tablets for taking notes in class, online learning, research and access to web based textbooks. Both students and teachers use tablets for collaborating on projects and distribution of content and assignments to students for class curriculum. With the availability of Office applications on iPads and Android tablets, the use cases for tablets in education will expand further.
Key challenges in the educational environment include security of mobile devices and their content, taking control of mobile apps and assuring privacy of personally identifiable information (PII) for regulatory compliance. The education sector also has the unique characteristics that solutions are required to scale to high volume demands, remain responsive in peak usage periods and support simple mobile device enrollment processes.
10 Tips For Smart iPad Security In Schools
1. Choose a cloud based mobile security solution
Cloud based solution enables elastic scaling to meet demand, with fast deployments, instant software updates and always-on accessibility. Educational environments need a solution that can handle heavy usage periods during student enrollment, registration and special events. Make sure that the solution provides robust mobile security and management features.
2. Centrally pre-configure device and access policies and push to user devices en masse
The core purpose of a mobile security solution is to secure the device, its contents, and its usage including data access and apps. To achieve this, it becomes critical to establish and implement security policies which can be managed centrally. Examples of such policies include passcode requirements; enforcement of data encryption for content by default; configuration of secure channels for Wi-Fi access; and the ability to turn on and persist (GPS) location services for location based controls. Restrict browsing to pre-selected URLs to minimize distractions and focus students on the learning outcomes. Pre-configured policy settings and subsequent policy changes can be pushed centrally to ensure security and control with minimum administrative effort.
3. Protect content in secure containers to avoid inadvertent disclosure of private information
In a class room environment, it is often necessary to securely share private information like grade reports and student account information. The management solution needs the capability to push updates centrally to secure container on the mobile device. In order to protect content, the ability to automatically wipe associated content upon exit from transactional apps is important.
4. Gain control over apps
To gain control over mobile apps used by students, the first step is to define and implement policies for mobile apps usage, including remediation actions for policy violations. Mobile app management is best implemented as an integral part of a mobile device management solution. The solution should provide the capabilities to blacklist apps along with remediation actions; whitelist apps for tight control that may block all other apps; private app store for educational or other mandatory app distribution and refresh; the ability to remotely push, update, or remove apps; location based access control for apps depending on whether the student is on school premises or outside; settings that limit resources accessed by apps to ensure privacy and enhance security using least privilege principle.
5. Location tracking can be your friend
Track location of device on a map and take remedial actions quickly on lost or stolen devices. Time is of the essence for content protection and potential asset recovery in the event that a device issued to students or staff is lost or stolen. Coming to the rescue are the capabilities to locate a device and trace location path; tracking reports for management and alerts to users and admins; ability to remotely lock lost or stolen device and wipe content in full or selectively.
6. Flexibility with control – Geofencing simplifies your life
Location based geofencing policies can implement access control restrictions upon policy or threshold violations. Begin by defining "geofence" areas for implementing location based security policies when mobile device enters or exits the geofence boundaries. In an educational setting, geofencing can lock certain apps and settings during school hours, but allow them outside school hours; and restrict device features such as camera, Bluetooth, and NFC within school premises.
7. Emergency notification service can save your day and save lives
Sending emergency notices and urgent announcements to enrolled user community becomes a simple task with the notification service built into a good mobile device management solution. Admins set up groups and designated Admins can easily send messages to selected groups of recipients in case of alerts or emergencies. Teachers can use this feature to send group messages to their class and an administrator can alert the entire school on behalf of the principal.
8. Make sure you get Apple VPP support
To maximize cost savings on educational apps purchased from Apple's App Store, make sure Volume Purchasing Plan (VPP) is supported in the mobile app management part of your mobile device management solution. By pooling end user demand for mobile apps and centrally managing distribution, organizations are able to take advantage of the savings for students, faculty and staff.
9. See if you qualify for educational discounted pricing
Special low price is often available for educational use of mobile device management solution with typical discounted price as low as $1 per device per month for volume purchases.
10. Select a vendor who is experienced in mobile management for schools and public organizations
Mobile device management solution enables organizations to safely adopt mobile technology for improved efficiency and better learning outcomes while securing usage of mobile devices, content and apps. For successful implementation, make sure to choose a vendor experienced in solving mobile management challenges in schools and public environments.
10 Tips For Smart iPad Security In Schools