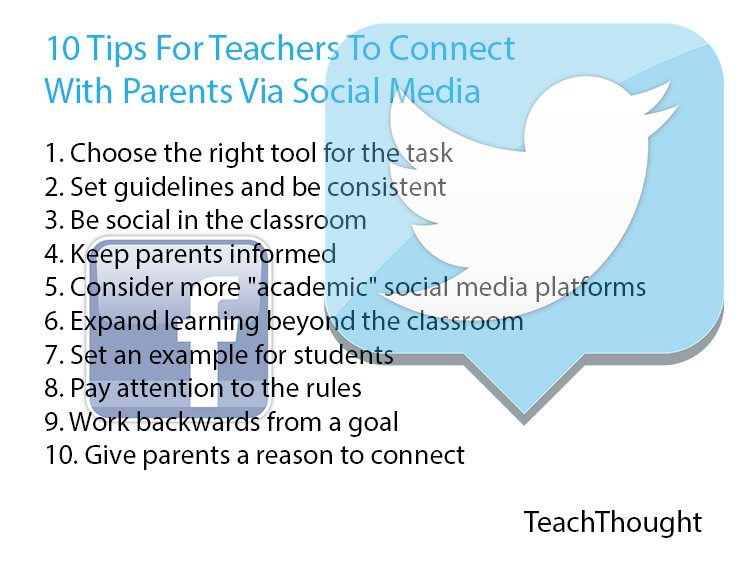 What Are The Best Tips For Teachers To Connect With Parents Via Social Media?
by Kathy Cook, former K-12 teacher and Director of Educational Technology for University of Phoenix College of Education
Social media provides an opportunity for real-time communication with students and parents, but its use can provide some challenges. Educators want to open the doors of communication to allow students and parents to engage with them, but it is often necessary to draw a line between their personal and professional lives. Although social media can be a valuable tool for learning and connecting with students and parents, if is not used thoughtfully by teachers, it can invite inappropriate behavior and misuse.
This issue was the subject of a survey recently conducted by the College of Education at University of Phoenix. More than 1,000 K-12 teachers from around the country were surveyed and the results show that many are struggling to determine how to connect with students and parents via social media, and how to use it as a teaching tool in their classrooms.
As with many others, teachers are avid users of social media – four-in five use it in their personal and professional lives according to the survey. Teachers also see the benefits of connecting with students. In fact, nearly half of all K-12 teachers and 58 percent of high school teachers believe that participation in social media with their teachers can enhance a student's educational experience. However, lack of training and concerns about conflicts keep many teachers from using these tools in their classrooms. In fact, only 17 percent of K-12 teachers encourage their students to connect with them via social media and only 18 percent have integrated it into their classrooms.
Unfortunately, this apprehension may be leading to missed opportunities to leverage pervasive and influential tools in the classroom. Students are engaged daily in social media, so it presents a great way to connect with them, but many teachers are understandably reluctant to engage without clear guidelines and training. In fact, Less than one-third (29 percent) of K-12 teachers say they have received significant or adequate training about interacting with students and parents via social media.
The College of Education at University of Phoenix is taking steps to help teachers address the unique social and technological dynamics of today's classrooms. Teacher candidates and other education students have many opportunities throughout their courses and programs to think critically about current issues in education and how they can best deal with them in their current or future classrooms. They also have opportunities to explore the wealth of educational technology tools that are available and to practice effectively integrating the technology into lesson plans and classroom activities.
10 Tips For Teachers To Connect With Parents Via Social Media
1. Choose the right tool for the task
Teachers should be thoughtful about how they use various social media tools. Teachers may want to choose to keep Facebook strictly personal, but there are other opportunities to engage with students, parents and other professionals online. Classroom-specific Twitter feeds can be a great way to connect with students and parents, provide regular classroom updates, facilitate conversations about current events and share ideas with parents. LinkedIn and Twitter can be effective tools for professional development and provide opportunities for teachers to share ideas with educators all over the world.
2. Set guidelines and be consistent
Have a specific policy, communicate it clearly to parents and students, and stick with it. It is always ok to create boundaries. You can say, "I'm sorry, but I don't connect with students and parents on Facebook—that is reserved for my private life, but you are welcome to reach me on Twitter." This way, the rules are clearly set, and everyone will feel more comfortable to engage if there are clear guidelines.
3. Be social in the classroom
There are many creative ways to use social media in the classroom. Teachers can create a class social media account to report about classroom activities and students can practice concise writing by creating posts. Classes can use a Twitter hash tag to follow a specific topic or capture student sentiment, which can encourage greater class participation. Teachers can set up a classroom blog, so students can engage with their peers, receive feedback from outside the classroom and connect with other classes.
4. Keep parents informed
It is important to be transparent with parents and communicate what the class is doing so there are no surprises and you can gain their support. Regularly send emails or notes home to inform parents how students will participate in social media in the classroom.
5. Consider more "academic" social media platforms
Look beyond the common social media tools for those that specifically support the nature of a classroom environment. Online tools built specifically for education professionals provide secure, closed platforms for students and teachers to interact. On these websites, teachers can build class groups, post announcements and assignments and create interesting class projects. One example is Edmodo. Teachers can also use tools like Celly and Remind101 to communicate via text messages with students and parents using contained social networks.
6. Expand learning beyond the classroom
Social media provides an opportunity to expand the four walls of the classroom and give students a more global perspective. Teachers and students can reach out to authors or subject experts through social media channels and invite them into the classroom via Skype.
A class can embark on a long-term project with a class in another part of the country or the world. Participating in these types of projects not only engages students, but can also help to prepare them for the more global dynamics they will face in college and the workplace.
7. Set an example for students
Some schools and teachers are recognizing they have a role in helping to educate students about digital citizenship. This real world practice in the classroom can help students make better decisions about how to use social media in their personal lives. In fact, the New York City Department of Education saw the need to help students understand the opportunities and consequences of sharing information in social media and recently shared social media guidelines to help guide students' social media decisions.
Students need to understand the possible implications of what they post. Many employers and schools are checking online posts of applicants to make hiring and acceptance decisions. Having these discussions in the classroom and using social media for educational purposes can help students learn valuable lessons.
8. Pay attention to the rules
Be familiar with your school and district's social media policies and technology use policies. Help your students to understand current rules and the purpose of them. Also communicate the rules or guidelines to parents.
9. Work backwards from a goal
It is important for teachers to stay abreast of the latest technologies and their possible uses for teaching and learning. It is not enough to just use technology. Educators should be thoughtful about what tools can help them and their students learn new things, communicate and collaborate with others, and explore new possibilities. In the teacher preparation classes at University of Phoenix, students explore how to use technology tools in ways that enhance learning and discuss various options for creating meaningful lessons. It can help to understand the end goal and work backwards from there.
Consider what you are trying to accomplish and then determine which tools can help you and your students achieve those goals. Also, you don't have to come up with all of the ideas alone; engage your students and connect with other teachers. The possibilities are limitless!
10. Give parents a reason to connect
Two-way conversations and interaction > one-way declarations and admonishments.
10 Tips For Teachers To Connect With Parents Via Social Media