Literacy, Creativity, & Play: 12 Apps That Should Be On Every Elementary School iPad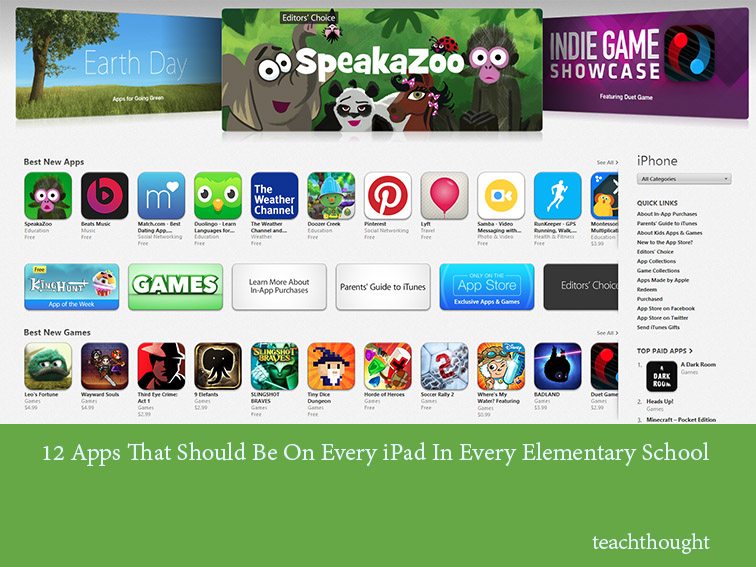 Literacy, Creativity, & Play: 12 Apps That Should Be On Elementary School iPad
So this collection wasn't as easy to curate as it'd seem.
It wasn't a matter of simply choosing the best apps across content areas–math, science, social studies, etc. The title says "every iPad," which seems to imply universal needs. Every. iPad.
Same with age and grade level, reading level, and gender. So we took at look at apps that could be used in any content area, and at (almost) any grade level K-5. (Phonics Genius likely wouldn't be as necessary in later elementary grades as it might in K-3, for example.) The focus is on literacy, content, and play.
An argument could be made that elementary school students may be better served with an Encyclopedia app rather than Google Search. You almost may want something with a subscription as Brainpop has, or a slightly more child-friendly word processor than Pages. Substitute away!
Literacy, Creativity, & Play: 12 Apps That Should Be On Elementary School iPad

12 Apps That Should Be On Every iPad In Every Elementary School
12 Apps That Should Be On Every iPad In Every Elementary School
Apr 27, 2014 - itunes.apple.com -

1479
Building on the success of Drawp, the popular art app for kids, MoonDrop Entertainment released Drawp for School, an iPad app that offers all the innovative creativity tools of the original Drawp, with the addition of intuitive workflow management that saves teachers valuable classroom time. Drawp can be used with all subjects, and lets teachers distribute and collect work as easily as with paper worksheets while automatically storing them in the private Drawp cloud.
Apr 27, 2014 - itunes.apple.com -

1236
A simple way to create your own beautiful iBooks, right on the iPad.
Apr 27, 2014 - itunes.apple.com -

1141
One of the best ways to rapidly learn how to speak, read, and recognize words is through phonic awareness. This app is specifically designed to help students recognize and distinguish words by sounds.
Apr 27, 2014 - itunes.apple.com -

1256
How does the brain work? Does space go on forever?
How can you outrun a cheetah? How big is the ocean? 
These are just some of the intriguing questions
you'll get answers to when you enter Brainfeed's
world of knowledge-rich videos built to inspire.
Apr 27, 2014 - itunes.apple.com -

1117
Learn Spanish, French, German, Portuguese, Italian, and English. Totally fun. Totally free.
Apr 27, 2014 - itunes.apple.com -

1132
Play the brand new Ecology Campaign: through 20 levels, you'll have to protect our planet by solving environmental puzzles! Discover the new disaster elements such as Tornado, Earthquake and Tsunami, Eruption or even the Nuke – burning down everything to ashes!
Play also with the new natural elements: New Trees, Blue Whale, Salt and Sea Water…Protect the planet with The Sandbox!
Apr 27, 2014 - itunes.apple.com -

1267
Pages is the most beautiful word processor you've ever seen on a mobile device. This powerful word processor helps you create gorgeous reports, resumes, and documents in minutes. Pages has been designed exclusively for the iPad, iPhone, and iPod touch with support for Multi-Touch gestures and Smart Zoom.
Apr 27, 2014 - itunes.apple.com -

1131
Ideal for kids in Kindergarten through grade 3, the BrainPOP Jr. Movie of the Week app spans subjects within Science, Social Studies, Reading, Writing, Math, Health, Arts and Technology. The gentle, humorous, and relatable characters Annie and Moby serve as guides through each topic, empowering kids to form their own ideas. BrainPOP Jr. content is designed to cultivate critical thinking skills and encourage children to ask questions and make connections. The app is easily navigable by kids ages 5-9.
Apr 27, 2014 - itunes.apple.com -

1287
The best of Google in one app. Say "Ok Google" and find everything from nearby restaurants to the calories in cheesecake. Google also shows you the info you need before you ask, like updates on your favorite teams and traffic alerts.
Apr 27, 2014 - itunes.apple.com -

1526

Fly around the planet with a swipe of your finger with Google Earth for iPhone, iPad, and iPod touch. Explore distant lands or reacquaint yourself with your childhood home. Search for cities, places, and businesses. Browse layers including roads, borders, places, photos and more.
Apr 27, 2014 - itunes.apple.com -

1570
What can you do when the grouchies take hold? How can you keep a bad mood at bay? With funny rhymes and a silly chant, The Grouchies shows kids simple and fun ways to turn around grouchy moods. But most of all, kids will understand how their mood and negativity can affect their family and friends, and really get in the way of having a good day.
Apr 27, 2014 - itunes.apple.com -

1414
'I Can Write' series is designed to help children become an independent writer. This app offers an easy and interactive environment for children to learn how to write correctly in a fun way.
Literacy, Creativity, & Play: 12 Apps That Should Be On Elementary School iPad
1. Drawp
2. Book Creator
3. Phonics Genius
4. Brainfeed
5. Duolingo
6. The Sandbox
7. Pages
8. Brainpop
9. Google Search
10. Google Earth
11. The Grouchies
12. I Can Write 2
Literacy, Content, Creativity, & Play: 12 Apps That Should Be On Elementary School iPad