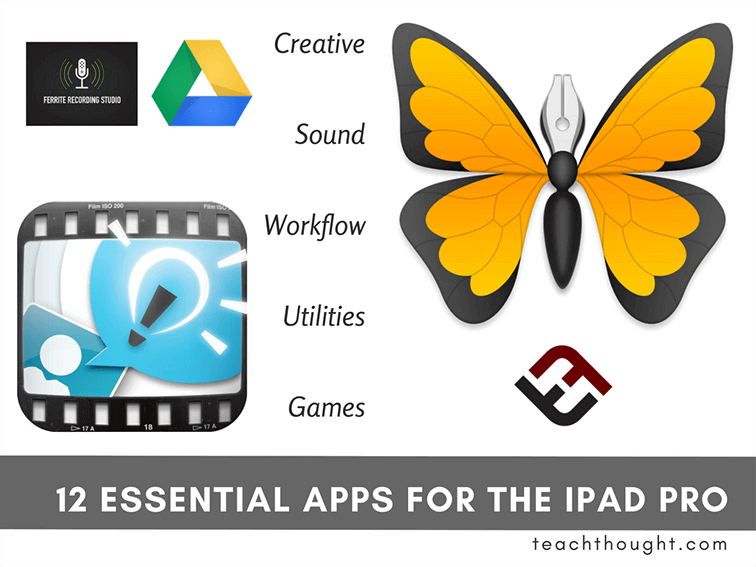 What Are Essential Apps For The iPad Pro?
by TeachThought Staff
Here are TeachThought, we recently picked up an iPad Pro to evaluate its potential in education.
Our first take? It's not just a bigger iPad–it's the best tablet we've ever used. There are still countless limitations that keep it from realizing Apple's ambition for it (replace PCs, for example), but many of those are due to the drip-slow evolution of iOS as an operating system. iOS isn't improving as fast as the hardware is, and that's an issue, especially as they continue to resist merging Mac OS and iOS.
Right, so–the iPad Pro. It's lovely, mainly due to its legal-pad size and companion Apple Pencil. At 12.9″, the iPad no longer feels like a tablet you can write on, but something you want to use like a piece of paper, canvas, or other creative tool. Below, we've gathered 12 of the best apps for iPad Pro–apps that help demonstrate what's possible when you combine modern hardware specs, a usable size, and a "stylus" that brings it all together (and that Steve Jobs was strongly against).
12 Essential Apps For The iPad Pro
1. Notes Plus (Note-taking)
Developer Description: "Outstanding handwriting experience with razor-sharp ink effects, palm rejection, and close-up writing mode for fine writing."
Also consider Notability and Zoom Notes, in addition to the much-improved stock iOS Notes app (which is free).
2. Adobe Sketch (Creative)
Developer Description: "Create expressive drawings and paintings without opening a sketchbook. Your artwork can be sent as layered PSD files to Adobe Photoshop CC and Adobe Illustrator CC."
3. PDF Expert (Utility)
Developer Description: "PDF Expert 5 is a must-have app for anyone who reads, annotates or edits PDF documents on iPad or iPhone. It allows you to mark up documents with highlights and handwriting, insert text and stamps, sign and even merge PDFs."
4. Ulyssyes (Utility)
Developer Description: "Ulysses is your one-stop writing environment on iOS. Whether you're a novelist, a journalist, a student or a blogger – if you love to write and write a lot, Ulysses gives you a uniquely streamlined toolset, covering every phase of the writing process. But since Ulysses takes writing seriously, it does not stop at the editor. Its unified library offers unprecedented access to everything you'll ever write, be it snippets and ideas, be it blog posts or manuscripts. Every text is at your fingertips, and Ulysses perfectly scales from scratchpad to diary to Great American Novels – and to everything in-between."
5. Procreate (Creative)
Developer Description: "This complete artist's toolbox helps you create beautiful sketches, inspiring paintings, and stunning illustrations anywhere you are."
Also consider Astropad Drawing Tablet for drawing on your iPad Pro, though it's pricey at $29.99.
6. Explain Everything VPP (Education)
Developer Description: "Explain Everything™ brings together an interactive screencasting whiteboard, real-time local collaboration, and a content discovery portal and community for iPad."
7. Super Arc Light (Game)
Developer Description: "Super Arc Light is a minimalistic, arcade radial shooter where you must defend your base to the death against waves of challenging enemies. With numerous weapons to unlock, each with their own spectacular visual effect – light up the skies as you destroy your foes in an epic display of space warfare."
8. Assembly (Creative)
Developer Description: "Create anything you can imagine and produce quality work in half the time. Assembly is a revolutionary new approach to vector illustration and design. Professional tools in a simple package that anyone can use."
9. Screens VNC (Utility)
Developer Description: "Leave your computer behind and travel light! Screens is a beautiful, yet powerful Screen Sharing and VNC client that lets you connect back to your Mac, Windows or Linux PC from the comfort of your living room, the corner coffee shop or anywhere in the world."
10. Never Alone: Ki Edition (Game)
Developer Description: "Never Alone (Kisima Ingitchuna) is an atmospheric puzzle platformer developed in collaboration with the Iñupiat, an Alaska Native people, drawn from a traditional story that has been shared across the generations. Experience the epic journey of Nuna and Fox as they search for the source of an eternal blizzard that threatens the survival of everything they have ever known."
Also consider Badland 2 or Transistor for other iOS video games that combine strong gameplay with unique and interesting aesthetics.
11. Adobe Comp (Creative)
Developer Description: "Lay out an idea with real assets like photos, text, shapes and fonts. Send the wireframe to Photoshop CC, Illustrator CC, InDesign CC or Muse CC to refine and finish."
12. Ferrite (Sound)
Developer Description: "Ferrite combines the ease-of-use of a "voice memo" audio recorder, with a versatile multi-track editing studio — and powerful additional tools like effects & automation available when you need them."
Rounding Out The List
Note that this list was about those apps that might be considered 'Essential' for the iPad Pro, which means apps like Gmail, Mint, twitter, facebook, and others that are just as good (or better) on smaller screens aren't included here. The same goes with Kindle, which is ideal on a Kindle device, but less compelling on the iPad. There are other apps that make sense in an "Essentials" collection for the iPad Pro, mainly due to the larger screen, including:
Affiliate Notes: External links on our website may be affiliate links that could result in us receiving compensation (payment) when you traverse the link. For example, we may receive pay per click revenue or commission on sales of products. Regardless of affiliate links, we try very hard not to share products or services to you that won't help you as an educator in some way, shape, or form. You can always ensure that no affiliate profit is earned made by searching the app store to find the apps, rather than using the links we've provided; 12 Essential Apps For The iPad Pro