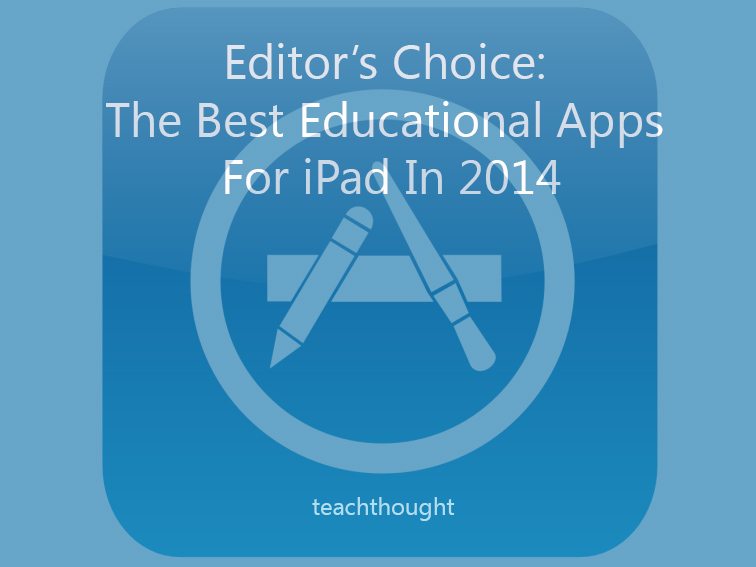 What Are The Best Educational Apps For iPad?
by TeachThought Staff
One way to think of this list (thematically) is as a kind of editor's choice for TeachThought staff and contributors. Every single one of these apps is special and worth a spot on every iPad in every classroom.
The Trends
As a staff, we speculated about, downloaded, and tested each one of these apps within classrooms and on our own tablets and smartphones to get a sense of where the trends in mobile learning apps are headed. (Hint: A lot of videos, and a lot of blended learning.)
Within the 30 apps below there is some of that, but some other apps you may not expect to see in what is a comparatively short editor's choice list for educational apps. Collectively, they represent our favorite educational apps for iPad.
A Diverse Collection
These apps are appropriately diverse then–some for project-based learning, some for game-based learning, some are task-oriented–file-sharing, note-taking, and pdf markups. After our own hearts, some are designed for open-ended creation.
Some are academic, and some are more authentic, like the kinds of things students might download on their own iPads. A few are content-centered with a focus on animation, biology, literacy, math skills, or the universe itself, but overall you'll see that content drill-and-kill is pleasingly absent from many of the most compelling educational apps for iPad, and, subsequently, so is our collection below.
A Closing Call For Innovation
While innovation starts with learning models and curriculum rather than boot-strapped app developers, here's hoping for a little more innovation and risk-taking in the coming year. If you see an app-developer that really took some chances to do something cool, support them, give them useful feedback and a review that reflects the risk they've taken and the thought behind their work, even if it's not perfect. It matters. iPads–and tablets in general from Google and Microsoft–should be having a far greater impact on classrooms than they have so far, no?
Editor's Choice: The Best Educational Apps For iPad