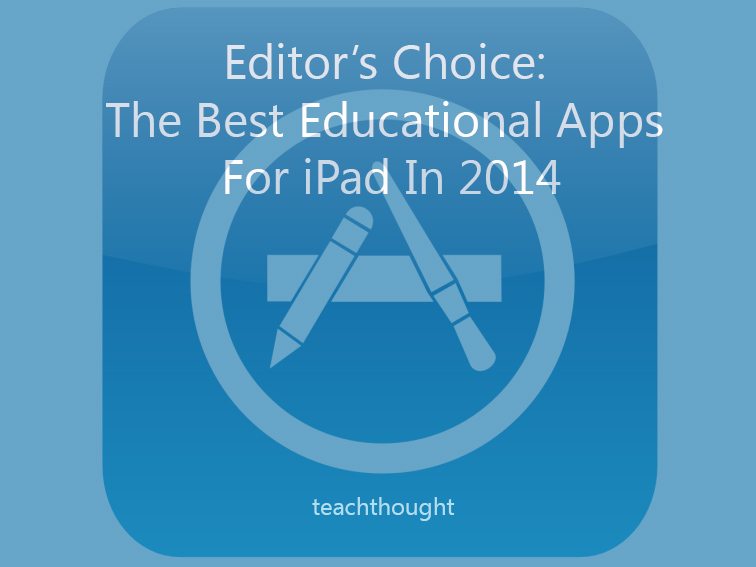 The 30 Best Educational Apps For iPad In 2014
by TeachThought Staff
So 2014 is almost over, and it's time to start looking back at what's happened in the last year. Today, we do that in the form of the best educational apps for iPad in 2014.
One way to think of this list (thematically) is as a kind of editor's choice for TeachThought staff and contributors. Every single one of these apps is special, and worth a spot on every iPad in every classroom.
The Trends
As a staff, we speculated about, downloaded, and tested each one of these apps within classrooms and on on our own tablets and smartphones to get a sense for where the trends in mobile learning apps are headed. (Hint: A lot of video, and a lot of blended learning.)
Within the 30 apps below there is some of that, but some other apps you may not expect to see in what is a comparatively short editor's choice list for educational apps. Collectively, they represent our favorite educational apps for iPad for 2014.
What will you see? Google's slow-starting social media platform has made some impressive changes in 2014, becoming more visual, more elegant, and with Google Hangout integration, more school-friendly. Google Hangouts now supports groups of over 100 people, and Google Drive is more API-friendly than ever.
Brainfeed represents an exciting new kind of app that we love (more on them in the near future), helping to curate the impossible and scary index of YouTube content and turn it into a usable classroom library. Storehouse and Explain Everything help students communicate through digital media, while Trello helps them organize project-based learning (as does Evernote, Google+, and Google Drive as well).
The BBC apps from Brian Cox show new ways to communicate content to students, much like 21st century versions of the textbook might look, and Water Cycle HD and the Creatures of Light and Sound Uncovered apps take a similar approach. Save content with Pocket, and finally realize modern note-taking on your iPad with Zoom Notes (or Notes Plus, which almost made our list as well)!
A Diverse Collection
These apps are appropriately diverse then–some for project-based learning, some for game-based learning, some are task-oriented–file-sharing, note-taking, and pdf markups. After our own hearts, some are designed for open-ended creation.
Some are academic, and some are more authentic, like the kinds of things students might download on their own iPads. A few are content-centered with a focus on animation, biology, literacy, math skills, or the universe itself, but overall you'll see that content drill-and-kill is pleasingly absent from many of the most compelling educational apps for iPad in 2014, and, subsequently, so is our collection below.
It will be exciting to see what 2015 brings.
A Closing Call For Innovation
While innovation starts with learning models and curriculum rather than boot-strapped app developers, here's hoping to a little more innovation and risk-taking in the coming year. If you see an app-developer that really took some chances to do something cool, support them, give them useful feedback and a review that reflects the risk they've taken and the thought behind their work, even if it's not perfect. It matters. iPads–and tablets in general from Google and Microsoft–should be having a far greater impact on classrooms than they have so far, no?
Honorable Mention: iMovie, Keynote, Socrative, Zite, Flipboard, Todoist, Goodreader, Microsoft Office, PuppetPals, Shakespeare App

The 30 Best Educational Apps For iPad In 2014
The 30 Best Educational Apps For iPad In 2014
Editor's Choice: The Best Educational Apps For iPad In 2014