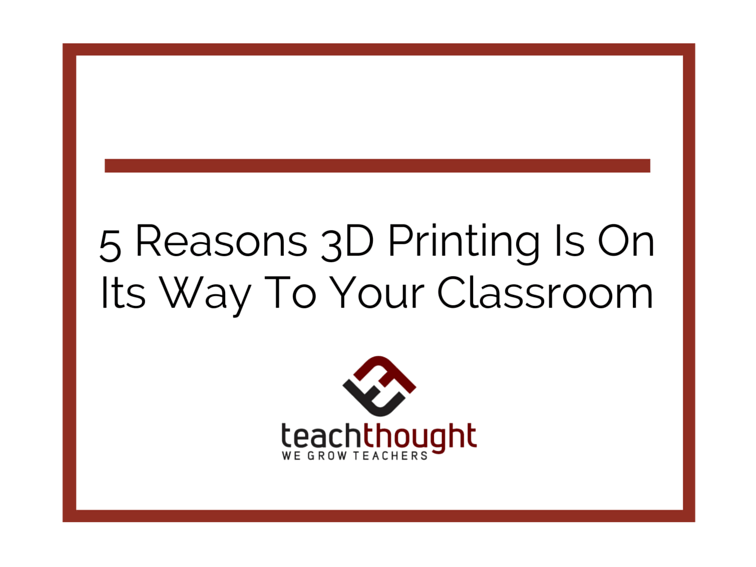 3D Printing Is On Its Way To Your Classroom
contributed by George Velez, Dremel 3D Printers
The makerspace is not a new concept. But as educators embrace "making," students are finding new outlets for their creativity and ingenuity at school. Students are now encouraged to take matters into their own hands – literally.
The maker movement empowers students to design, tinker and build as a way to solve new problems. Access to tools and technologies can help activate creative thinking and problem-solving, which are two adaptable skills necessary when students enter a dynamic and quickly modernizing STEM workforce.
Sounds great, right? It's not so simple. The challenge for teachers and administrators becomes equipping students with the right tools and lessons to support self-directed, experiential learning.
One technology closely associated with the maker movement is 3D printing. From chocolate to prosthetics and even live cells, the appeal of 3D printing is certainly its virtually limitless possibilities. Paired with adequate resources for teachers, 3D printing in the classroom can expand students' STEM and STEAM horizons.
Here's why 3D printing is such an integral part of the maker movement in education.
5 Reasons 3D Printing Is On Its Way To Your Classroom
1. It provides a tangible framework for trial & error.
3D printing requires students to take an idea through a design and production process in order to complete a model. They can digitally design and modify their model on-screen, and revisit that design after testing and analyzing a printed prototype. Working through a process of trial-and-error in multiple dimensions provides students the opportunity to understand why and how their idea worked.
2. It creates a direct connection between a problem to a solution.
Social media and other digital design forums keep students and teachers constantly connected to new information and ideas. Students can search for design blueprints of an idea they have in mind, or conversely, come across someone who needs help.
For example, EnablingtheFuture.org connects people who can't afford prosthetics to "makers" willing to lend a hand with 3D printing. That's how one high school class decided to build and donate prosthetic arms to two local children.
3. It can demystify 'engineering.'
As opposed to traditional rotary tools, students can simply push a button on a 3D printer to build their models from start to finish. The 3D printing process is approachable for students who may be apprehensive to take manufacturing and engineering classes. 3D printing technology provides an entry point to technical fields to help break down barriers to STEM.
4. It offers design flexibility.
3D printing provides students with a single material (filament) that can take any number of shapes and sizes. A 3D-printed piece can serve as an attachment or adaption for an unfinished prototype, increasing the efficiency of design and production. Students are not left pondering which materials, parts or scraps they need to acquire in order to bring their ideas to life.
5. It doesn't have to break the budget.
When thinking about adding new technology, budget is always a consideration. And unexpected costs too often leave teachers footing the bill. Only the exact amount of filament needed is used to successfully build a model, meaning there is virtually no waste or scrap in material.
While 3D printing is only one option in the maker's toolkit, it's a safe and approachable selection to encourage students to tinker. It offers a fluid model for linking digital design to physical production, enabling students to shape the future of STEM.
Ready to join the maker movement? Check out the White House's Nation of Maker's initiative by following the hashtag, #NationofMakers, or join the #WeekofMaking June 17-23.
Disclosure of Material Connection: This is a "sponsored post." The company who sponsored it compensated us via payment, gift, or something else of value to write it. Regardless, we only recommend products or services we use personally and believe will be good for our readers. We are disclosing this in accordance with the Federal Trade Commission's 16 CFR, Part 255: "Guides Concerning the Use of Endorsements and Testimonials in Advertising."
George Velez, manager at Dremel 3D Education, works with education leaders to implement the Dremel 3D Idea Builder printer in schools across the U.S. Learn more about bringing 3D printing to your classroom at https://3dprinter.dremel.com/.
5 Reasons 3D Printing Is On Its Way To Your Classroom