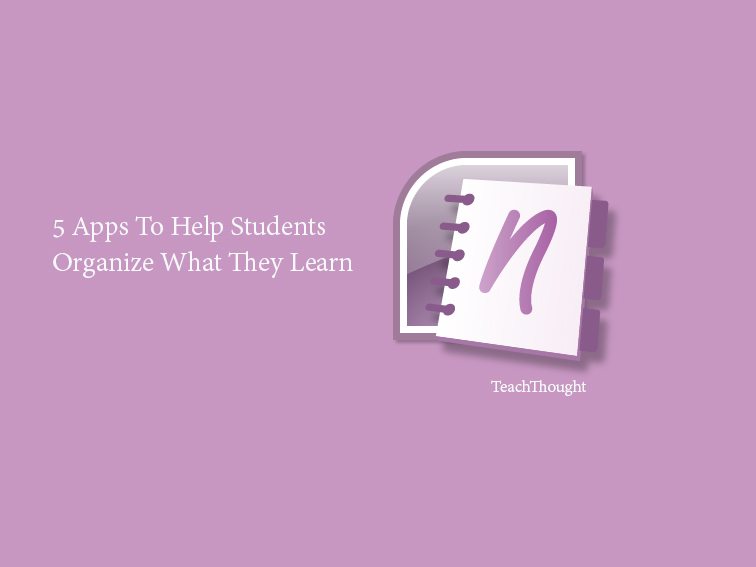 5 Apps To Help Students Organize What They Learn
contributed by Justin Boyle
Most students need all the help they can get when it comes to planning big projects. Here's a list of apps that can help them stay organized when they're working on group presentations, research papers or other big tasks that might take a little extra energy to keep everything together.
5 Apps To Help Students Organize What They Learn
Probably the most powerful and versatile app here, OneNote can act like a digital notebook, locker, and collaboration grounds for project-based learning, mobile learning, and other portfolio-heavy approaches to understanding.
Available for Android, iPad, and PC, OneNote is the original organizational tool–Evernote before there was Evernote, allowing students to separate notes into notebooks, and then pages within each notebook. It allows for web clippings, audio notes, linking, hand-drawn notes, check-boxes, and other related artifacts of staying organized in the classroom. You can share notebooks and pages with collaborators as well.
It's also free and available for every major operating system, desktop or mobile.
2. iStudiez
Schedules are a big part of project organization, and this schedule planner for iOS and Mac devices was designed specifically with students in mind. The weekly and monthly overviews on the interactive calendar can help keep track of due dates and group study sessions, and the app's Cloud Sync integration assures that all compatible devices can access the same scheduling information.
Perhaps the best part of iStudiez for project organization is its dedicated assignments tracker, which allows students to take inventory of the necessary steps in their process and schedule them in order of priority. A partial version of the app — iStudiez Lite — is available for students to try for free, and just $10 buys the full-featured download.
3. Scrivener
A new generation of word processors has emerged as one of the latest steps in the evolution of education technology, and they can be a lifesaver to students faced with big research papers, theses or dissertations. Scrivener functions as a sort of Photoshop for text documents, giving writers multiple panes to shuffle around in the main window as they customize their workflow.
Scrivener has a built-in tool for creating outlines, which is a must for beginning writers and stays useful throughout an entire academic writing career. It also comes with the ability to view images, PDF files, Web pages and other media elements right inside the writing window, which can be a great help on those big research papers.
One especially cool feature of Scrivener is an organizational tool that breathes new life into the tried-and-true method of using index cards and a corkboard to visualize the big picture of a long-form work. Shuffle the notecards around and their associated sections are rearranged in the document itself. Magic!
Scrivener offers a free trial for either OSX and Windows that gives students 720 hours of use, which is almost certainly enough for one or more small to medium-length projects. The full version of the software does come with a price tag of $40, but all the flexibility it brings to writing assignments both big and small might be worth shelling out a bit.
4. Popplet
Not every student learns about mind mapping in school, but those who do almost never forget it. Professional settings the world over make use of the technique to energize the brainstorming phases of new projects. Popplet is a visual thinking tool that lets students use interactive mind maps to sketch relationships between notes and multimedia research material.
It only takes a few minutes to learn the control scheme, and the visual depictions of relationships between pieces of information can help students better understand and remember how the details of their project work together. The interface is fairly kid-friendly, also, which makes Popplet accessible even to elementary students working on their first report.
The Popplet mobile app for iPad cost $5 at the time of this writing, but accounts for the Web app can be had at no charge. If your students could use a fresh way to outline and brainstorm, Popplet might be just what they need.
5. Evernote
Whether or not you're already using Evernote for your own purposes in the classroom, consensus resounds that it's one of the most potent and flexible organizational tools ever to hit the market. A bit lighter and easier to use than OneNote, not only does it sync your notes across all devices and computers you use, but it outperforms most other note taking apps with its suite of features:
Create notes with typed text, handwriting or sketches
Save, sync and share files across multiple devices
Snap photos of whiteboards and book pages and search for text inside the images
Organize notes on multiple levels using notebooks and tags
Share notes with colleagues and classmates for easy collaboration
Evernote also offers tons of additional products that can make it an even more powerful tool for project organization. The Web Clipper lets students take snapshots of Web pages, annotate them and save them to their Evernote account to be shared with project partners or used later.
On top of all that, Evernote's core functionality won't cost your students a cent. Premium accounts are available, starting at $5, but free accounts should work just fine for most projects.
Organizational Apps On A Budget
It's understandable that even $5 or $10 can be a lot to some students, so it's important to mention that free alternatives to popular project organization apps like these can often be found. Windows users can try yWriter, an independently developed alternative to Scrivener with some similar features, and some creative use of Google Calendar or iCal can stand in for scheduling apps like iStudiez in a pinch.
The various app markets out there have also got plenty of other organizational apps available, so don't hesitate to poke around. Use these four as a starting point and see if the right app for your students isn't just a few clicks away.
Justin Boyle is a writer and journalist in Texas. He writes about educational technology for several websites, including onlineschools.com; 5 Apps To Help Students Organize What They Learn