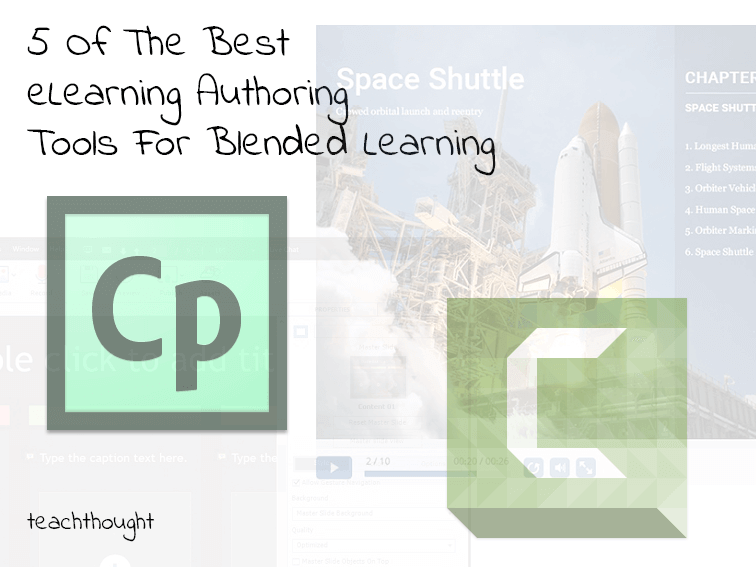 What Are The Best eLearning Authoring Tools For Blended Learning?
Contributed by Linda Emerson, iSpring Solutions
Many educational institutions use eLearning either to enhance or replace traditional learning and training models. This successful technology integration, as a smooth shift from face-to-face training in favor of digital e-courses, has a number of advantages, including:
saving money on travel expenses and lecturers
learner can study on his/her own time and on his/her own device
training can be tailored to suit learner's needs
teacher has access to data on user progress and achievement in modules
There are quite a few options available when it comes to eLearning authoring tools, each tailored to suit the needs of its audience, whether it be in the business, education, or government sectors. Here's an evaluation of the top 5 e-Learning authoring tools, their advantages, disadvantages, pricing, and target audience.
1. iSpring Suite 8.1
A fully-stocked authoring toolkit, iSpring Suite works as a PowerPoint add-in, and enhances it with a number of features that can't be found in other eLearning packages. The software turns your PowerPoint presentations into ready-to-use multimedia eCourses, which can be used in any SCORM compatible LMS or Tin Can API enabled LRS or on a regular HTML website. Thanks to the responsive design, your courses don't require additional attention to make them compatible with any tablet or other mobile device.
iSpring Solutions, Inc. produces a number of simpler eLearning products, such as QuizMaker and Presenter for creating tests and video lectures respectively.
Pros
Extensive PowerPoint support. Published courses preserve all original object animations, slide transition effects, triggers, embedded audio/video, and much more.
Interactive courses can be built with audio and video narrations, and assessments with 11 question types, branching scenarios and flexible scoring
Built-in screen recorder and editor allow users to create screencasts and insert them into courses or export as standalone explanatory videos
Unique TalkMaster tool with a variety of backgrounds and characters for creating dialogue simulations
Interaction tool for creating 3D book, timeline, glossary, catalog, and FAQ
Doesn't require additional training and it's very easy to get started and use
Cons
To create complex courses and even simple games, you need to know how PowerPoint works
Course developer cannot create and use variables
Only available for Windows operating system
Few interactions compared with Captivate 9 and Storyline 2
The price of iSpring Suite varies with the number of licenses you purchase. A single-user license is $697.00 USD. There are discounts for multi-seat licenses, educational and non-profit organizations. All licenses come with a money back guarantee within the 30-day trial period, and free tech support available during European and United States business hours.
Overview
iSpring Suite is ideal for authoring eCourses for all educational fields. Whether teachers are new or experienced in the world of eCourse authoring, they will find it a useful resource for creating eLearning modules with ease.
2. Articulate Storyline 2
Storyline offers a customizable workspace with built-in templates to create fully interactive, immersive, and engaging courses, though with a bit of a learning curve to master the software. Storyline is available in 5 languages, and supports the importing of existing content in the form of PowerPoint slides, as well as content made in previous versions of Storyline, and in Articulate's other products.
Pros
Courses can be published to HTML5, Flash, and for use with iPad and/or Android apps
Learners' understanding and progress can be checked and tracked with quizzes created from 20 different question types, or import existing texts to create a question bank
Layers and triggers make objects respond to a learner's actions, in order to build increasingly complex user interactions
Users can create, import, and edit audio, video, and images to incorporate multimedia objects into their courses
A character bank of over 47,000 combinations of illustrated and photographic characters with adjustable poses and expressions that helps students engage with the content of courses
Cons
The software is hard to use and requires additional training to use its features
Storyline 2 isn't all that different from Storyline 1
Software does not have the ability to output MP4 videos
Basic version does not include future upgrades, premium "Platinum" support, priority email support, or live web chat and screen sharing
Doesn't work on Macs
Expensive compared to other tools
At the time of writing this article, you can purchase the standard Storyline package for $1,398.00 USD (regular price is $1,846.00). This includes the Character Bundle – Volume 1 ($999.00 value) and Articulate Replay to create video content ($200.00 value) at no additional cost. Other "membership" ranges include the Platinum Membership Plan (PMP) – 1 for an additional $559.00, PMP – 2 for an additional $979.00, and PMP – 3 for an additional $1,328.00 above the Standard Membership plan. The difference between the plans is the number of upgrades and the degree of support you are entitled to. Also, you get unlimited live web chat and screen sharing.
Overview
Articulate Storyline is primarily used for corporate training and higher education. It is a pro eLearning course creation tool for creating complex courses. Also, this software can be utilized to create educational games, interactions, presentations and ads. This is a rather professional tool with complex functionality and it requires training to utilize all of its features.
3. Adobe Captivate 9
Adobe Captivate 9 is an eLearning toolkit for authoring responsive and interactive eLearning content. It allows you to update your information storyboards containing eLearning elements and publish to the cloud for viewing, no app or additional software required. As with the other software, Adobe Captivate 9 allows you to import your PowerPoint presentations into eLearning projects.
Pros
Master slides and professional project templates to help format work so it looks attractive and consistent, according to corporate guidelines
Users can import and customize materials from their interactions library to include YouTube video streaming, web browsing, and games (such as "Hangman" and "Millionaire")
Courses can be optimized to automatically respond to a number of devices and monitor sizes with relative smart positioning of objects and geo-location support
Users can record and import a variety of video formats, and synchronize audio and/or visuals with slides and timed objects
A wide range of quizzes and question types with comprehensive scoring and branching, based on test results
Cons
Not enough detail in user manual regarding upgrades from version 8 and how to use them
Too much JavaScript code is generated when you publish a single slide in Captivate 9
Courses created in Captivate 9 cannot be opened in earlier versions of the software
Captivate 9 is not available in a 32-bit version, which means that some users will not be able to upgrade from Captivate 8
You can subscribe to Adobe Captivate 9 for $29.99 USD per month, though you must make an annual commitment. You can purchase a full license for $1,099.00. There is a student and educational discount for $349.00 when you provide evidence that you are either enrolled in or work for an accredited school.
Overview
Adobe Captivate 9 seems best suited for use in corporations and large businesses for creating training courses, but as a significant educational discount is available, there are also applications for the education sector. E-Learning for students and educators is enhanced by the software's support of collaborative learning, and branching for remedial workflow.
4. Lectora Inspire by Trivantis
Lectora bills itself as the "mobile learning game changer," which promises to transform your learning. Lectora's Inspire Suite integrates the eLearning Brothers' template library, cutout people library, and interaction builder to help you author e-Learning courses. Lectora also integrates Snagit and Camtasia to allow you to capture, edit, and import images and video into your eLearning content.
Their motto is "Design once. Distribute everywhere," thanks to their responsive course design feature, which automatically adjusts your content so it displays well across a variety of platforms.
Pros
Automatically rescaled objects fit on a variety of mobile devices, and can be customized for each view
Publish your eCourses in HTML5 format, which is supported by a wide range of browsers in common use today
Users can combine textual content, Flash animations, images, audio and video, test questions, and interactivity in a single eLearning module that can be published to a learning management system
Courses can be published for both online and offline use
Has a version for Mac and Linux
Cons
The software is limited in terms of technical simulations and training, and in its audio capacity
The action pane is only accessible via menu, rather than already visible on the interface, which may be difficult, if not frustrating
Lectora's import and export feature still needs some work, when compared to similar software
You can "buy" Lectora online for $159.00 USD per month. The online version facilitates cloud collaboration and is compatible with Windows, Mac and Linux systems. Purchasing the Lectora Inspire Suite, including all features mentioned in the "pros" section above, as well as first year maintenance and support, is $2,374.00 at the time of writing this post. Discounts are available for academic and government institutions.
Overview
On its website, Trivantis, the company behind the Lectora software, says its primary audience is small and mid-sized businesses, as well as larger businesses, particularly those listed on Forbes's Global 2,000. The fact that a discount is available for government, military, and educational institutions implies they are marketing their software for education and training in these sectors as well.
5. TechSmith's Camtasia
Camtasia is a screen recording and video editing software utility that can be used to deliver e-Courses for education and business. With this software, you can customize and edit your content on both Windows and Mac computers and share your results with viewers on any device that plays video or YouTube.
In the classroom, Camtasia helps teachers and educators motivate and engage students by creating video lessons. In the workplace, Camtasia can be used to create presentations to share with employees company-wide.
Pros
The ability to capture anything you see on your screen and/or import video, music, and photos to your capture
A professional video editor which includes ready-to-use themes, animated backgrounds, graphics and callouts, all of which can be used to enhance your video
The creation of interactive videos with clickable hotspots, tables of contents, and search features
The integration of quizzes and comprehension questions, with results displayed in spreadsheets, to monitor student learning in real-time
Cons
Does not support recording live video from a DV camera
Software starts to slow down on large projects after a few minutes of use
Some video codecs are not supported on Linux OS
Recommends you have 4GB of RAM or more for the software to run smoothly, otherwise it will slow down system performance or hang it up
Camtasia is $99.00 USD for the Mac version and $299.00 for the PC version, for a single-user license, installed on up to two machines. Discounts are available for bulk licenses and for purchases made by governmental, non-profit, and educational institutions. Purchase includes the latest version of Camtasia and any future updates to the software.
Overview
Camtasia's target audience seems to be educational institutions, including students and their parents. It also appeals to businesses in need of professional training and marketing and sales videos for sharing both inside and outside of the company. Techsmith's website stresses Camtasia's ability to facilitate collaboration among a team of employees and the fact that you don't need a lot of training or money to produce videos with the software.
Summary
All the analyzed tools are great for certain tasks and types of e-Learning materials that you create. Ideally, you need to evaluate every one to pick up the most suitable tool (or a few) that will help you make your online courses.
While Articulate Storyline is a very powerful tool, it does require some training in order to use the software to the fullest and utilize variables to create complex dependencies. Adobe Captivate uses the power of Creative Suite, so if you've used some Adobe programs like Photoshop, it will be easier for you to get used to its user interface.
iSpring Suite is a robust toolkit for rapid e-Learning with an easy learning curve, fast conversion and powerful assessment tool. It's good for you as long as you can do everything you need in PowerPoint. Techsmith's Camtasia covers all video recording and screen capturing tasks, and has a great editing tool.
Disclosure of Material Connection: This is a "sponsored post." The company who sponsored it compensated us via payment, gift, or something else of value to write it or publish it. Regardless, we only recommend products or services we use personally and believe will be good for our readers. We are disclosing this in accordance with the Federal Trade Commission's 16 CFR, Part 255: "Guides Concerning the Use of Endorsements and Testimonials in Advertising."
To read more about approaches to learning, read here.