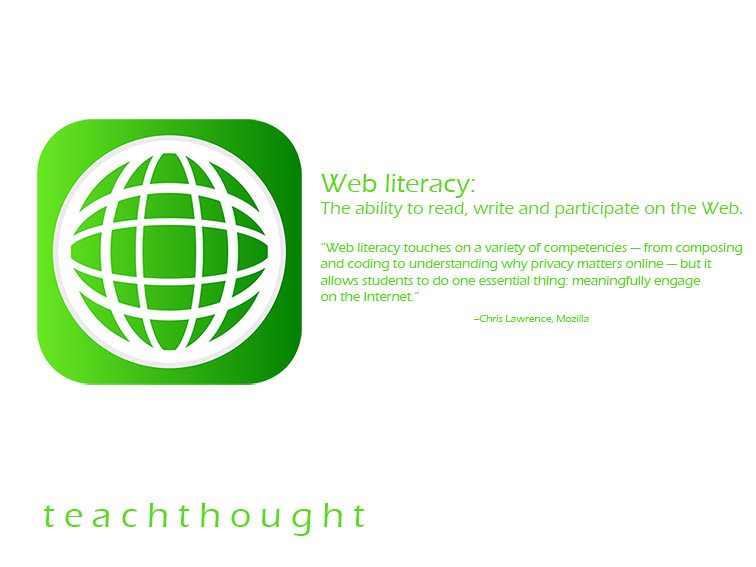 Web Literacy: A Definition
contributed by Chris Lawrence, VP of Learning At Mozilla
Reading, writing and arithmetic are the cornerstones of education.
While the methods for teaching them may vary, the three Rs are timeless and universal. They equip learners with the skills necessary to interact and participate in the world. And they lay the groundwork for a set of more complex skills: critical thinking, collaboration, nonlinear thinking and others.
The three Rs aren't going anywhere. But as more and more of our daily lives rely on the web — whether it's getting news, connecting with friends and family, or learning about things that interest us — it's time to recognize the need for another educational building block: web literacy.
At Mozilla, we define web literacy as the ability to read, write and participate on the web. Web literacy touches on a variety of competencies–from composing and coding to understanding why privacy matters online–but it allows students to do one essential thing: meaningfully engage on the Internet.
In the 21st-century, web literacy unlocks the same opportunities as reading and writing. The student who is able to create online has a limitless array of tools. The student who is able to collaborate with peers on the Web can bring fresh, new perspectives to their work. And the student who can distinguish reliable information from the unreliable will always be at an advantage.
When students are web literate, information becomes more accessible, and learning becomes more dynamic. Web literacy is empowering. And for that reason, it can't be ignored. But too often, students encounter a 'read-only' Web — one where content is consumed, but not created.
So, how do we fix that? First, by teaching students how to read, write and participate online in the best way possible: through hands-on, experiential learning. The Web doesn't lend itself to textbook and blackboard-style teaching. Students are best prepared to achieve web literacy when they're actively typing, hyperlinking and sharing as they go. (When you think about it, it's a familiar concept — would you teach writing without first equipping students with pen and paper?)
For example: when an educator is teaching the difference between reliable and unreliable online content, students should be sifting through search engine results. And when an educator is teaching the basics of HTML, students should craft a sentence or two on their own and watch it come to life on the screen — even if they're simply adding italics or a paragraph break. If Internet access is scarce, it shouldn't be a hindrance. Students can sketch out HTML tags or storyboard a web page with pad and pencil.
Let's Make Web Literacy A Cornerstone Of Education
The Web is also collaborative by nature, and so too should web literacy education. Students can remix and reuse each others projects, adding their own flair. This teaching style also touches on open practices: the Web works best when everyone can lend their expertise. Remember the World Wide Web's earliest motto? "Let's Share What We Know."
Teachers should also be cognizant that web literacy education also occurs outside of the classroom. Some of the most valuable learning takes place when students gather after school in coffee shops, libraries and living rooms. Fortunately, there's no shortage of smart educators already incorporating web literacy into their curricula. At Mozilla, we see it everyday: educators in Toronto, New York City, India and China are teaching their students to build web pages, write HTML and protect their privacy.
At Mozilla, we're working to create free and open-source tools and programs that empower both educators and students. This July — from the 15th to the 31st — marks our fourth-annual Maker Party, where we encourage everyone to teach web literacy through hands-on learning. Maker Party activities help students unpack how IP addresses and online privacy work; they help students compose and design their own projects; and they teach the basics of HTML. Maker Party has lo-fi activities, too, so those without easy access to the Web can still learn basic Web principles. These events also happen year-round, and are a great way to introduce and celebrate making and learning online.
We've also developed Webmaker, an open-source Android app that allows smartphone users of any skill level to create and share original content in minutes. Having low-bar entry points like this are paramount: they whet students' appetites and show them what's possible without discouraging them with complex mechanics and UI.
The linchpin in all this is, of course, educators. Universal web literacy becomes the fourth R only when educators recognize its importance and ability to empower students. In your experience, what are your thoughts on how we can best teach web literacy?
Chris Lawrence is Mozilla's VP of Learning, where he builds networks of web literacy leaders; image attribution pixabay; A Definition Of Web Literacy (And How Students Can Benefit)