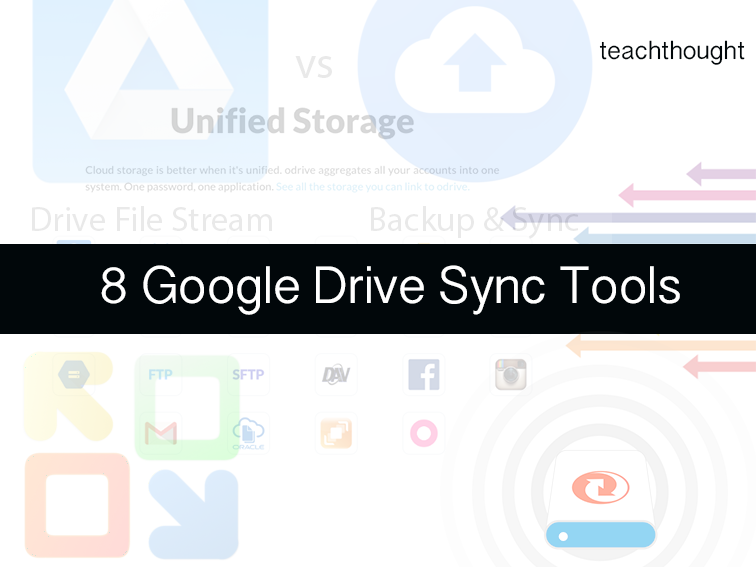 8 Google Drive Sync Tools To Access All Of Your Files On All Devices
by TeachThought Staff
Over the last five years, cloud-based computing has quietly gone from fringe to standard.
Early–and entirely legitimate–concerns about data safety and privacy still exist, but have not reduced the average person's needs to access the same files from every device, anywhere in the world. Google already has a first-party sync tool for Google Drive for Windows and Mac. It works well, and the price is right (free.)
Dropbox has, curiously, always been at the forefront of this movement. While it lacked an attractive user interface and offered only meager free storage, it managed to convince the public at large to pay a premium for cloud storage in large part due to its play-nice approach: Everything has Dropbox integration.
If you want something a little bit more feature-rich–and better looking–than Google's in-house program, you might want to take a look at the following tools.
Note: Google Drive sync support ended in December of 2017, but only because they moved to Google Backup and Sync. According to Google, there are two first-party ways to access Drive files on your desktop and keep them in sync across your devices:
Drive File Stream is best for most organizations (Google explains why) 
Backup and Sync is best for 'consumers' but can also be used by organizations, too
8 Google Drive Sync Tools To Access All Of Your Files On All Devices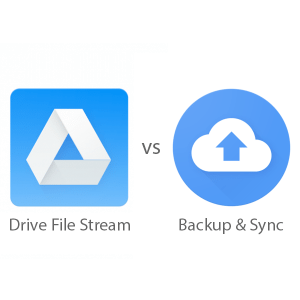 Summary: This is Google's primary Google Drive sync client–made, of course, by Google.
Platforms: Linux, iOS, Mac, & Windows
Cost: free (depending on your storage needs and use of G Suite features, etc.); free 14-day trial for G Suite
Features
You can see Google's Drive FAQ here.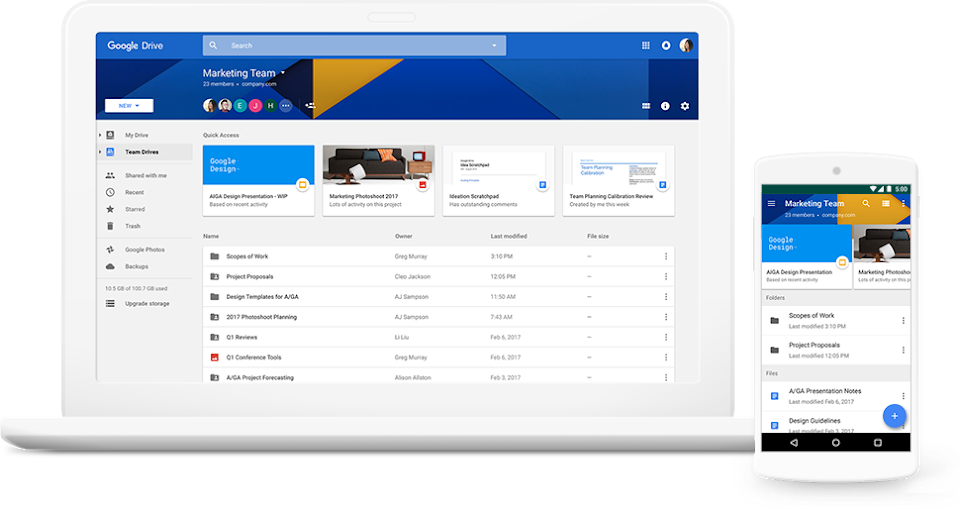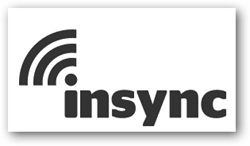 Summary: A Google Drive sync client designed to work together with Windows servers and utilizing your existing file hierarchy
Platforms: Windows, Mac & Linux
Cost: $29.99 (one time fee) per Google account; $49.99 per team; free 15-day trial
Features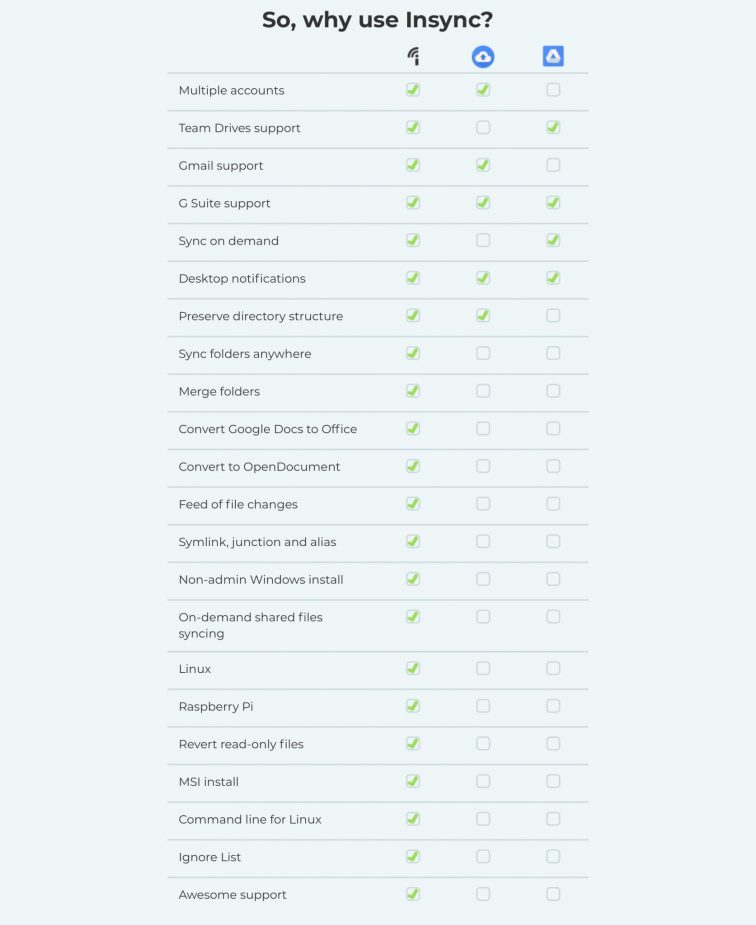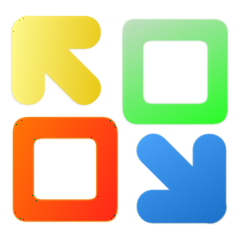 Summary: A versatile, well-reviewed Google Drive Sync client with end-to-end encryption and robust feature-set for complex Google Drive backups and daily use
Platforms: Windows, Mac & Linux
Cost: $19.95 (one-time fee); free 14-day trial
Platforms: Linux, Mac, & Windows
Features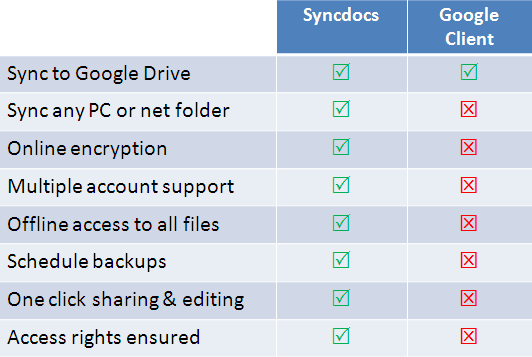 5. Cloud HQ: Sync Google Drive
Summary: A powerful Google Drive sync client better for enterprise/business than students and schools but with a free tier and trial, worth exploring.
Platforms: Windows, Mac & Linux
Cost: from free to expensive depending on personal to enterprise use; 15-day free trial
Features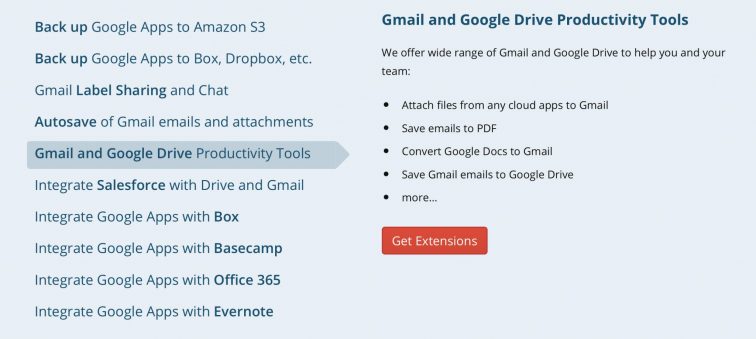 6. odrive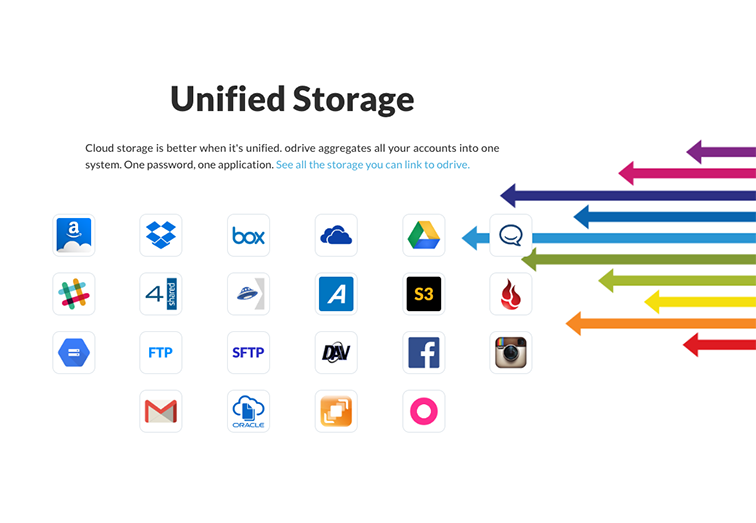 Summary: A unified storage/sync client–all files from all platforms, from Google Drive to Facebook, Dropbox to Amazon S3 through a feature called 'Infinite Sync'
Platforms: Linux, Mac, & Windows
Cost: free; a powerful Premium tier is $8.25/month with annual payment
Features
Get all your files together in one place
Access to the vast odrive integration catalog.

Unlimited links to bring everything together.

Single sign-in to all your accounts.
Sync everything to your Windows, Mac, and Linux machine
Unified sync folder to everything in odrive.

Desktop sync client for Mac and Windows.

Headless sync agent for Mac, Windows, and Linux.

Native file manager integration (Finder, File Explorer).

Command line interface for server environments.

Automatically sync new files and folders.

Placeholder files to see everything without downloading.

Progressive sync engine. Only syncs the folders you use.

Recursively sync all files as placeholders.
Share anything with anyone
Share weblinks to any file or folder linked to odrive.

Secure weblinks with passwords and expiration dates.

Share storage space to sync with one or more people.

Detect sharing conflicts to avoid data loss.
7. GoodSync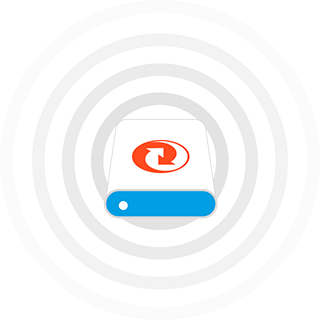 Summary: A simple-to-use Google Drive sync client with iOS integration
Platforms: Linux, iOS, Mac, & Windows
Cost: $29.95 one-time fee for personal use; free 30-day trial; server backups available
Features
Easy-to-Use Interface
Real-Time Data Transfer
End-to-End Encryption
Extensive Automation & Scheduling
Version History Control
File Sharing & Organization
Available USB/FlashDrive integration through Goodsync 2Go
Management of all files in one place via Goodsync Connect
8. Sync
Summary: An affordable sync tool for 'mid-tier' users who don't demand endless features but want something better than Google's first-party Sync & Stream apps
Platforms: Linux, Mac, & Windows
Cost: 5 GB free; monthly plans starting at $5 for 1 TB