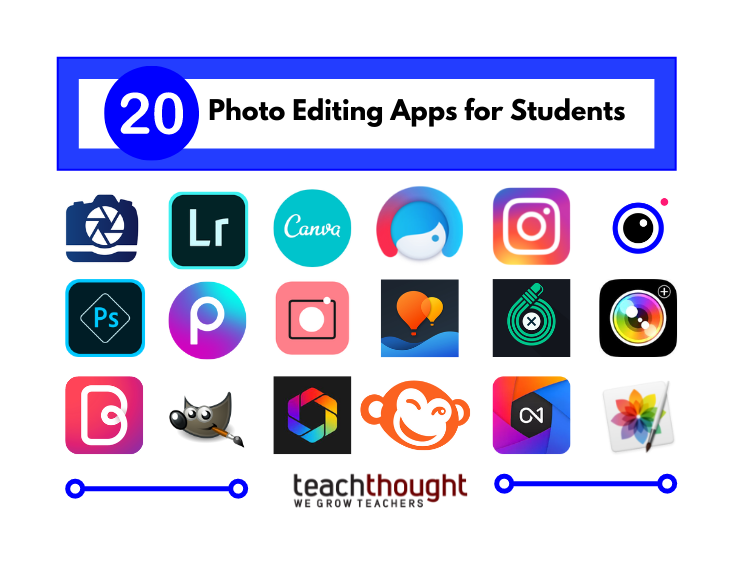 What Are The Best Photo Editing Apps For Students?
If you've ever watched your students hypnotically click through an online photo album, you know about the captivating power of digital photography.
The rise of Facebook, Instagram and other image-driven social media has made today's students hyperaware of the power of the digital image–but at the same time, most kids and teens are less savvy about design and communication principles as well as the basic how-tos of image manipulation. This is where educators can step in and capitalize on our society's ever-growing fascination with digital imagery.
By integrating image-based technology into the classroom, teachers can create engaging presentations as well as inspire and support collaborative projects among their students. However, there are so many of these apps and browser-based services popping up these days, it's hard for even the most cutting-edge techie to know where to get started. Here's the rundown on just a few of the latest photo editing apps for students to use in your classroom.
The 20 Best Photo Editing Apps For Students
Price: Try the full version of any products for up to 30 days. The ACDSee Home Plan is $8.90/month or $89/year and includes access to four of the top ACDSee products, up to give users per product, and 50GB of cloud storage. Alternatively, users can purchase a lifetime license for $109.95.
ACDSee Ultimate has many photo and video editing tools to choose from. The Photo Studio Ultimate 2022 version is ideal for parametric photo manipulation using layers and created for graphic designers and creative artists. Users can align and blend layers, and add layer effects between images, objects, and text. Ultimate is best for students who have a thorough understanding of basic photo editing techniques and are ready to move on to more complex editing skills.
Price: Students and teachers are eligible for a 60% discount on Adobe Creative Cloud, which includes 20+ apps in addition to Lightroom. The cost is reduced from $52.99/month to $19.99/month. Following a free trial, any user can purchase Lightroom by itself for $9.99/month. Adobe Lightroom has recently added the Tone Curves and Color Mixer tools, which allow users easy access edit light and color properties of their images. Users can also shift focus, reduce distractions, and build in compelling effects.
Price: Students and teachers are eligible for a 60% discount on Adobe Creative Cloud, which includes 20+ apps in addition to Photoshop. The cost is reduced from $52.99/month to $19.99/month.
This app for iPad and Android has fewer features, to be sure, but the important ones are all there. Furthermore, it's a great way to get students comfortable with the lingo and limits of digital image manipulation. Though it boasts a number of filters and effects, it's not the emphasis of the app; it's a good program for getting to know the ABCs of digital image manipulation. Then before you know it, instead of absently clicking through Facebook during their breaks, your students will be critiquing their friends' photos' contrast and tint.
Price: Users can try Afterlight for free. They offer the following memberships: $2.99/month, $17.99/year, and $35.99/lifetime.
Afterlight has something for image editors of all levels. Designed for Android or iOS, it offers over 200 filters, advanced tools, textures, overlays, frames, and borders. They also host a Fusion Library–a curation of free, downloadable Fusion Filters. Additionally, Afterlight's Touch Tools allow users to edit photos with precise touch gestures and control over light, sharpness, and saturation. A final cool feature–double exposure–lets users blend photos to design neat combinations.
Price: Free! Bazaart offers premium monthly packages for $7.99 and a premium yearly package for $71.99.
Winner of the Best of 2020 and Best of App Store Award for Android and iOS, Bazaart is an image editor and graphic design app that allows users to create stunning collages and professional designs. Their magic eraser removes the background from any photos and allows users to add a new background or keep it transparent. Bazaart also houses an expansive collection of free templates, backgrounds, shapes, overlays, fonts, and more. What's more? They offer many tips, tricks, and tutorials on their Instagram page.
Price: $7.99–available for download on the Apple App Store.
Some of Camera+ 2's newest features include monuments mode, social filter packs, and 'favorite edits.' Monuments mode allows users to remove moving objects to get uncluttered images and 'favorite edits' lets you save your favorite editing sequences for reuse. Camera+ stands apart through its shooting modes: manual, RAW capture and editing, portrait and depth capture, slow shutter, and macro mode. There is so much to explore within this app, which is best suited for students who already possess a strong knowledge of basic photo editing skills.
Canva
Price: Canva offers several pricing structures suited for individuals or teams of different sizes. The Free plan allows users access to 250,000+ templates, 100 design types, hundreds of thousands of free images and graphics, 5 GB of cloud storage, and the capacity to invite team members, collaborate, and comment in real-time. The Pro plan is $119.99/year for up to five people. It includes everything from the Free plan, plus 100GB of cloud storage, 100+ million stock photos, videos, audio, and graphics, and over 610,000 free templates. The Enterprise plan has everything that the Pro plan has, plus much more control and brand identity tools–businesses can consult with Canva to receive a quote. Good news–Canva Pro is available for free to schools and nonprofits!
Canva is best known as a graphic design tool–the photo editing tools are just one piece. Their all-in-one editor lets users autofocus to add depth of field to their images, adjust focal points, blur out backgrounds and foregrounds, remove backgrounds, and more. Users can design on the go from any device.
Price: Check out Facetune 2's 7-day free trial, which moves into unlimited access plans that start at $7.99.
Facetune 2 is the top selfie editing app in the world! Its newest feature, Filtertune, allows photo editing and filter sharing. Users can match the style of their favorite influencers by scanning and downloading filters. Facetune also regularly shares useful content on topics like posing for selfies, editing photos, and more.
Price: GIMP is free to download.
GIMP is a tool for editing experts–a free, open-source image editor and manipulator. With GIMP, you can fix perspective distortion, eliminate barrel distortion, retouch digital images, and more. GIMP is also a high-quality framework for scripted image manipulation, with support in C, C++, Perl, Python, Scheme, and more. GIMP is supported by GNU/Linux, Microsoft Windows, macOS, Sun OpenSolaris, and FreeBSD.
Price: Free!
Instagram's one of the most widely-used social media apps among students and teachers alike. Other than basic image editing tools and a library of filters, Instagram is extremely accessible for students to complete, share, and collaborate on projects as individuals or with peers.
Price: The Standard version is free — users can create original filters, transform images with vintage overlays, adjust color, contrast, grain, and saturation. They can also edit videos on mobile devices with filtering and editing tools. The Instasize Premium version costs $4.99/month. Users can begin with a free trial to access 100+ premium filters, create tappable web stories, upload unique backgrounds, and use advanced beauty tools that edit blemishes, whiten teeth, and remove redness on the skin.
Instasize offers countless features to its users, including filters, layering, resizing, overlays, video editing, a stock library, backgrounds, a text editor, magic fill, editing tools, touch-up tools, and web stories. Instasize categories its design tools based on color, light, and definition.
Price: Microsoft or Apple users can try for free, then purchase a plan. The personal 1-year subscription costs $29.95 while the lifetime subscription costs $59.95.
Movavi Piverse Photo Editor for PCs is ideal for students who are new to photo editing. Students can optimize color and contrast in seconds, remove or change backgrounds, restore old photos through hiding creases, scratches, and stains, and access 100+ effects and filters. Its newest features include facial recognition/photo organization, geolocation, sharing via Google Drive, improved retouching, and image overlay.
Price: ON1 offers free 14-day trials–plans range from $79.99 to $179.99 per year, making this one of the pricier packages on the list. That being said, they often offer deals that include bonus perks.
ON1 Photo RAW is advertising many new features for the upcoming year, including sky swap AI, time-lapse creator, photoshop plugin host, NoNoise integration, export and backup, liquify tool, and advanced search. Their editing tools go beyond the typical tone and color adjusters to include effects like dynamic contrast, textures, BW, split tone, glow, HDR, and more.
Price: Free for basic features. $4.99 per month for the premium "Royale" version.
Though the cost to access this photo editor's premium "Royale" features might be a little steep for most educators, the free, basic version of PicMonkey is still a fun browser-based editor that students will enjoy experimenting with.
The interface itself is no-nonsense and friendly for beginners. The "Auto adjust" button can be used to illustrate the basic elements of image manipulation. Clicking the "Auto adjust" button will change the settings for the photo according to what the program determines to be the optimum exposure, color, and clarity. It's fun to experiment with why those different settings make a photo look "good" and what results can be achieved with further manipulation.
Price: The Free version includes standard photo and video editing tools, and millions of free, editable images. The Gold version includes unlimited access to premium tools and content for $4.66/month or $55.99/year. The Team version manages and provides premium access to multiple members under one account for $6.24/month or $74.98/year.
We love how PicsArt makes it easy to create a range of media projects that students might design, such as banners, stickers, collages, memes, brochures, and posters. PicsArt is also known for its efficiency–its Batch Editor can process images in greater quantities at rapid speed.
Price: Pixelmator Pro offers a free trial before you can purchase a plan for $19.99–check the site to see if discounts up to 50% are available!
There are oodles of ways to edit and enhance photos on Pixelmator Pro. Users can utilize machine learning-powered tools to enhance photos, increase resolution, correct white balance, and remove noise. They can remove unwanted objects or backgrounds and choose from 40 presets. Pixelmator Pro is built exclusively for Mac.
Price: The Free version allows access to Pixlr X and E, basic editing tools, and a limited set of stickers and overlays. It is supported by ads. The Premium version is $4.90/month–you can start with a free trial and gain access to more extensive editing tools, AI CutOut, 3,000 extra overlays, 7,000 extra icons and stickers, 5,000 decorative texts, 18,000 assets, templates, video tutorials, and more. The Premium version is ad-free. The Creative Pack grants unlimited access to millions of stock graphics, templates, fonts, photos, videos, and 3D files. It's ad-free and costs $14.99/month.
Pixlr has two editors–X and E. Pixlr X is for quick and easy projects, while Pixlr E is for more advanced designs. the layout is somewhat similar to Canvas. It's very easy to start a new project, making this a friendly option for students. With their free advanced photo editor, you can start editing by opening a photo, dragging and dropping a file, pasting fromom a clipboard, or selecting from a pre-made template.
Superimpose X
Price: Download for $4.99 on the Apple App Store or Google Play.
Superimpose X makes it easy to superimpose images on top of each other. Editors can mask, erase, or blend backgrounds, layer images, and tinker with a smorgasbord of editing tools, such as color correction, paint brush, effect brush, smudge, and warp.
Price: $3.99 on Apple or Google.
This handy app features object-aware retouching, flexible line removal, smart mesh removal, blemish removal, and 360 degree photo editing. It's best used for removing unwanted marks or objects from images.
Price: VSCO is free to download–you're granted access to their original presets and standard editing tools. With a monthly or annual VSCO membership, you unlock 200+ VSCO presets, advanced photo editing tools, video editing tools, montage tools, weekly photo challenges, and bonus content.
Some of VSCO's best features include its x-skew, y-skew, shadows tint, clarity, filters, and fade. There is limited interaction on VSCO, as compared to Instagram–users cannot like or comment on others' posts.
If you're interested in learning about ideas for using digital images in the classroom, such as visual biographies, photo essays, and photojournalism, check out our post–5 Smart Ways To Use Digital Images In The Classroom.